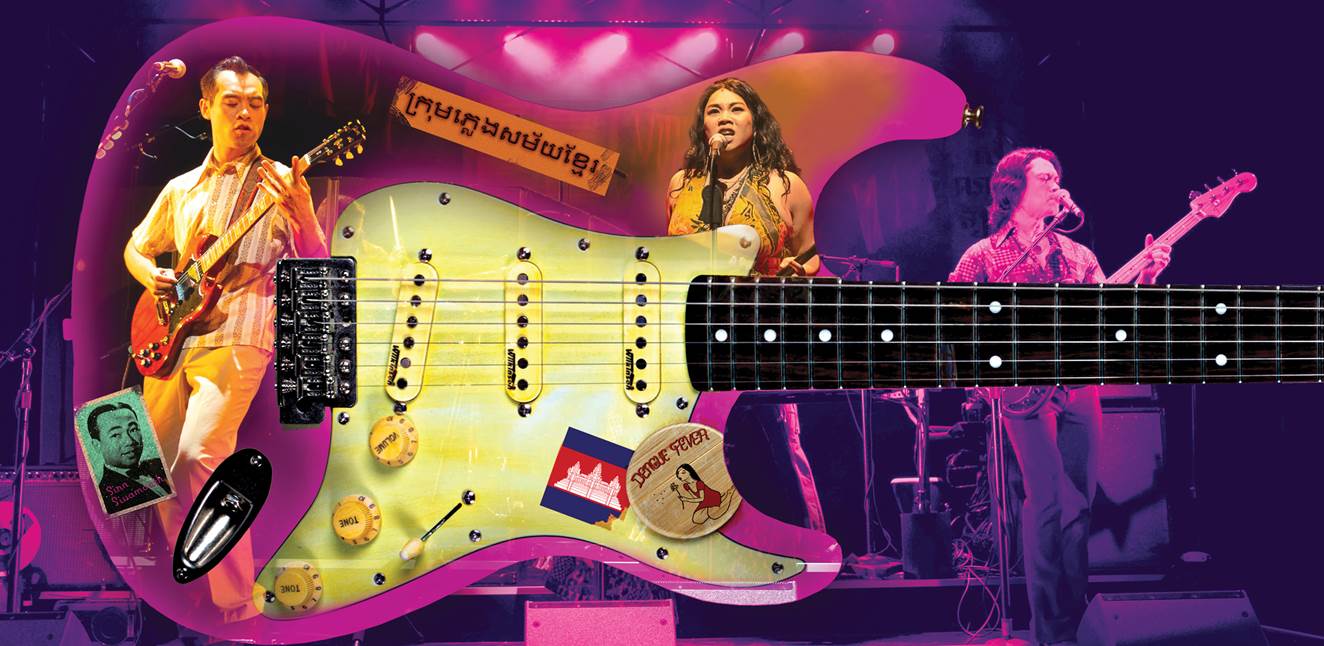 Cambodian Rock Band
BY LAUREN YEE
FEATURING SONGS BY DENGUE FEVER
DIRECTED BY CHAY YEW
A SIGNATURE THEATRE PRODUCTION
IN ASSOCIATION WITH ALLEY THEATRE, ARENA STAGE, ACT THEATRE/5th AVENUE, AND CENTER THEATRE GROUP
RODA THEATRE
Feb 25–Apr 2, 2023
Running time: 2 hrs and 15 min, plus a 15-min intermission
Cambodian Rock Band contains fog effects and rock concert flashing lights.
Cambodian Rock Band includes violence, language, and descriptions and depictions of genocide.
Guitars tuned. Mic checked. Get ready to rock! This darkly funny, electric new play with music tells the story of a Khmer Rouge survivor returning to Cambodia for the first time in 30 years, as his daughter prepares to prosecute one of Cambodia's most infamous war criminals. Backed by a live band playing contemporary Dengue Fever hits and classic Cambodian oldies, this thrilling story toggles back and forth in time as father and daughter face the music of the past. Directed by Chay Yew, this intimate rock epic about family secrets is set against a dark chapter of Cambodian history.
Cambodian Rock Band was developed in The Ground Floor: Berkeley Rep's Center for the Creation and Development of New Work.
A payoff that gleams with a treasure chest's reward… [Lauren] Yee is an infectiously joyful writer… The preposterously talented cast perform the numbers as if a concert could ward off an invasion… [Cambodian Rock Band is] true to the era's horrors but also makes a passionate case that humankind is capable of so much more, so much better.
Yee's tonal shifts are bold and daring…[with] many smartly observed comic scenes…. The music reaches epiphanic heights in the finale…[giving] Cambodian Rock Band its high-voltage thrills.
Both harrowing and healing in equal measure… Yee's plotting is masterful, a showcase of craft, and her storyline dips and darts within the constellations of artful magic… Director Chay Yew frames his sublimely magnificent cast with exquisite precision.
Undeniably joyous and life-affirming… Through the brilliance of Yee's storytelling and Chay Yew's direction, we get to go deep inside both the joys of rock 'n' roll and the terrors of totalitarianism.
It's powerful and moving and a joy (and, truth be told, a terror) to behold on stage. The exuberant cast keeps up with every tonal shift, time shift and musical cue in playwright Lauren Yee's compelling story, and the experience slams the audience this way and that in the best possible way.
The use of music emphasizes the raging glory of humanity – and the human connection that art creates – even in the face of humanity at its very worst. An evening that begins as a concert ends as a transcendent event that feels enormous and full of hope.
LAUREN YEE | PLAYWRIGHT
CHAY YEW | DIRECTOR
TAKESHI KATA | SCENIC DESIGN
LINDA CHO | COSTUME DESIGN
DAVID WEINER | LIGHTING DESIGN
MIKHAIL FIKSEL | CO-SOUND DESIGN
MEGUMI KATAYAMA | CO-SOUND DESIGN
TOM WATSON | WIG DESIGN
FIVE OHM PRODUCTIONS | PROJECTION DESIGN
MUSIC SUPERVISOR & CO-MUSIC DIRECTOR | JANE LUI
MUSIC SUPERVISOR & CO-MUSIC DIRECTOR | MATT MACNELLY
MERRICK A.B. WILLIAMS* | STAGE MANAGER
CAROLINE DUFFIN* | ASSISTANT STAGE MANAGER
JULIA FORMANEK* | ASSISTANT STAGE MANAGER
FRANCIS JUE* | DUCH
ABRAHAM KIM* | ROM/JOURNALIST
JANE LUI* | POU/S21 GUARD
JOE NGO* | CHUM
GEENA QUINTOS* | NEARY/SOTHEA
MOSES VILLARAMA* | TED/CADRE/LENG
KELSEY ANGEL BAEHRENS* | U/S NEARY/SOTHEA, POU/S21 GUARD
ALEX LYDON* | U/S TED/CADRE/LENG, ROM/JOURNALIST
VI TRAN* | U/S CHUM/DUCH
* Indicates a member of Actors' Equity Association, the Union of Professional Actors and Stage Managers in the United States.
Joe Ngo

, Abraham Kim

, Geena Quintos

, and Moses Villarama in Lauren Yee's Cambodian Rock Band at Berkeley Repertory Theatre. (Photo by Lynn Lane/Berkeley Rep)

Geena Quintos and Jane Lui in Lauren Yee's Cambodian Rock Band at Berkeley Repertory Theatre. (Photo by Lynn Lane/Berkeley Rep)
 Joe Ngo as Chum and Francis Jue as Duch in Lauren Yee's Cambodian Rock Band at Berkeley Repertory Theatre. (Photo by Lynn Lane/Berkeley Rep)
Francis Jue as Duch in Lauren Yee's Cambodian Rock Band at Berkeley Repertory Theatre. (Photo by Lynn Lane/Berkeley Rep)
 Geena Quintos as Neary and Joe Ngo as Chum in Lauren Yee's Cambodian Rock Band at Berkeley Repertory Theatre. (Photo by Lynn Lane/Berkeley Rep)
Joe Ngo, Geena Quintos, Abraham Kim, Jane Lui, and Moses Villarama in Lauren Yee's Cambodian Rock Band at Berkeley Repertory Theatre. (Photo by Lynn Lane/Berkeley Rep)
Joe Ngo

, Geena Quintos

, Jane Lui, and Moses Villarama in Lauren Yee's Cambodian Rock Band at Berkeley Repertory Theatre. (Photo by Lynn Lane/Berkeley Rep)
Joseph Ngo as Chum and Geena Quintos as Neary in Lauren Yee's Cambodian Rock Band at Berkeley Repertory Theatre. (Photo by Lynn Lane/Berkeley Rep)
Moses Villarama as Cadre/Leng and Joe Ngo as Chum in Lauren Yee's Cambodian Rock Band at Berkeley Repertory Theatre. (Photo by Lynn Lane/Berkeley Rep)
Joe Ngo as Chum and Geena Quintos as Neary in Lauren Yee's Cambodian Rock Band at Berkeley Repertory Theatre. (Photo by Lynn Lane/Berkeley Rep)
By Lauren Yee | Featuring songs by Dengue Fever | Directed by Chay Yew | Scenic design by Takeshi Kata | Costume design by Linda Cho | Lighting design by David Weiner | Co-sound design by Mikhail Fiksel | Co-sound design by Megumi Katayama | Wig design by Tom Watson | Projection design by Five Ohm Productions