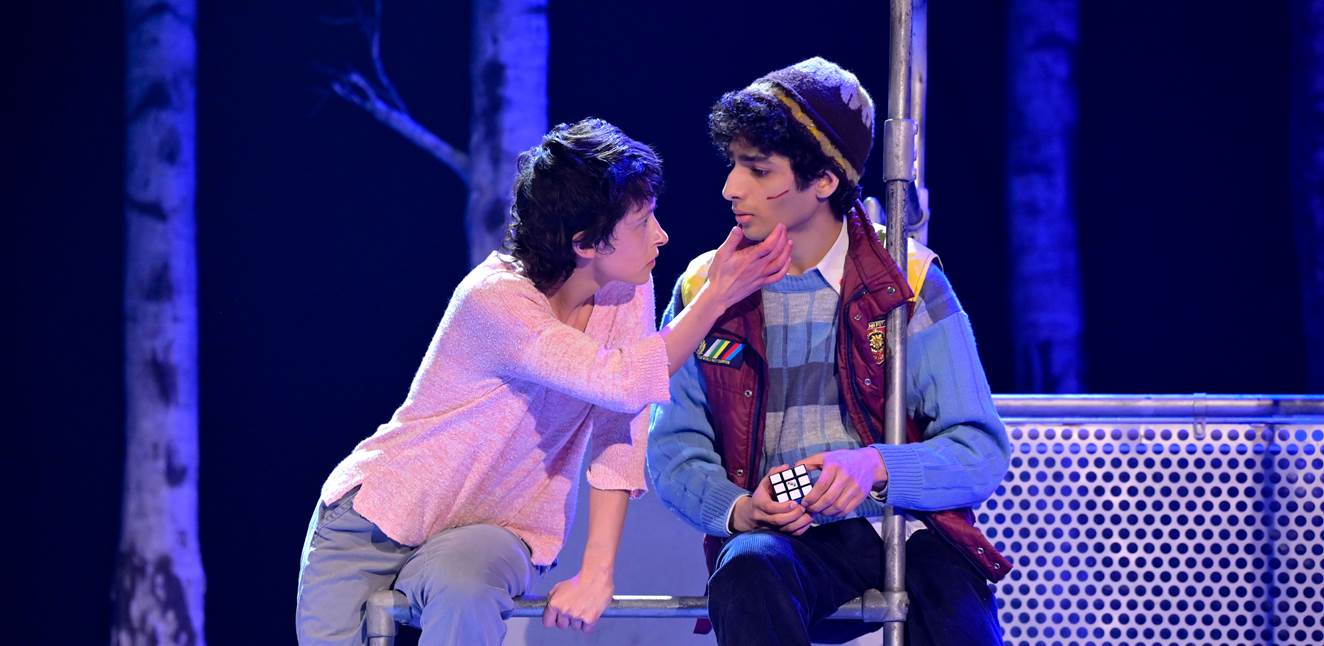 Let the Right One In
BERKELEY REPERTORY THEATRE, IN ASSOCIATION WITH MARLA RUBIN PRODUCTIONS AND BILL KENWRIGHT, PRESENTS THE NATIONAL THEATRE OF SCOTLAND PRODUCTION OF
Let the Right One In
A STAGE ADAPTATION BY JACK THORNE
BASED ON THE SWEDISH NOVEL AND FILM BY JOHN AJVIDE LINDQVIST
DIRECTED BY JOHN TIFFANY
ASSOCIATE DIRECTOR/MOVEMENT STEVEN HOGGETT
RODA THEATRE
May 20–Jun 25, 2023
Running time: approximately 2 hrs, plus a 15-min intermission
Let the Right One In contains loud music and sound effects throughout. It also includes haze, smoke, and stroboscopic lighting towards the end of the performance.
Let the Right One In contains strong language and depictions of blood, bullying, death, and violence.
Tony Award winners Jack Thorne and John Tiffany (Harry Potter and the Cursed Child), along with Obie Award winner Steven Hoggett, have entertained audiences on both sides of the Atlantic with their exhilarating, cutting-edge brand of theatrical storytelling. Now they bring us a supernatural thriller that's part brutal vampire myth and part coming-of-age romance. Oskar, a bullied boy from a broken home, and Eli, a teenager who moves in next door and rarely leaves the house, become devoted friends. When their neighborhood is haunted by a series of mysterious murders, a shocking truth tests Oskar and Eli's growing love.
Vampires yield narrative riches, too...
In [Noah] Lamanna's astute rendering, Eli is fragile and self-possessed, savvy and clueless, alluring and grotesque all at once.
Under the direction of John Tiffany, Lamanna and [Diego] Lucano conjure what's magical about childhood interactions: the way you can be huffy, defensive and posturing, then let it all melt away when you're zapped with a new idea, as unguardedly drawn to someone as if you were both just born that instant.
With marvelous acting, music, and scenic design, I was entirely enthralled and mesmerized…
Keeps audience members glued to their seats (though their eyes may be wide shut).
The staging is spectacular…breathtakingly choreographed.
An extraordinary production visually and emotionally, and like all great horror stories, humanizes the supernatural as an extension of ourselves.
Utterly compelling, and the frozen beauty of the original film has been realized theatrically with a spectacular winter forest (set design by Christine Jones) that seems to be in the perpetual blue night of the late Chahine Yavroyan's shadowy lighting design.
Masterful and magical…
A beautifully conceived story of unconditional friendship that unfolds much like a sensitively choreographed ballet that is scored by mesmerizing music, a story guaranteed to touch heartstrings.
Erik Hellman (Kurt) and Diego Lucano (Oskar) in the West Coast premiere of the National Theatre of Scotland production of Let the Right One In. (Photo by Kevin Berne/Berkeley Repertory Theatre)
Jon Demegillo (Micke), Michael Johnston (Jonny), and Diego Lucano (Oskar) in the West Coast premiere of the National Theatre of Scotland production of Let the Right One In. (Photo by Kevin Berne/Berkeley Repertory Theatre)
Noah Lamanna (Eli) in the West Coast premiere of the National Theatre of Scotland production of Let the Right One In. (Photo by Kevin Berne/Berkeley Repertory Theatre)
Jon Demegillo, Nicole Shalhoub, Erik Hellman, and Jack DiFalco in the West Coast premiere of the National Theatre of Scotland production of Let the Right One In. (Photo by Kevin Berne/Berkeley Repertory Theatre)
Noah Lamanna (Eli) and Diego Lucano (Oskar) in the West Coast premiere of the National Theatre of Scotland production of Let the Right One In. (Photo by Kevin Berne/Berkeley Repertory Theatre)
Noah Lamanna (Eli) and Richard Topol (Hakan) in the West Coast premiere of the National Theatre of Scotland production of Let the Right One In. (Photo by Kevin Berne/Berkeley Repertory Theatre)
Jon Demegillo, Diego Lucano, Michael Johnston, and Jack DiFalco in the West Coast premiere of the National Theatre of Scotland production of Let the Right One In. (Photo by Kevin Berne/Berkeley Repertory Theatre)
Nicole Shalhoub (Oskar's Mom) and Julius Thomas III (Halmberg) in the West Coast premiere of the National Theatre of Scotland production of Let the Right One In. (Photo by Kevin Berne/Berkeley Repertory Theatre)
Diego Lucano (Oskar) and Noah Lamanna (Eli) in the West Coast premiere of the National Theatre of Scotland production of Let the Right One In. (Photo by Kevin Berne/Berkeley Repertory Theatre)
Julius Thomas III (Halmberg) and Richard Topol (Hakan) in the West Coast premiere of the National Theatre of Scotland production of Let the Right One In. (Photo by Kevin Berne/Berkeley Repertory Theatre)
Noah Lamanna (Eli) in the West Coast premiere of the National Theatre of Scotland production of Let the Right One In. (Photo by Kevin Berne/Berkeley Repertory Theatre)
Diego Lucano (Oskar) and Noah Lamanna (Eli) in the West Coast premiere of the National Theatre of Scotland production of Let the Right One In. (Photo by Kevin Berne/Berkeley Repertory Theatre)
Noah Lamanna (Eli) in the West Coast premiere of the National Theatre of Scotland production of Let the Right One In. (Photo by Kevin Berne/Berkeley Repertory Theatre)
Diego Lucano (Oskar) and Noah Lamanna (Eli) in the West Coast premiere of the National Theatre of Scotland production of Let the Right One In. (Photo by Kevin Berne/Berkeley Repertory Theatre)
A Stage Adaptation by Jack Thorne | Based on the Swedish Novel and Film by John Ajvide Lindqvist | Directed by John Tiffany | Associate Director/Movement Steven Hoggett | Scenic Design by Christine Jones | Costume Design by Aileen Sherry | Lighting Design by Chahine Yavroyan | Sound Design by Gareth Fry | Special Effects Design by Jeremy Chernick