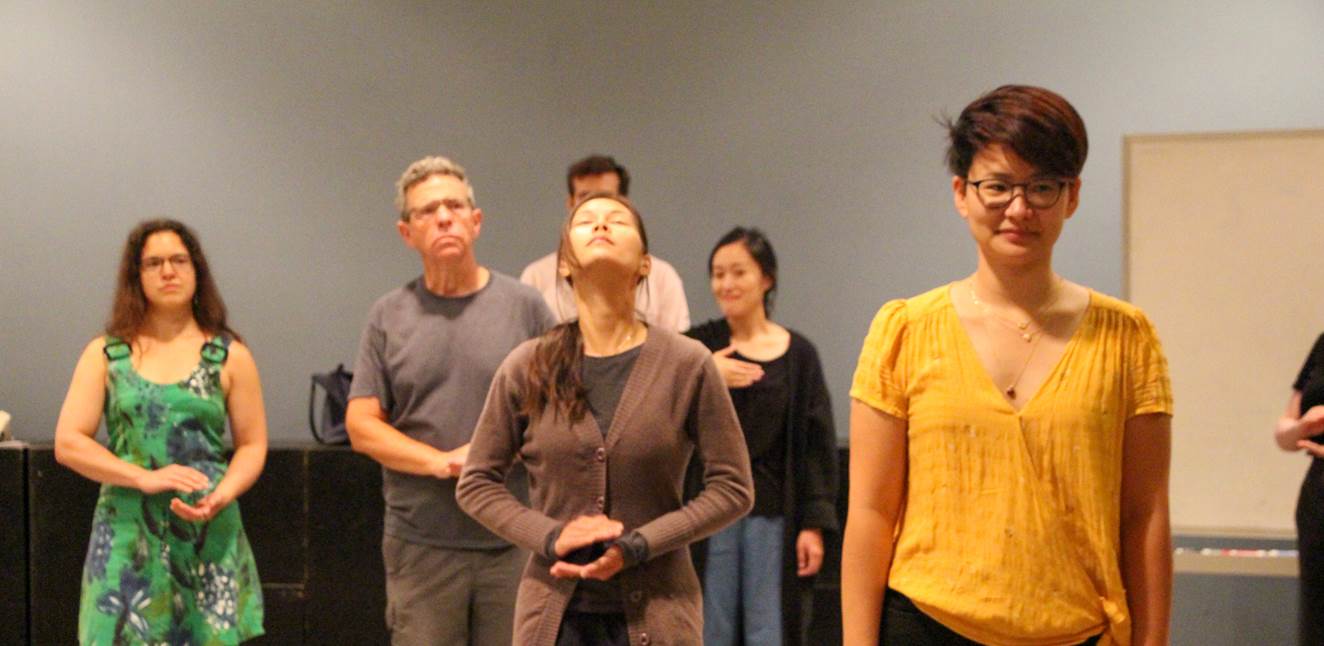 About the School
Berkeley Rep creates ambitious theatre that entertains and challenges its audiences, provokes civic engagement, and inspires people to experience the world in new and surprising ways. The School of Theatre supports this mission through meaningful connections between audiences and our mainstage work, creative entry points for new audiences, tools for artists and students to harness their imaginative power, and immersive training for future theatre makers.
Having first opened its doors in 2001, the School of Theatre offers programming as eclectic as the productions onstage at Berkeley Rep, reaching some 20,000 people in the Bay Area each year. Driven by an expanding community of inspired, curious, and creative theatre lovers, the School's programming provides opportunities for engagement on a variety of levels.
Since its inception, the School has
Served over 321,340 people;
Collaborated with 565 professional teaching artists;
Led workshops in 3,630 classrooms in nine counties in the Bay Area;
Produced 142 original plays created by youth and teen students;
Mentored 359 young professionals through our Fellowship program (since 1985).
Staff
Rachel Hull | DIRECTOR
Rachel is the director of Berkeley Rep's School of Theatre, where she oversees a team of talented artists and arts educators. Working within 10 counties in the greater Bay Area, Berkeley Rep's programming is through elementary, middle, and high school partnerships and all ages programming at the Theatre. Rachel is a member of the Lead Action Team for the Alliance for Arts Learning Leadership through Alameda County Office of Education Arts Education Alliance Bay Area, co-lead of the Berkeley Arts Education Steering Committee, and past board member of American Alliance for Theatre Education. Previously, she was the director of education at Dallas Theater Center, where she oversaw all education and community programs including Project Discovery, winner of the 2013 National Arts and Humanities Youth Program Award from the President's Committee on the Arts and the Humanities, given by Frist Lady Michelle Obama. As a contributor within the Dallas Arts District, Rachel lead collaborations with a variety of arts and cultural organizations during her tenure at DTC including the Dallas Museum of Art, Perot Museum of Nature and Science, Big Thought, Dallas ISD and other surrounding districts, and a founding member of the Informal Educators of Dallas County, Theatre Educators of North Texas advisor, and steering committee member of Theatre Forward's education task force. Outside of her work within regional theatre, Rachel mentors student teachers at UC Berkeley, and has taught at Southern Methodist University, the University of Texas at Austin, Educational Theatre Association, Dallas ISD professional development, and presented at the University of Houston's Center for Arts Leadership, the American Alliance for Theatre Education, and the National Guild for Community Arts Education.
MaryBeth Cavanaugh | ASSOCIATE DIRECTOR
MaryBeth is the associate director of Berkeley Rep School of Theatre. She recently received her continuing appointment in the Department of Theatre and Dance at UC Davis, where she has taught for 15 years in the MFA and BFA programs. She also teaches at Academy of Art University. She is a member of Stage Directors and Choreographers Society and a few of her choreography credits include resident choreographer at California Shakespeare Theater for 20 seasons, where she also served as associate artist. She also choreographed for Oregon Shakespeare Festival for five seasons, Shakespeare Santa Cruz for nine seasons, Berkeley Repertory Theatre, The New Victory Theater, Yale Repertory Theatre, Brisbane Arts Festival—Powerhouse, Black Swan Theatre Company in Western Australia, Cincinnati Playhouse, Repertory Theatre of St. Louis, Mills College Repertory, and Summerfest Dance. Directing credits: Following the Wrong God Home, Theatre 212; Possession, United Solo Theatre Festival, New York City; Rosencrantz and Guildenstern are Dead, TheatreFIRST; Twelfth Night, North Bay Shakespeare Company; and Measure for Measure, Shakespeare at Stinson. Ms. Cavanaugh was invited (all expenses paid) by the Norwegian Consulate in San Francisco to attend the Ibsen Festival in Oslo, Norway and to finish a new English translation of A Doll's House from Ibsen's original manuscript with an Ibsen scholar and a documentary film maker.
Anthony Jackson | ASSOCIATE DIRECTOR
Anthony is a director, deviser, educator, and arts administrator. He currently serves as the associate director of the Berkeley Rep School of Theatre where he oversees the Teen Council and fellowship programs, among other projects. Duties include programming the annual Teen One-Acts Festival and the Young Writers of Color Collective workshops and final presentation at Berkeley Rep's acclaimed new play development program, The Ground Floor. He also serves as a mentor for 15 teens that are part of the Core Council teen leadership program. Previously Anthony was at Arena Stage in Washington, DC where he taught in all of the Community Engagement department's programming as the Training Programs Manager and previously as the Partnership Manager. Anthony has traveled to India and Croatia as a guest artist with the U.S. Department of State, devising original plays with Arena Stage's Voices of Now program. Anthony has also presented workshops at the American Alliance for Theatre and Education, Theatre Communications Group Conference, as well as the Southeastern Theatre Conference. In 2019 he was selected to be a member of the artEquity cohort. As an actor he has toured the U.S. and has performed with the Shakespeare Theatre Company, Olney Theatre, Arena Stage, and other regional theatres.
Si Mon' Emmett | CURRICULUM AND EDUCATIONAL PROGRAMS MANAGER
Si Mon' is a native of Dallas who graduated with a BFA in the UTeach Theatre program at the University of Texas at Austin. Now a certified educator for theatre arts, she works both in classrooms and in administration for the Berkeley Rep School of Theatre as the curriculum and educational programs manager. Her background in TYA (Theatre for Young Audiences) spans from acting to directing and devising. Previously, she has worked with Dallas Children's Theater, Victory Gardens Theater (Chicago), and VORTEX Repertory Company and Teatro Vivo (Austin).
Ashley Lim | CLASSES AND COMMUNICATIONS ADMINISTRATOR
Ashley is the classes and communications administrator at the Berkeley Rep School of Theatre, where she provides administrative support for the School's programming and coordinates the School's marketing and communications efforts. Born and raised in the Bay Area, she fell in love with the vibrant and diverse theatre scene here in California at a young age, and has gone on to combine her passions for theatre and communications at Willamette University in Salem, OR, where she earned a degree in Civic Communications and Media Rhetoric along with a minor in Theatre. Previously, she has worked with organizations such as the San Francisco Shakespeare Festival, Pleasanton Civic Arts Stage Company, and most recently, the Shakespeare Theatre Company in Washington, DC.
Reach us
510 647-2972
school@berkeleyrep.org
2071 Addison St, Berkeley CA 94704
Registration/Cancellation
All registrations are processed in the order they are received. Registrations will be accepted until the class is full or until the end of the first week of class, whichever comes first.
Class confirmations: After your order is processed, you will receive an email from customerservice@berkeleyrep.org confirming your registration.
We reserve the right to cancel a class if enrollment is insufficient. In this instance, any tuition paid will be refunded in full.
Returned checks: A $25 service charge will be attached to any check returned by the bank due to insufficient funds.
Class cancellation policy:
If you cancel 48 hours or more before the first class meeting begins, we will refund tuition less a $50 processing fee per class. If you cancel within 48 hours before the first class meeting begins, we will refund tuition less a $75 processing fee. If you cancel within 24 hours after the first class meeting, we will refund half the tuition amount. And 24 hours or more after the first class meeting, no refund will be given.
Refunds will not be given for the following classes: Advanced Acting; Audition Workshop for Professional Actors; Creating Story; Feldenkrais Method® Awareness through Movement: Improve Posture; Improvisation Performance Lab; Intermediate/Advanced Acting: Evolving Actor Intensive; Intermediate Voice-Over Acting; Self-Tape and Virtual Audition Mastery: Get Ready!; Stopping Anti-Asian Racism in its Tracks: Acting for Justice and Empowerment; Theatre of the Oppressed: Mindfulness, Meditation, & Liberation.
Summer programs cancellation policy:
If you cancel before June 1, we will refund tuition less a $150 fee. After June 1, no refund will be given.
Teen Night Season Pass cancellation policy:
Teen Night Season Pass registrations are non-refundable and non-transferable. Season Pass holders will receive a reminder email before each Teen Night. If you are unable to attend a performance, please send an email to teencouncil@berkeleyrep.org to release your ticket for another teen.
Berkeley Repertory Theatre is not responsible for any lost, damaged, or stolen personal belongings.
Disruptive or disrespectful behavior is not tolerated and will result in immediate expulsion from the Berkeley Rep School of Theatre with no refund.
Students are expected to attend all scheduled classes and scene partner rehearsals on time and ready to work. Repeated non-compliance without notification may result in dismissal from class without refund.
All dates, times, and programming subject to change.
Berkeley Rep School of Theatre's youth and teen programming is limited to children who are up-to-date with those vaccinations recommended by the Centers for Disease Control (CDC) and required by California Education Code Section 48980.5, unless a medical exception applies. For children with medical exemptions, the School must be notified and a physician's written statement supporting the medical exemption must be submitted prior to participation.
View a schedule of the CDC's vaccine recommendations
View the vaccines required by California law
School of Theatre major sponsors


Gisele & Kenneth F. Miller
The Woodlawn Foundation