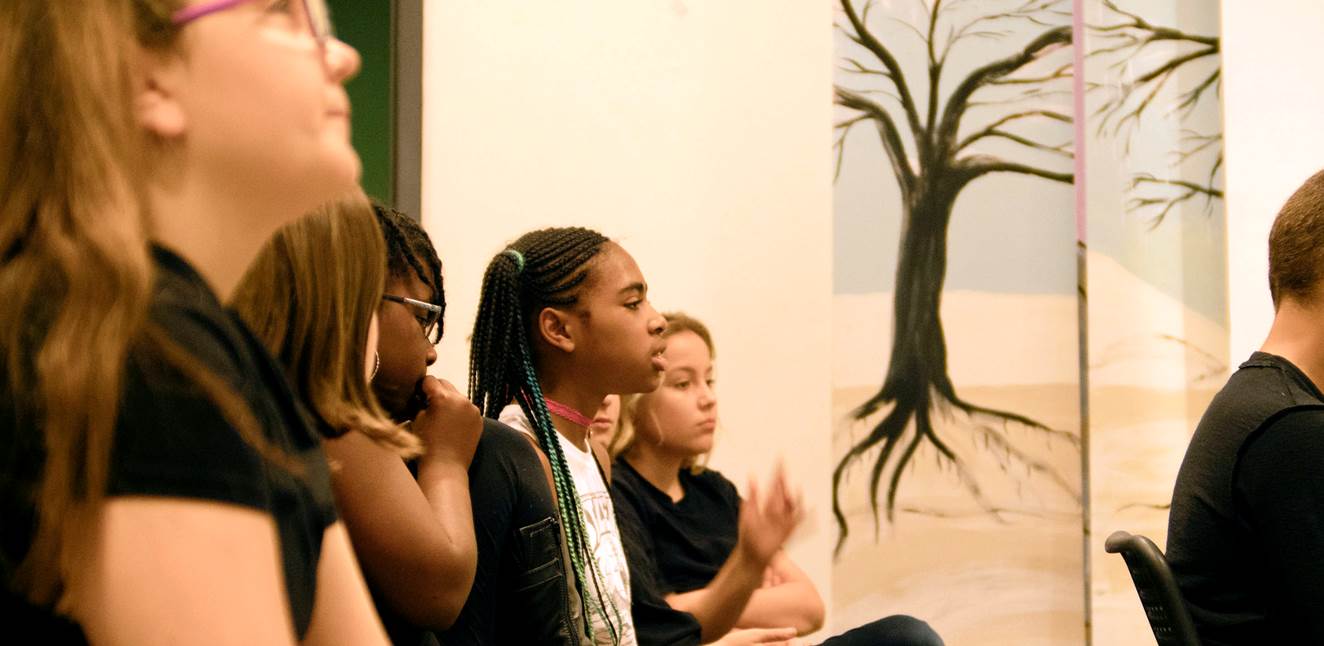 Bring Berkeley Rep to your school
The School of Theatre offers a wide range of FREE* and low-cost theatre-based workshops to Bay Area schools that align with Common Core through interactive learning and goal-setting curriculum. Whether bringing dramatic text to life, developing students' original work, or using critical thinking to reimagine our future, our professional teaching artists help students apply their creative potential to fundamental skills and concepts, challenging them to explore complex ideas and universal themes.
We understand the unique challenges facing California schools today. Now, more than ever, we must work together to reinforce arts education as a community value and as an integral part of our cultural fabric.
* Limited to one free teaching hour per public middle and high school in Alameda, Contra Costa, Marin, Napa, San Francisco, San Mateo, Santa Clara, Solano, and Sonoma counties. Free hour issued based on availability; must request at least one week in advance. Must sign and agree to Berkeley Rep School of Theatre booking agreement.
Workshops
Utilizing acting, movement, voice, and playwriting techniques, our workshops support the development of social/emotional life skills such as communication, problem solving, collaboration, and creative expression. Berkeley Rep Teaching Artists will modify curriculum based on students' grade, level of experience, and teacher feedback.
Email outreach@berkeleyrep.org for more information.
Bring a story to life! Using sound, movement, dialogue, and improvisation, students turn the classroom into a living theatre, becoming characters in a story chosen from our reading list. This workshop introduces students to theatre and helps develop literacy and communication skills in an artistic environment.
Depending on availability, Story Builders has the option of a bilingual program for Spanish-speaking ELL students.
Note to teachers: You have the option of recommending a story from your class (as approved by Berkeley Rep staff) or you may choose from a list of previous Story Builders literature selections. 10-hour workshops may conclude with an in class sharing of work for other students or families.
How have people managed to make change when they are the dissenting voice? How do we identify sparks of possibility in what can feel like overwhelming challenges facing us today? How do we use theatre to cast forward our hopes, and speak into being a new way of thinking and living?
Using System Design Thinking, History of Change Makers, and playwriting curriculum, our Berkeley Rep teaching artists hope to engage upper middle school students in critical solutions for the challenges we face. Through group work, individual action, and writing we will strive to connect problems with the people they affect and create narratives about how those people might change the world around us, the effect they can have in shaping our destiny.
In this engaging workshop your students learn to express themselves while venturing into the dynamic world of acting. Using acting exercises and scene work, students are introduced to the elements of dramatic action, text analysis, and character development.
Discover spontaneity through Improvisation. Using a series of theatre games, listening exercises, improvisations, and narrative scenes, students learn to communicate effectively and trust their impulses. In this workshop, your students will open up to the kind of spontaneity that breeds better comic timing on stage, stronger reactions in rehearsals, and increased laughter in the classroom.
Bring your curriculum to life! Performance Lab is a program in which middle and high school students create plays that are rooted in a particular topic or theme as identified by the classroom teacher, such as a required novel, a historical period, or a theme inspired by one of Berkeley Rep's productions. Through interactive exercises, students are taught practical theatre skills such as acting, script analysis, and character development. Performance Lab is offered as a 10-hour workshop and concludes with a culminating event.
Enliven your curriculum through your students' voices! In Playwriting, students create short texts inspired by a particular classroom topic or theme, such as ancient civilizations or contemporary literature, as identified by the classroom teacher. Through individual writing and interactive theatre exercises, students will explore main events, given circumstances, over-arching themes, character development, obstacles, and motivations as they work towards developing a basic script.
Enhance the student matinee experience with pre- and post-show workshops. Before and/or after the performance, these workshops deepen engagement by introducing, exploring, and further grounding the work students see onstage at Berkeley Rep. Students use theatrical tools to examine the themes of the play, learning how to dissect and articulate their points of view while creating a richer connection to the production.
Tips for teachers
We hope that your Berkeley Rep workshop will benefit your students and will provide inspiration and tools for you to integrate the arts into your classroom curriculum throughout the school year.
We want your outreach workshop to be as successful as possible. Below is a list of tips that can help you work with your teaching artist to guarantee that you and your students get the most out of our programs.
We ask that classroom teachers:
Inform the School of Theatre about students with differing abilities or circumstances.
Remain in the classroom at all times.
Model active engagement for students.
Encourage all students to participate fully.
Uphold school policies, classroom expectations, and any discipline issues that may arise.
Review or build upon the workshop material in-between teaching artist visits (six-hour or longer workshop).
Classroom teachers choose Berkeley Rep to:
Develop students' literary skills.
Develop theatre vocabulary and skills.
Develop creative skills necessary to adapt stories, originate ideas, and develop characters.
Build cooperative skills amongst students.
Encourage students' practice of empathy and self-reflection.
Encourage students to make informed artistic choices.
Bring working artists into your classroom.
We value your feedback. Please let us know about your experiences by emailing outreach@berkeleyrep.org and completing a survey at the conclusion of your workshop.
2022–23 fees
Public schools
One-hour workshop: $80/hour
Three- to six-hour workshop: $80/hour
10- to 15-hour workshop: $75/hour
Title I discount
One- or multiple-hour workshop: $70/hour*
Private and non-public schools
One-hour workshop: $100/hour
Three-hour or longer workshop: $85/hour
*Rates for Title I schools are negotiable based on access needs
Additional fees
Please note that for school sites further than 20 miles outside of the Berkeley Rep School of Theatre radius will include a small fee to accommodate the Teaching Artist's travel.
Special offer
Get one free hour per public middle and high school. Based on availability.*
* Limited to one free teaching hour per public middle and high school in Alameda, Contra Costa, Marin, Napa, San Francisco, San Mateo, Santa Clara, Solano, and Sonoma counties. Free hour issued based on availability; must request at least one week in advance. Must sign and agree to Berkeley Rep School of Theatre booking agreement.
Whether full-price or discounted, all workshops are subsidized by our generous funders and community partners.
There may be additional charges for organizing large school bookings. Please email outreach@berkeleyrep.org for more information.
Lead education funders

Gisele & Kenneth F. Miller
The Woodlawn Foundation
Executive education funders