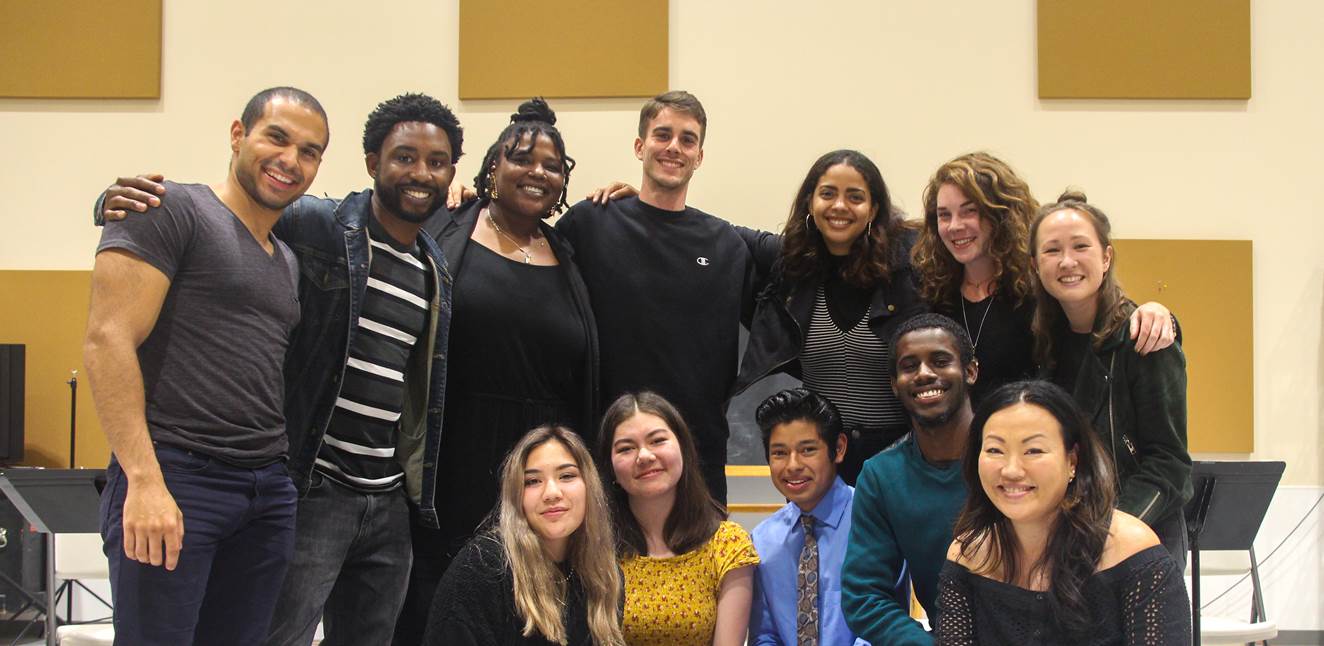 Young Writers of Color Collective
Are you one of the next, great voices of your generation? Join our Young Writers of Color Collective (YWoCC)—a year-long playwriting apprenticeship for emerging writers of color in grades 9–12.
YWoCC is lifting the veil of the playmaking process and giving you the chance to experience your passions full throttle. Selected teens will dive deep into a unique course of study under the guidance and mentorship of top Bay Area theatre-makers, including professional playwrights, directors, dramaturgs, and actors. Participants will complete in-depth writing workshops, see local theatre as a group, witness a professional rehearsal process, and create original works to be showcased at Berkeley Rep's Ground Floor Summer Residency Lab.
For questions or more info, please email teencouncil@berkeleyrep.org.
About YWoCC
Young Writers of Color Collective aims to equip the next generation of playwrights with the tools necessary to give voice to their stories, struggles, and triumphs. Over the course of a year, selected high school students will participate in an intense study of playwriting, being taught and mentored by a range of professional Bay Area artists. Each student will be tasked with writing and polishing three original pieces as part of the apprenticeship—one of which will receive a professional staged reading. Through the spring, students will develop a one-act play. Excerpts of their final piece will be performed in a special event during the Ground Floor Summer Residency Lab alongside the Bay Area's most sought-after actors and directors.
In addition to writing sessions, group events will be scheduled, including opportunities to see various Bay Area theatre productions and attend rehearsals for a new play being produced in Berkeley Rep's season.
YWoCC's main objective is to bring access, mentorship, and artistic training to Bay Area teens of color, while helping them build a relationship with a premier regional theatre company. YWoCC is born from the belief that it is no longer enough for those of us in American Theatre to say that we want a diverse and young audience without actually doing the work of making the audiences we seek truly believe there is a place for them in our theatres.
How to apply
The application window is currently closed. Please check back for more information.
Bay Area high school students (grades 9–12) who racially/ethnically identify themselves as a young person of color are eligible to apply.
YWoCC is a playwriting program, but writers of all disciplines are welcome to apply (i.e., playwriting, poetry, spoken word, fiction/non-fiction, etc.). No formal writing experience is required.
Ideal applicants are highly motivated, serious-minded individuals who will commit to a year's worth of training, meeting time, and mentorship, while maintaining academic success outside of the program.
Important dates
September–December | Attend plays and monthly meetings at Berkeley Rep
January | Staged reading of 10-minute plays
February–May | Monthly meetings
June | Berkeley Rep's Ground Floor presentation