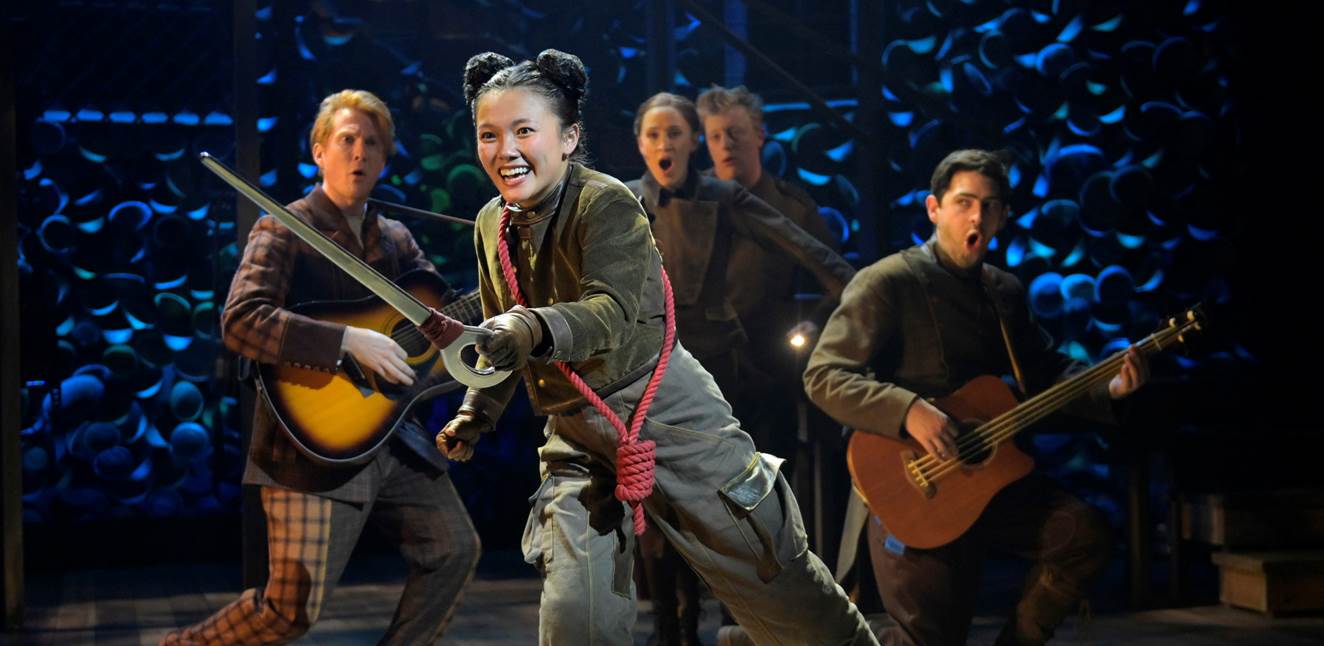 Thank you for supporting Berkeley Repertory Theatre. There are a number of ways to give, outlined below.
You may make a one-time or monthly gift online by credit card, and you'll receive an auto-generated acknowledgement for your records.
You may make your check payable to Berkeley Repertory Theatre and mail it to our offices at:
Berkeley Repertory Theatre
Attn: Development
999 Harrison Street
Berkeley CA 94710
If you prefer to send your gift via wire transfer, you may direct it to our bank:
Signature Bank
565 Fifth Avenue, 12th Floor
New York NY 10017
General operating account
Routing #: 026013576
Account #: 1503394916
Please call the Development Office at 510 647-2901 if you would like to give over the phone.
Berkeley Rep Sustainers are a group of donors committed to advancing Berkeley Rep's mission through ongoing monthly donations.
Why you should join
Impact. Your gift provides Berkeley Rep with a reliable source of support that champions the productions you enjoy each season.
Ease. Your donations process automatically. Just update us when your billing information changes or if you want to request a change to your donation.
How it works
Commit to an automatic credit card donation paid in monthly installments in any amount you choose. Your first installment will be charged upon receipt.
After your initial payment, your credit card will be charged automatically on the 15th of the month.
You'll receive an acknowledgment after your first payment, and we'll send you a tax statement and a letter detailing your season benefits each year.
Contact us at 510 647-2901 to become a Sustainer today.
Berkeley Rep accepts most donations of publicly traded securities on the US Stock Market. Before initiating a gift of stock, please contact the Development Office at 510 647-2907. We also request you complete the Stock Instruction Form so that we may accurately credit your gift.
Donor-advised funds
Support Berkeley Rep with a grant from your donor-advised fund. Recommend Berkeley Rep as the grant recipient and provide your name if you wish to be recognized as the grant advisor.
Please note: Grants cannot be used to pay existing pledges or purchase tickets to events. Berkeley Rep cannot provide more than incidental personal benefits to an individual who recommends a grant through a donor-advised fund.
For more information, read the Guidelines for Accepting Donor-Advised Fund Contributions created in collaboration with other Bay Area cultural organizations.
IRA charitable distributions
If you are 71½ or older, you can make a tax-free donation directly to Berkeley Rep or other qualified charities from your Individual Retirement Account (IRA) that counts toward your Required Minimum Distribution, up to $100,000 per calendar year. It's a tax-smart way to support audacious and thrilling theatre at Berkeley Rep.
The distribution must be made directly from your IRA to Berkeley Rep. Instruct your plan administrator to send a specific dollar amount directly to Berkeley Rep by check or electronic transfer.
Download a sample charitable distribution letter to send to your IRA plan administrator.
Prior to making any decisions about your distribution, consult with your financial, legal, or tax advisor to discuss the details of making a distribution, including the impact of your state's tax laws.
If you have any questions or need further information to complete your gift, please contact Laura Fichtenberg at 510 647–2907 or email give@berkeleyrep.org.
Please note: Donors who make a Qualified Charitable Distribution from an IRA, may not accept tangible benefits, such as complimentary tickets to opening and closing nights, in exchange for their gift.
Berkeley Rep's federal tax ID number is 94-1679756.
Play an important role in Berkeley Rep's future by remembering Berkeley Rep in your estate plan. Learn more about planned giving and joining the Michael Leibert Society.
You can double or triple your support of Berkeley Rep by having your gift matched by your employer. Contact your employer to find out if they match charitable gifts and request a match when you make your gift. You'll receive donor benefits at the combined giving level, plus you'll amplify your impact on great theatre in our community.
Berkeley Rep can put your unwanted vehicle to good use! Your car, motorcycle, truck, boat, RV, or other vehicle can help bring world-class theatre to our community and provide vital arts education programs for local youth. Vehicle donation is a hassle free and easy way to give; and your contribution is tax-deductible to the fullest extent of the law!
Have a vehicle in good working order?
Berkeley Rep is looking for the following types of vehicles for our day-to-day operations:
Passenger cars
Passenger vans
Pickup trucks
Cargo vans
Large box trucks
Street-legal golf carts
Bicycles
Call 510 647–2901 or email give@berkeleyrep.org for more information.
Got a clunker?
Call 855 500–7433 or visit CARS to schedule a free pick-up of your vehicle from anywhere in the U.S. (and some areas of Canada). Make sure to let them know you'd like the proceeds of your donation to go to Berkeley Rep!
Berkeley Rep accepts in-kind donations of products and used equipment that we can use on stage, in our offices, and in our guest artist and fellow apartments. The Theatre generally does not accept donations of clothes, costumes, or props because of space and storage limitations, and we ask that you include photos and dimensions of items you would like to donate when making your offer to donate. We regret that we cannot accept all large-item donations.
If you would like to help us out by donating any items, please call 510 647–2901 or email give@berkeleyrep.org. We are unable to pick up items but will gladly arrange a time for drop-offs.
Real estate can be used to create some life income gifts, or it can be given outright during your lifetime or as a bequest. You can even make a gift of your home to Berkeley Rep and retain the right to live there for the rest of your life while you receive a current income-tax charitable deduction for a portion of your home's value.
Each piece of property will require review to determine its suitability as a charitable gift. If you are considering making a gift of real estate to Berkeley Rep, please contact Andrew Maguire at 510 647-2904 or give@berkeleyrep.org to discuss.
Please note: For real and personal property worth more than $5,000, you will need to obtain an independent appraisal from a qualified appraiser in order to substantiate the value of the gift for tax purposes.
If at the last minute you are unable to use your tickets, you may turn them in as a contribution to Berkeley Rep. The value of the donated tickets is tax-deductible and acknowledged by email. Tickets for past performances cannot be considered a donation. Call the box office at 510 647-2949 to facilitate your ticket donation.
Photo by Kevin Berne/Berkeley Repertory Theatre
Dorcas Leung with (back, l to r) Ryan Melia, Betsy Morgan, Matt Nuernberger, and Curtis Gillen in PigPen Theatre Co.'s The Tale of Despereaux
Book, music, and lyrics by PigPen Theatre Co. | Based on the novel by Kate DiCamillo and the Universal Pictures film | Directed by Marc Bruni and PigPen Theatre Co. | Scenic design by Jason Sherwood | Costume design by Anita Yavich | Lighting design by Donald Holder | Sound design by Nevin Steinberg | Shadow sequences and puppetry design by Lydia Fine and Nick Lehane | Choreography by Jennifer Jancuska | Music direction and additional arrangements by Christopher Jahnke