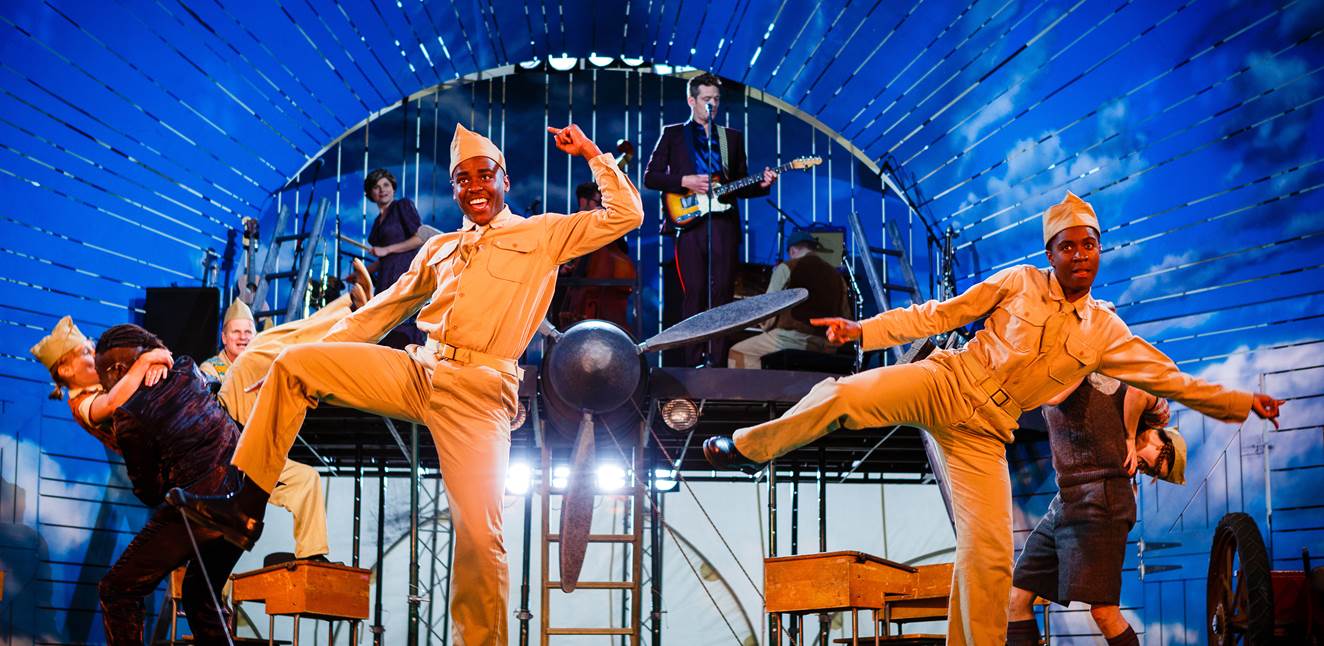 Rentals
Berkeley Rep opens its doors to organizations and individuals from the community for a wide range of events. Various facilities and spaces are available throughout the year to accommodate events of all sizes and types, and non-profit rates are available for qualifying community organizations.
The state-of-the-art Roda Theatre or intimate Peet's Theatre are ideal sites for performances, presentations, meetings, or lectures. Berkeley Rep's lobbies and beautiful outdoor courtyard provide the perfect setting for receptions, parties, or corporate entertaining. There are also a number of rooms suitable for more intimate gatherings such as small parties, meetings, rehearsals, or presentations. If you're looking for a distinctive venue for your next event, Berkeley Rep has a space for you!
Availability
Under the terms of an agreement governing the relationship between Berkeley Repertory Theatre and the City of Berkeley, Berkeley Rep has agreed to make up to 320 hours of its facilities available for public rental during the season.
Berkeley-based organizations and businesses will get first priority in the following order:
Not-for-profit arts organizations
For-profit arts organizations
Other not-for-profit organizations
Educational or governmental entities
Non-arts-related for-profit businesses.
During the 2023/24 season, the following spaces will be available for rental on the specified dates. Other dates may become available during the season.
Roda Theatre | Oct 26–29, 2023
Peet's Theatre | Dec 11–23, 2023
School of Theatre classrooms | Sep 4–15, 2023, Dec 11–22, 2023, Jan 2–12, 2024
Medak Center classroom | Sep 4–15, 2023, Dec 11–22, 2023, Jan 2–12, 2024
Mercer-Golden Family Hall | Oct 25–Nov 5, 2023
Tony Taccone Hall | Oct 2–Nov 5, 2023
Contact
For rental rates, space availability, or other information about booking a space for your event at Berkeley Rep, please email rentals@berkeleyrep.org.
Addison campus
Roda Theatre
Capacity: 568
Peet's Theatre
Capacity: 399
Narsai M. David Courtyard
Capacity: 200
Berkeley Rep School of Theatre
Blue Room (34' x 15') capacity: 25
Loft (34' x 18') capacity: 30
Bakery (39' x 30') capacity: 70
Medak Center
Artist studios available for nonprofits
Classroom (30' x 20') capacity: 50
Outdoor terrace capacity: 75
Harrison campus
Mercer-Golden Family Hall (40' x 40')
Capacity: 50
Tony Taccone Hall (50' x 40')
Capacity: 50
Photo by Steve Tanner
(l to r) Ncuti Gatwa and Nandi Bhebhe in 946: The Amazing Story of Adolphus Tips
Based on the novel The Amazing Story of Adolphus Tips by Michael Morpurgo | Adapted by Michael Morpurgo and Emma Rice | Directed by Emma Rice | Composition by Stu Barker | Set and costume design by Lez Brotherston | Lighting design by Malcolm Rippeth | Sound design by Simon Baker | Puppet direction by Sarah Wright | Music direction by Pat Moran | Choreography by Emma Rice and Etta Murfitt