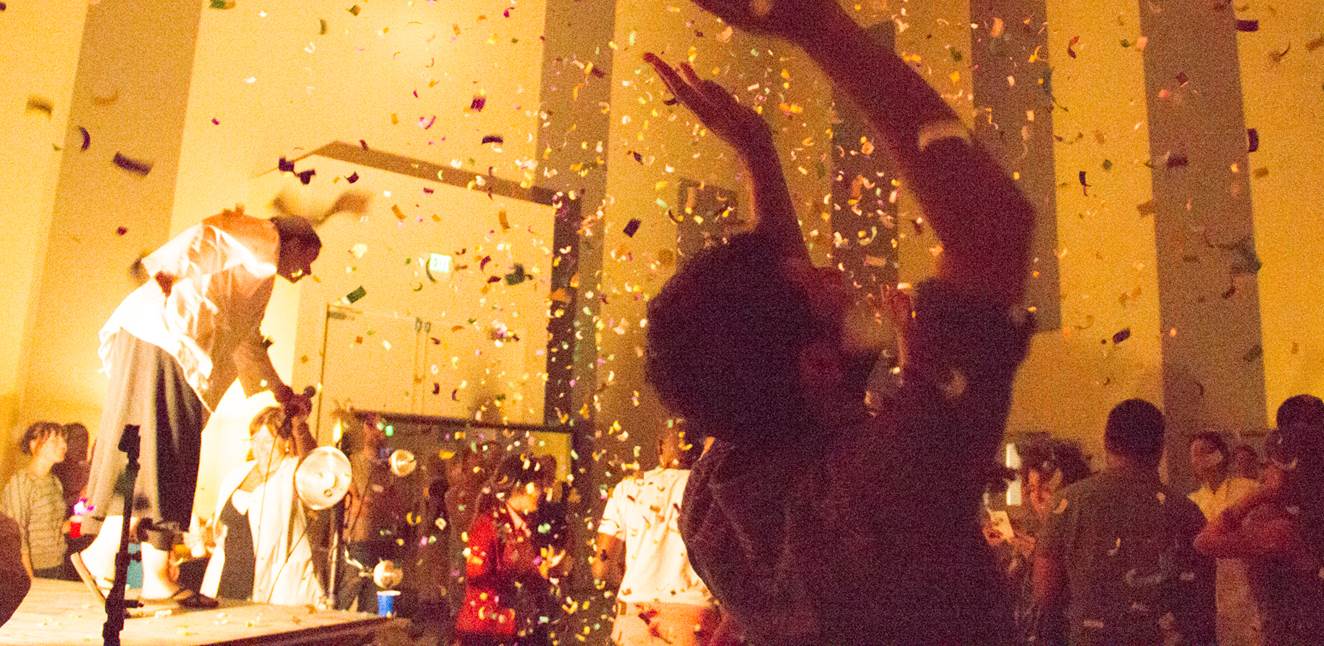 Monica Bill Barnes and Robbie Saenz de Viteri | Many Happy Returns
A physical version of a memory play, combining stories and dances that celebrate the disappointment inherent in returning, year after year. From the start, there's little distinction between audience and performer as both navigate who is ultimately leading the show. Now that we are all here, who is it exactly that we want to be? Audience members will hear stories, set to the sounds of Perry Como, Bach's Partitas, and Blondie. There are flowers, an attempted sing-along, and someone will give a toast. By the end, the stage is no longer empty, but ridden with mementos and dancing bodies, leaving the audience feeling fuller than when they arrived as if they, like the performers, finally found what they've been missing.
Julia Cho | Untitled
Julia will work on a new project.
Maya De La Rosa-Cohen | Untitled
Maya's project is a semi-autobiographical play about her family. It's a story about love, perseverance, and the legal battle to build a family.
Minita Gandhi | Nerve
Jyoti's facile hands that raised four children and six grandkids, creating every meal from scratch, now feel like they have knives running through them…all the time. At 75 years old she has discovered that she has a severe case of peripheral neuropathy. The nerve damage is so severe that even if the pain becomes manageable, she will not be able to care for anyone, let alone herself. After years of caretaking, Jyoti finds herself questioning what her legacy will be. Determined to leave something behind and everyone too busy to listen, she finds herself in the kitchen with her youngest daughter, Meera. At 42, Meera begrudgingly attempts to create and document her mother's home-cooked recipes. As their culinary journey commences, Meera begins to document not only the recipes, but the stories of her mother's life in India and her journey to the U.S. to raise the family. Between the heat of the tawa and the healing of the spices, these two begin to hear each other for what is probably the first time. Nerve is a two-hander that explores identity and legacy through a cross-generational and multicultural lens. What is it that we truly leave behind? And what is our value in the world when we are no longer of service to people? It is meant to be an aromatic, and interactive production with the recipes being shared and cooked on stage, as well as served to the audience.
Franky D. Gonzalez | Heart Stop, or The Obesity Play
Catalyzed by two health crises that occurred close to each other, Heart Stop, or The Obesity Play is a solo show following the current, real-time journey of playwright Franky D. Gonzalez as he tries to find a way toward a healthier life while battling against depression, self-loathing, and his constant struggle with obesity.
Kathryn Grody | The Unexpected 3rd
Kathryn Grody's new work is a radical rumination on the optimism of staying alive. Deep into her third and final act of being a person, Grody investigates an eclectic, devastating, and hilarious potpourri of shocking discoveries as she finds herself at 75 becoming…not quite old, but elder. "Old starts at 95!" she declares. "I've just completed my late youth." Another boomer who didn't think the aging process would apply to them, Grody enters elderhood with equal parts empowerment and utter bewilderment. Marching onward through crumbling democracy, a boiling planet, and an increasingly dead roster of friends and colleagues, she is buoyed by discovering parts of herself she didn't know were in hiding. Perhaps these parts were waiting for this period to bloom. Mother, artist, wife, grandmother, friend, and accidental influencer, Kathryn Grody is astonished with her life, your life, and the stunning, deeply funny, heartbreaking impermanence of it all.
Dave Harris | Untitled
Could we lie if we didn't have language? Is language always a lie? My mother hasn't talked in a year, but she reads my press releases. My father was bad, but now he's real. This has nothing to do with the play. Are people hornier these days?
Beth Henley | Down Stair's Neighbor
A waning playwright, Old Low, is trying to write a play in seven days because her time is limited. The play is set in 1970s Tarson Mississippi. Sharon Bunn, a pornographic puppeteer, moves into the downstairs apartment below Wayne Purvis and Young Low. An escalating feud ensues, leading Wayne to kidnap Sharon with plans to murder her. Tilting between the struggle to write a play and the struggle within the play, a chaotic, horrific, and effervescent vision of creation is revealed.
Hanna Kime | Dogs
It is the Fourth of July sometime in the future, and history is about to be made. We are about to witness the annual Hot Dog Eating Contest. The five women invited to this stage have set out to conquer nature, destroy their own limits, and shatter our perception of what the human body is or isn't capable of. Dogs is a dizzying, anti-plot, high-intensity exploration of capitalism, competition, and consumption that poses the question: how long can we keep all this up?
Kitka Women's Vocal Ensemble | BABA
BABA is inspired by real and imagined stories of Balkan sworn virgins (women who become men after taking vows of chastity and celibacy). The tradition of sworn virgins is rooted in a centuries-old social code of law present in remote rural regions of Albania, Bosnia/Herzegovina, Kosovo, and Serbia. Born as women, life circumstances — including the loss of male relatives in blood feuds or a desire to escape an oppressive arranged marriage — led these female-born individuals to become men to gain the honors, rights, privileges, and freedoms of revered community patriarchs. An innovative, non-narrative take on Balkan epic story-singing traditions, BABA explores themes of gender, otherness, choice, virginity, sexual identity, and the complexities of interpreting these Balkan gender-transformation stories through a contemporary, liberal, Western lens.
Danielle Levin | Whole Cloth
Whole Cloth centers on a woman with no siblings, spouse, or children, wrestling with questions of legacy and heritage. Stories are embroidered and woven, literally and figuratively, in conversation with her seamstress great-grandmother and with S. Ansky, author of the 1937 film The Dybbuk.
Ethan Lipton | What You've Done Is Moral and Bad for Me and Our Friendship
What You've Done Is Moral and Bad for Me and Our Friendship is a play about a 9th-grader in a love triangle at debate camp.
Jess McLeod | The Deciders
A theatrically insane joyride from the Chinese Exclusion Act of 1882 to the Immigration & Nationality Act of 1965, featuring the white guys who decide all the things and the Asian & AAPI lives and futures they shape(d).
Mara Nelson-Greenberg | The Haunting at Camp Winona
The Haunting at Camp Winona is a dark comedy about a group of campers trying to get to the truth at the center of an old scary campfire story.
Lila Neugebauer and David Adjmi | Untitled
Lila Neugebauer and David Adjmi will work on a new project.
Joél Pérez and Benjamin Velez | Lost City Radio
After a failed political revolution, Norma is the on-air voice of hope to a country plagued by fascism and forced disappearances. When an orphan from the jungle, Victor, arrives at her radio station with a clue about her missing husband, they embark on a journey that weaves in and out of their memories to piece together two psyches torn apart by war.
Michael Phillis | Eat Pray Patty
Everyone's favorite HR manager is back and zen-er than ever with a brand-new mandatory comic training. After years of getting fired and flipping tables, Patty From HR is ready to find inner peace at a silent yoga retreat. But when her sexual harassment prevention training reveals uncomfortable truths about the ashram, Patty has to choose between keeping the peace or blowing it all up in a spectacularly NSFW fashion. You'll never guess which one she chooses! Content warning: sexual harassment, white lady cultural appropriation, Comic Sans. Don't forget to sign in!
Nia Akilah Robinson and Leigh Rondon-Davis | Deadass (Pt.2)
A college prep classroom. Five Black youths navigating the hierarchy of pursuing higher education. And a rumor that a Black parent goes to great lengths to end.
Melisa Tien | Untitled
Melisa Tien is assembling text for a theatre-work about long-haul truck drivers and the moment their vocations become obsolete as a result of driverless trucks taking over as the predominant means of cross-country shipping. The text is based in part on interviews with truck drivers she made during a cross-country drive from San Francisco, CA to Teaneck, NJ along Interstate 80.
Minghao Tu | Factory 812
It's 1999, after the Cold War and before the "Rise of China." At the state-owned Factory 812 in Wuhan, a group of workers faces layoffs as China accelerates its economic reform — the ruthless swing from the Soviet model to global capitalism. Soon the workers will learn that there is no such thing as a "job for life."
Bassem Youssef | Untitled
When the Arab Spring came to Egypt, Bassem Youssef was a heart surgeon, a respected doctor living with his parents. He was ready to live a quiet, normal life. After seeing a bootleg copy of The Daily Show with Jon Stewart, he was inspired to start his own YouTube show satirizing hypocrisy in his country, including religious fundamentalism and the military dictatorship. His show became a hit in the Arab world, and he was offered a TV show, which was regularly watched by 40 million people a week. Hated by the Muslim Brotherhood and the military equally, it didn't matter who was in charge, he took aim at hypocrisy, turned friends and family against him, and was ultimately forced to escape Egypt with his family. Bassem was a regular nobody who transformed into one of the most influential somebodies in the world, who then was forced to leave it all behind. Now he turns the power of satire on himself, exposing the hypocrisy of his own faith, belief, and truth. It is about the personal cost of disappearance and how to rebuild yourself with the pieces that remain after you have ceased to exist. It's also about America, his home now, and the terrifying similarities to the country he lost.
Debórah Eliezer, Vidhu Singh, Noor Adabachi, and Cynthia Ling Lee | Burning Wild
How does climate disaster affect our sense of belonging? Burning Wild, created by Debórah Eliezer in collaboration with Vidhu Singh, Noor Adabachi, and Cynthia Ling Lee, is a devised performance, incorporating physical theatre and dance, created in response to the California wildfires of 2020. It began as a community-gathering circle to support Northern Californians affected by the wildfires. Recent 2020 fire survivors themselves, Debórah and Noor draw from their lived experience using personal stories of their relationship to home and placemaking from the Middle East to the Bay Area told through devised text, song, movement, documentary video, and puppetry to tell a collaged docu-myth about the land, displacement, trauma, and renewal, offering artists and audiences an opportunity for resilience, hope, and community healing in a time when a prolonged megafire season is an annual occurrence.
Bennett Fisher | Cry Havoc
Cry Havoc is a dark comedy inspired by the attempted kidnapping of Michigan governor Gretchen Whitmer. A hybrid of live and digital performance, the play unfolds across a series of platforms—Zoom meetings, phone calls, texts, chat boards, social media posts, video, and more—following a group of conspirators in far over their heads. With unexpected humor and biting satire, Cry Havoc explores the allure of conspiracy theories, the rise of far-right extremist groups, and the sense of desperation created by the pandemic.
Denmo Ibrahim and Kate Bergstrom | Beyond the Ocean's Edge
May Ziadeh, an influential feminist of the 1920s, was a prolific writer, translator, and critic of Palestinian-Lebanese descent. Fluent in nine languages, her work paved the way for the Arab Renaissance. But May suffered a deep sense of isolation during her life. An advocate for women's rights and a leading intellectual of her time, she was often undermined by her peers, being praised for her beauty alone. In love, she had many suitors but rejected them all for a man she never met. Her greatest love was with the Lebanese poet, Khalil Gibran—a relationship in letters maintained over 19 years and until his death.
Josh Kornbluth | The Bottomless Bowl
The Zen Hospice Project of San Francisco was a remarkable institution—providing expert, loving comfort to people at death's door. For several years Josh Kornbluth—haunted by his father's death—spent countless hours at the hospice, first as an artist-in-residence and later as a volunteer. His experiences with numerous "residents" (as they were called), nurses, and volunteers transformed his attitudes toward both death and life.
Jeffrey Lo | Delano Love Song
Set against the backdrop of the 1960's Delano grape strike and the formation of the United Farm Workers, Delano Love Song is a sweeping romance about Lester, a migrant farmworker and one of the early Filipino-American immigrants, and Kathy, the daughter of one of the farm owners pushing back against the mounting protests led by Dolores Huerta, César Chávez, and Larry Itliong.
Leigh M. Marshall | The Rosaline Play
Rosaline Velasco, an A&R executive at a major music label, strikes platinum when she discovers a pair of young trap hitmakers who spin yarns about self-destruction—but when she uncovers true danger underlying the lyrics, she battles against a system that profits off of martyrdom to save her artists from themselves.
Ashley Smiley, Margo Hall, Sean San José, and Joan Osato | Dirty White Teslas Make Me Sad
Dirty White Teslas Make Me Sad is a statement and a deep-dive emotional state for the Black and Brown San Franciscans watching their home be overrun by silent harbingers of doom and sleek reflections of otherness.
Ari'el Stachel and Tony Taccone | Untitled
Untitled is a semi-autobiographical solo show about Ari'el's pursuit to understand his lifelong battle with anxiety after winning a Tony Award. It examines his identity and the years he spent hiding his Yemenite Israeli American Jewish heritage in the aftermath of 9/11.
Madison Wetzell and Ciera Eis | Untitled Faust on 4Chan
A loose adaptation of Faust, in which jokes are very serious, things get out of hand, and the internet is a demonic Greek chorus. A young man in his Nietzsche phase makes an anonymous online joke that accidentally spawns a conspiracy theory. A YouTuber of questionable politics offers him fame, fortune, and endless entertainment to keep the conspiracy going—as a joke, of course. When his girlfriend's graduate school roommate threatens to expose him, he sends his bloodthirsty following after them.
Dawn L. Troupe, Jeff Liu, and Adrienne Shamszad | Riding the Light
Riding the Light is a musical about a brilliant young Afro-German prodigy whose love of astronomy and astrophysics offers her a deep spiritual connection to her ancestors, the universe, and ultimately her greatest self.
Erika Chong Shuch, Ryan Tacata, and Rowena Richie | The Welcoming
The Welcoming is devised in collaboration with 12 elders and performed live for small audiences at sites throughout San Francisco specific to each elder. A shared theme of "returning" runs through each performance and recurring motif: for example, one character's "welcoming gestures" are performed as neo-folk dances. The Welcoming serves as a theatricalized greeting ceremony that places those most vulnerable at the center of our creative embrace.
Chris Steele, Sean Owens, NJ Bice, and Nic Candito | Gaslit: A Trans Drag Parody
Gaslit: A Trans Drag Parody is an intentionally queer, trans, and feminist takedown of an accidentally impactful theatre classic: Angel Street. This immersive solo performance is told through the eyes of the unwitting ghost of Bella Manlyhands, formerly Bella D'Balle. It's a full-length solo adventure that features drag lip sync, storytelling parlour games, murderous intrigue, and edible soap.
Molly Van Der Molen | Never Sink River
Never Sink River captures the relentless, tragic, and fervently loving story of Molly Van Der Molen's grandparents through a series of "episodes" that culminate in an epic using non-linear narrative, American folk music, and mixed media.
The Bengsons | Ohio
Ohio is the third and final installment in the Bengsons' trilogy which began with Hundred Days and The Lucky Ones. It is a concert musical about faith, doubt, and fatherhood, chronicling several generations in Shaun Bengson's family, a line of music-loving pastors affected by congenital hearing loss. Through story, song, and sermon we ask how we transform trauma into transcendence.
Agnes Borinsky and Ezra Furman | Untitled Project for the New Jerusalem Tavern
We gather every week for a night of music and poetry at the New Jerusalem Tavern. A rare space for those with transangelicism. A transangelic person is a human being like any other, with one exception: they have grown, or are in the process of growing, wings. The world is increasingly threatening. We hunker down; eventually we'll probably have to surrender the bar. When that happens, where will we go? A concert for our last seven nights at the New Jerusalem Tavern.
Mathilde Dratwa | A Play about David Mamet Writing a Play about Harvey Weinstein
Francesca, a playwright, has several Reasons to be Pretty Angry. Among them: David Mamet has actually, in real life, written a play about Harvey Weinstein. Francesca thinks that's bonkers. So this is her play about David Mamet. He's in it, and so are a bunch of other dudes named David who definitely shouldn't even think about writing a play about Harvey Weinstein. This is a play about women. About Francesca. About Francine, who can do it all (parent, act, sing, fly, castrate, kill)…until she can't. About Zoe, who shows up to audition and can't stop talking. Turns out there's a lot to say.
Jessica Fechtor | Book of Hours
Hunting. Taxidermy. Illness and intimacy. Magical thinking. Different kinds of guns in different kinds of hands. Book of Hours is a play about empathy, its power and limitations, and our varying responses to our own mortality.
Emily Feldman | Untitled romantic comedy for a new world
A contemporary American comedy in conversation with an ancient Greek tragedy. Topics to be investigated include: oracles, prophecies, free will, family, and love in a time of many different kinds of plagues.
Vanessa Garcia | 1000 Miles
In 1000 Miles, Solis, the play's protagonist, has just arrived in The City from 1000 Miles Across the Sea. She's searching for family, for a way to carve out a new life. But The City is changing, and the very skills Solis brings with her can either save or destroy this new place she's beginning to call home. 1000 Miles is a play about what it means to migrate to a new place, try to find refuge. It's a play about survival, surveillance, nationalism, and the nature of opportunity. About the walls that block our path and the new doors we try to open to save ourselves and those we love.
Dave Harris | Watch Me
How can I get over slavery if I can't even get over my ex? Watch Me takes place in the subconscious void of an interracial couple from their first date, to their first time, to a reckoning with heritage, ancestry, and Black Jesus.
Jessica Huang | The Kim Loo Sisters Musical
The Kim Loo Sisters shared top billing with Frank Sinatra, Jackie Gleason, and Ann Miller, but today their names — Alice, Maggie, Jenée, and Bubbles — are all but forgotten. This new original musical depicts the true story of this hapa girl group from Minneapolis who toured their four-part harmonies around the world. Blending styles of the 1930s and 40s with contemporary sounds, the musical juxtaposes Hollywood glamour with the darker realities for artists of color during the era of Chinese Exclusion, internment camps, and anti-miscegenation laws. Through song, dance, and sisterhood, we imagine what could have been if these talented musicians were given an equal shot.
Julia Izumi | Akira Kurosawa Explains His Movies and Yogurt (With Live & Active Cultures!)
Tonight we welcome Akira Kurosawa, the acclaimed filmmaker, who will give us an exclusive peek into his brilliant mind and the thrilling world of his movies. But, you know, it's so weird, every time he talks about his work, it kinda sounds like he's talking about yogurt? Akira Kurosawa Explains His Movies and Yogurt (With Live & Active Cultures!) is a fantastical lecture/performance hybrid about identity, cultural imperialism, and "healthy" consuming.
Victor Malana Maog | tot: The Untold, Yet Spectacular Story Of (a filipino) Hulk Hogan
tot follows an immigrant boy who travels from the Ferdinand Marcos-ruled Philippines to the San Francisco Bay Area to meet his long lost parents. He journeys from a country full of strife and military rule only to find himself in his lonely American bedroom conjuring a pro wrestling fantasy to escape his new life.
Itamar Moses | The Ally
Asaf teaches creative writing at a prestigious university in a troubled city. When a student asks him to sign a document condemning an act of police violence he fully intends to do so…until some things in the document trigger a response in Asaf that he did not expect. A new play about the tribalisms that lurk in all of us and what happens when two of them are in conflict.
Sam Pinkleton and nicHi douglas with Pig Iron Theatre Company | House of Victory
House of Victory is a large-scale American Entertainment loosely inspired by Aaron Copland and Martha Graham's wartime collaboration Appalachian Spring. A sweeping and epic dance-theatre ballet that aims to look and feel like (actual) America, where humans of all ages, experiences, and abilities crash into each other and find unexpected unison in a dizzy and joyful attempt to answer impossible questions like what we all share (or don't share), what democracy looks like, what the hell "American Dancing" is, and what happens when words don't quite do the trick.
Mason Rosenthal | Toys Are Us (working title)
Mason Rosenthal will lead fellow Lightning Rod Special Co-directors Scott R. Sheppard and Alice Yorke in workshopping a new piece of ensemble devised theatre in collaboration with theatre artist/puppeteer Morgan FitzPatrick Andrews and playwright/videographer Paul Kruse. Through historical research, contemporary interviews, and performative experiments with toys (plastic and digital), Toys Are Us (working title) will chart shifts in American identity through an exploration of the toys we've trashed and treasured. What can our toys tell us about where the culture's been, the conflicts of the present, and what's in store for the future?
Asha Sundararaman | India/Indiana
India/Indiana is a new musical that weaves together the stories of two women on opposite sides of the globe to explore identity, migration, and coming of age.
Caldwell Tidicue | Harriet Tubman: Live In Concert
Imagine if Hamilton was written by John Cameron Mitchell. The life, times, and impact of Harriet Tubman told through hip hop and storytelling.
Sanaz Toossi | Your Broken Racket
In Your Broken Racket, two friendships — one set in the present, one set in the past — unfold on a tennis court in Iran, where life is changing either too quickly or not quickly enough depending on who you ask. How do friendships survive as the schism widens between those who think things are getting better and those who do not?
Tom Toro | Yes, The Planet Got Destroyed
Yes, The Planet Got Destroyed is a theatrical adaptation of Tom Toro's forthcoming graphic memoir by the same title. It tells the story of a young cartoonist who breaks into The New Yorker while battling depression. During a turbulent period in his mid-twenties, the cartoonist suffers a nervous breakdown, attempts suicide, then lands back in his childhood home in the San Francisco Bay Area where he must painstakingly rebuild his personal and professional life. Equal parts haunting and humorous, portrait and parody, the drama unfolds with a surprising, nonlinear structure like that of a cartoon brainstorm session. It depicts millennial malaise, a family's hidden legacy of mental illness, an artist's struggle to cultivate mirth within melancholy, and the redemptive power of the human imagination.
Ikechukwu Ufomadu | Ike's Wonderful World of Leisure
Ike's Wonderful World of Leisure is an evening-length, solo comedic performance structured as a Master Class on Leisure. Facilitated by a Master Practitioner of Leisure, the class will explore such topics as Hobbies, Leisure Sciences, the Politics of Leisure, Leisure's Future, and more. The class will also feature live demonstrations of Leisure and tips on how to incorporate Leisure more fully into one's daily life.
Avi Amon and Julia Gytri | Salonika
Christina Anderson | the ripple, the wave that carried me home
Andy Bayiates, Bilal Dardai, Genevra Gallo-Bayiates, Sharon Greene, Chloë Johnston, and Khanisha Foster | 45 Plays for America's First Ladies
Eliza Bent | Indeed, Friend!
Andy Bragen | Summit
Marisa Carr | Punk Rock Mixtape Play
Carla Ching | Revenge Porn
Alexandra Collier, Heather Christian, and Mia Rovegno | Together
Erin Courtney | Ann, Fran, and Mary Ann
Shelley Doty | We 3
Ryan J. Haddad | Good Time Charlie
Naomi Iizuka and Paul Hodge | Okuni
Candrice Jones | Flex
Min Kahng | Calafia: A Reimagining
Kimber Lee | Untitled f*ck m*ss s**gon project
Leonard Madrid | Las Arañas
Baruch Porras-Hernandez | Love in the Time of Piñatas
Sarah Ruhl | Lock her up! (Becky Nurse)
Tina Satter | Untitled Reality Winner project: verbatim transcription
Zarina Shea | Just up the Road, Slightly
Joe Waechter | Breakaway
Arisa White | Post Pardon: The Opera
Christina Anderson | Untitled
Glen Berger | The New Frontier
Eugenie Chan | The Chan Family Picnic, A Nouvelle Vaudeville
Dustin Chinn | Colonialism is Terrible, But Pho is Delicious
Sarah DeLappe | Richard in 9 Poses
Donnetta Lavinia Grays | Laid to Rest. A Full Length Multi-Media Play.
Daniel Handler | Imaginary Comforts, or The Story of the Ghost of the Dead Rabbit
Martyna Majok | Untitled
Tony Meneses | Between Here and the City of Mexico
James Harrison Monaco and Jerome Ellis | Museum
Sylvan Oswald | TRAINERS, or The Brutal Unpleasant Atmosphere of This Most Disagreeable Season
Lisa Peterson and Todd Almond | The Idea of Order
Max Posner | Giddiness
Kemp Powers | The Two Reds
Kate E. Ryan | Untitled
Diana Lynn Small | House Play
Jonathan Spector | This Much I Know
Mfoniso Udofia | Adia and Clora Snatch Joy
Lileana Blain-Cruz and Susan Soon He Stanton | Intimacy
Mia Chung | Bloken Engrish
Megan Cohen | Truest
Eisa Davis | Flowers Are Sleeping
Erin Edens | The Meaning of Ants in My Kitchen
Dipika Guha | The Art of Gaman
Kitka Women's Vocal Ensemble | Iron Shoes
Josh Kornbluth | The Bottomless Bowl
Aaron Landsman | Squares
Josh Lefkowitz | Poetry Project
James Magruder | Keep Your Forks
Lisa Peterson and Todd Almond | The Idea of Order
Tori Sampson | Cottoned Like Candy
Jen Silverman | My Father the Speeding Bullet: Nincest
Amy Staats | Eddie and Dave: A Fictionalized Tale of Van Halen
UNIVERSES | August Wilson Poetry Project
Joe Waechter | Untitled hockey project
Lauren Yee | Untitled Cambodia pop play
César Alvarez and Lucas Hnath | Castro
Christopher Chen and Mei Ann Teo | Passage
Julia Cho | Aubergine
Jackie Sibblies Drury | Untitled
Anne Galjour | The Alligator Ball (working title)
Rinne Groff | Fire in Dreamland
Eric Hoff, Will Davis, and SK Kerastas | Color Guard (working title)
Jamie Hook | Rules to Follow in Cloud Engineering
Naomi Iizuka and Ripe Time | Sleep
Hansol Jung | Wolf Play
Sean Christopher Lewis and Jennifer Fawcett | Ghost Story
Anaïs Mitchell | Hadestown
Peter Sinn Nachtrieb and Danny Scheie | A House Tour of the Infamous Porter Family Mansion with Tour Guide Weston Ludlow Londonderry
Annie Smart | The Summer Play
Kara Lee Corthron | Welcome to Fear City
PearlDamour | Milton
Sarah Gubbins | AB1266
Joan Holden, Bruce Barthol, Daniel Savio, and Marge Betley | FSM
Aditi Brennan Kapil, Manu Narayan, and Radovan Jovićević | Untitled Balkan/South Asian musical
The Kilbanes | Eddie the Marvelous, Who Will Save the World
John Leguizamo | Untitled
Dave Malloy | Ghost Quartet
David Myers | The Culture Industry or How Yogurt Conquered America
Dominic Orlando and Brian Carpenter | The Barbary Coast
Jiehae Park and Tristan Jeffers | Here We Are Here
Abigail Rezneck and Barbara Babcock | The Lady Lawyer
KJ Sanchez and Jenny Mercein | X'S and O'S (A Football Love Story)
Anna Deavere Smith | The Pipeline Project
Stein | Holum Projects | Movers + Shakers
Hadi Tabbal | Untitled Oum Kalthoum–Abu Ghraib project
Lucy Alibar | Carl the Raping Goat Saves Christmas
Janet Allard and Nikos Tsakalakos | Alexander Supertramp
César Alvarez | The Universe is a Small Hat
Jeff Augustin | Krik? Krak! or The Last Tiger in Haiti
Sarah Burgess | Camdenside
The Debate Society | Untitled ski play
Jackie Sibblies Drury | The Theory of Rational Choice
Larissa FastHorse | What Would Crazy Horse Do?
Idris Goodwin and Adam Mansbach | Rage is Back
Lauren Gunderson | The Heath
David Hanbury and Andrew Rasmussen | Mrs. Smith & Carlyle: To Mars and Back Again
Victor Lesniewski | Kardal
Mona Mansour and Tala Manassah | The Wife
A. Rey Pamatmat | Untitled project about the abuse of power and magical narratives
Nicholas C. Pappas | Fatty: There's No Place for the Fattest Man to Hide
Lisa Peterson | The Idea of Order
20 writers | The Food Project
Christina Anderson | Adam Bock | Julia Cho | David Edgar | Amy Freed | Jessica Goldberg | Rinne Groff | Lauren Gunderson | Danny Hoch | Naomi Iizuka | Kwame Kwei-Armah | Ellen McLaughlin | Richard Montoya | Itamar Moses | Janine Nabers | Peter Sinn Nachtrieb | Lynn Nottage | Keith Reddin | Erika Chong Shuch | Octavio Solis
Marcus Gardley | The House that will not Stand
Madeleine George | The (curious case of the) Watson Intelligence
Kathryn Keats | The Hummingbird
Carson Kreitzer and Erin Kamler | Runway 69
Dan LeFranc | Troublemaker, or The Freakin Kick-A Adventures of Bradley Boatright
Michael Mitnick | Little Boy Blue
Dominic Orlando | The Barbary Coast
Greg Pierotti | Apology
Amelia Roper | She Rode Horses Like the Stock Exchange
The Erika Chong Shuch Performance Project | After All
Heidi Stillman | The North China Lover
Meiyin Wang | motherland / foreign relations (we all here why you never call?)
Special thanks
The Ground Floor is supported by Frances Hellman & Warren Breslau, with additional funding provided by Bank of America, The Maurer Family Foundation, and the National Endowment for the Arts.
What artists say about the Summer Residency Lab
I did not know how much I needed those two weeks to focus on my project, but I really did. I made great breakthroughs and got closer to the core of what I was investigating. The steps I made forward felt monumental. So thank you for the TIME and SPACE!!! AND! Thank you for being so flexible and for giving me the opportunity to perform last minute! I am usually met with panic and doubt when I make such requests but you were so chill! It took a load of pressure off to be making work in a situation where the end really could be whatever the piece needed for the moment, which also made more space for creativity to flow.
Ground Floor has given me so much more than I could have imagined. I have been exhilarated and energized for the past two weeks because you created such a warm and liberating space for art to happen.
The reason artists find their story here is because you allow for that. You can have resources and not know what the story is yet. The resource is part of finding what the story is. In my experience, that's how we (as playwrights) want to do it. But we don't get allowed to do that very often.