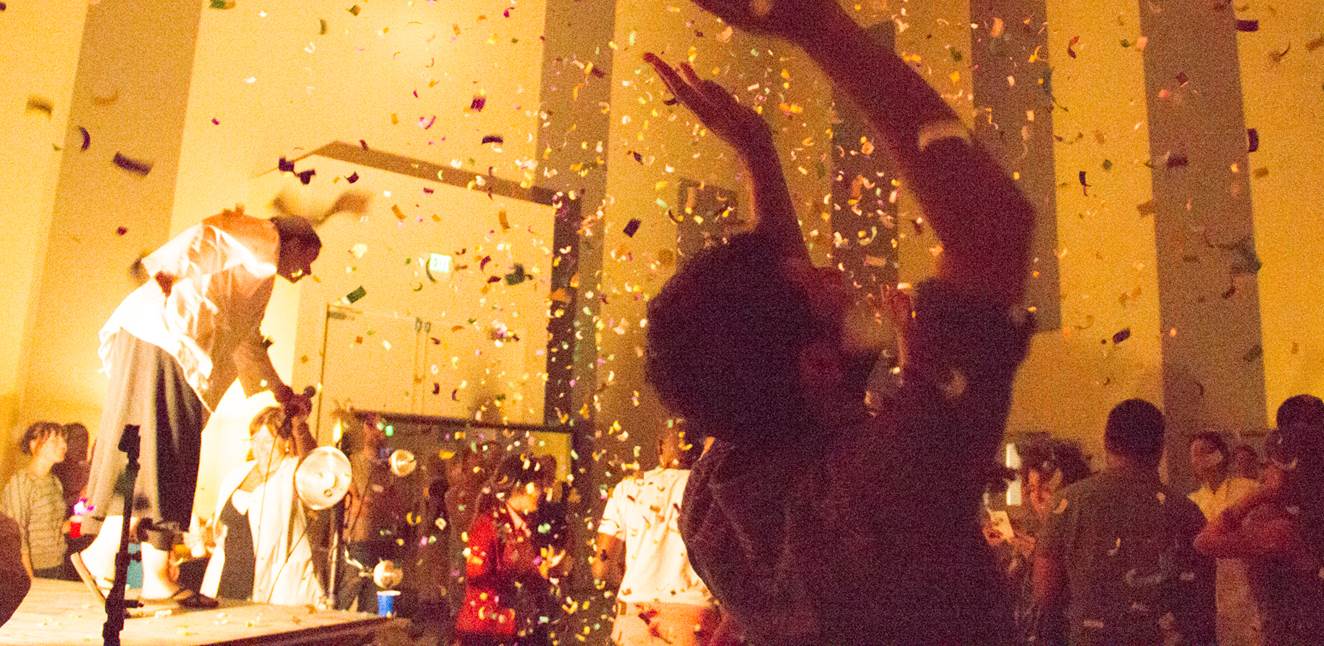 Alumni artists
The Bengsons | Ohio
Agnes Borinsky and Ezra Furman | Untitled Project for the New Jerusalem Tavern
Mathilde Dratwa | A Play about David Mamet Writing a Play about Harvey Weinstein
Jessica Fechtor | Book of Hours
Emily Feldman | Untitled romantic comedy for a new world
Vanessa Garcia | 1000 Miles
Dave Harris | Watch Me
Jessica Huang | The Kim Loo Sisters Musical
Julia Izumi | Akira Kurosawa Explains His Movies and Yogurt (With Live & Active Cultures!)
Victor Malana Maog | tot: The Untold, Yet Spectacular Story Of (a filipino) Hulk Hogan
Itamar Moses | The Ally
Sam Pinkleton and nicHi douglas with Pig Iron Theatre Company | House of Victory
Mason Rosenthal | Toys Are Us (working title)
Asha Sundararaman | India/Indiana
Caldwell Tidicue | Harriet Tubman: Live In Concert
Sanaz Toossi | Your Broken Racket
Tom Toro | Yes, The Planet Got Destroyed
Ikechukwu Ufomadu | Ike's Wonderful World of Leisure
Avi Amon and Julia Gytri | Salonika
Christina Anderson | the ripple, the wave that carried me home
Andy Bayiates, Bilal Dardai, Genevra Gallo-Bayiates, Sharon Greene, Chloë Johnston, and Khanisha Foster | 45 Plays for America's First Ladies
Eliza Bent | Indeed, Friend!
Andy Bragen | Summit
Marisa Carr | Punk Rock Mixtape Play
Carla Ching | Revenge Porn
Alexandra Collier, Heather Christian, and Mia Rovegno | Together
Erin Courtney | Ann, Fran, and Mary Ann
Shelley Doty | We 3
Ryan J. Haddad | Good Time Charlie
Naomi Iizuka and Paul Hodge | Okuni
Candrice Jones | Flex
Min Kahng | Calafia: A Reimagining
Kimber Lee | Untitled f*ck m*ss s**gon project
Leonard Madrid | Las Arañas
Baruch Porras-Hernandez | Love in the Time of Piñatas
Sarah Ruhl | Lock her up! (Becky Nurse)
Tina Satter | Untitled Reality Winner project: verbatim transcription
Zarina Shea | Just up the Road, Slightly
Joe Waechter | Breakaway
Arisa White | Post Pardon: The Opera
Christina Anderson | Untitled
Glen Berger | The New Frontier
Eugenie Chan | The Chan Family Picnic, A Nouvelle Vaudeville
Dustin Chinn | Colonialism is Terrible, But Pho is Delicious
Sarah DeLappe | Richard in 9 Poses
Donnetta Lavinia Grays | Laid to Rest. A Full Length Multi-Media Play.
Daniel Handler | Imaginary Comforts, or The Story of the Ghost of the Dead Rabbit
Martyna Majok | Untitled
Tony Meneses | Between Here and the City of Mexico
James Harrison Monaco and Jerome Ellis | Museum
Sylvan Oswald | TRAINERS, or The Brutal Unpleasant Atmosphere of This Most Disagreeable Season
Lisa Peterson and Todd Almond | The Idea of Order
Max Posner | Giddiness
Kemp Powers | The Two Reds
Kate E. Ryan | Untitled
Diana Lynn Small | House Play
Jonathan Spector | This Much I Know
Mfoniso Udofia | Adia and Clora Snatch Joy
Lileana Blain-Cruz and Susan Soon He Stanton | Intimacy
Mia Chung | Bloken Engrish
Megan Cohen | Truest
Eisa Davis | Flowers Are Sleeping
Erin Edens | The Meaning of Ants in My Kitchen
Dipika Guha | The Art of Gaman
Kitka Women's Vocal Ensemble | Iron Shoes
Josh Kornbluth | The Bottomless Bowl
Aaron Landsman | Squares
Josh Lefkowitz | Poetry Project
James Magruder | Keep Your Forks
Lisa Peterson and Todd Almond | The Idea of Order
Tori Sampson | Cottoned Like Candy
Jen Silverman | My Father the Speeding Bullet: Nincest
Amy Staats | Eddie and Dave: A Fictionalized Tale of Van Halen
UNIVERSES | August Wilson Poetry Project
Joe Waechter | Untitled hockey project
Lauren Yee | Untitled Cambodia pop play
César Alvarez and Lucas Hnath | Castro
Christopher Chen and Mei Ann Teo | Passage
Julia Cho | Aubergine
Jackie Sibblies Drury | Untitled
Anne Galjour | The Alligator Ball (working title)
Rinne Groff | Fire in Dreamland
Eric Hoff, Will Davis, and SK Kerastas | Color Guard (working title)
Jamie Hook | Rules to Follow in Cloud Engineering
Naomi Iizuka and Ripe Time | Sleep
Hansol Jung | Wolf Play
Sean Christopher Lewis and Jennifer Fawcett | Ghost Story
Anaïs Mitchell | Hadestown
Peter Sinn Nachtrieb and Danny Scheie | A House Tour of the Infamous Porter Family Mansion with Tour Guide Weston Ludlow Londonderry
Annie Smart | The Summer Play
Kara Lee Corthron | Welcome to Fear City
PearlDamour | Milton
Sarah Gubbins | AB1266
Joan Holden, Bruce Barthol, Daniel Savio, and Marge Betley | FSM
Aditi Brennan Kapil, Manu Narayan, and Radovan Jovićević | Untitled Balkan/South Asian musical
The Kilbanes | Eddie the Marvelous, Who Will Save the World
John Leguizamo | Untitled
Dave Malloy | Ghost Quartet
David Myers | The Culture Industry or How Yogurt Conquered America
Dominic Orlando and Brian Carpenter | The Barbary Coast
Jiehae Park and Tristan Jeffers | Here We Are Here
Abigail Rezneck and Barbara Babcock | The Lady Lawyer
KJ Sanchez and Jenny Mercein | X'S and O'S (A Football Love Story)
Anna Deavere Smith | The Pipeline Project
Stein | Holum Projects | Movers + Shakers
Hadi Tabbal | Untitled Oum Kalthoum–Abu Ghraib project
Lucy Alibar | Carl the Raping Goat Saves Christmas
Janet Allard and Nikos Tsakalakos | Alexander Supertramp
César Alvarez | The Universe is a Small Hat
Jeff Augustin | Krik? Krak! or The Last Tiger in Haiti
Sarah Burgess | Camdenside
The Debate Society | Untitled ski play
Jackie Sibblies Drury | The Theory of Rational Choice
Larissa FastHorse | What Would Crazy Horse Do?
Idris Goodwin and Adam Mansbach | Rage is Back
Lauren Gunderson | The Heath
David Hanbury and Andrew Rasmussen | Mrs. Smith & Carlyle: To Mars and Back Again
Victor Lesniewski | Kardal
Mona Mansour and Tala Manassah | The Wife
A. Rey Pamatmat | Untitled project about the abuse of power and magical narratives
Nicholas C. Pappas | Fatty: There's No Place for the Fattest Man to Hide
Lisa Peterson | The Idea of Order
20 writers | The Food Project
Christina Anderson | Adam Bock | Julia Cho | David Edgar | Amy Freed | Jessica Goldberg | Rinne Groff | Lauren Gunderson | Danny Hoch | Naomi Iizuka | Kwame Kwei-Armah | Ellen McLaughlin | Richard Montoya | Itamar Moses | Janine Nabers | Peter Sinn Nachtrieb | Lynn Nottage | Keith Reddin | Erika Chong Shuch | Octavio Solis
Marcus Gardley | The House that will not Stand
Madeleine George | The (curious case of the) Watson Intelligence
Kathryn Keats | The Hummingbird
Carson Kreitzer and Erin Kamler | Runway 69
Dan LeFranc | Troublemaker, or The Freakin Kick-A Adventures of Bradley Boatright
Michael Mitnick | Little Boy Blue
Dominic Orlando | The Barbary Coast
Greg Pierotti | Apology
Amelia Roper | She Rode Horses Like the Stock Exchange
The Erika Chong Shuch Performance Project | After All
Heidi Stillman | The North China Lover
Meiyin Wang | motherland / foreign relations (we all here why you never call?)
Special thanks
The Ground Floor is supported by Louise Gund and Frances Hellman & Warren Breslau, with additional funding provided by the National Endowment for the Arts, the Tournesol Project, and Bank of America.
What artists say about the Summer Residency Lab
I did not know how much I needed those two weeks to focus on my project, but I really did. I made great breakthroughs and got closer to the core of what I was investigating. The steps I made forward felt monumental. So thank you for the TIME and SPACE!!! AND! Thank you for being so flexible and for giving me the opportunity to perform last minute! I am usually met with panic and doubt when I make such requests but you were so chill! It took a load of pressure off to be making work in a situation where the end really could be whatever the piece needed for the moment, which also made more space for creativity to flow.
Ground Floor has given me so much more than I could have imagined. I have been exhilarated and energized for the past two weeks because you created such a warm and liberating space for art to happen.
The reason artists find their story here is because you allow for that. You can have resources and not know what the story is yet. The resource is part of finding what the story is. In my experience, that's how we (as playwrights) want to do it. But we don't get allowed to do that very often.