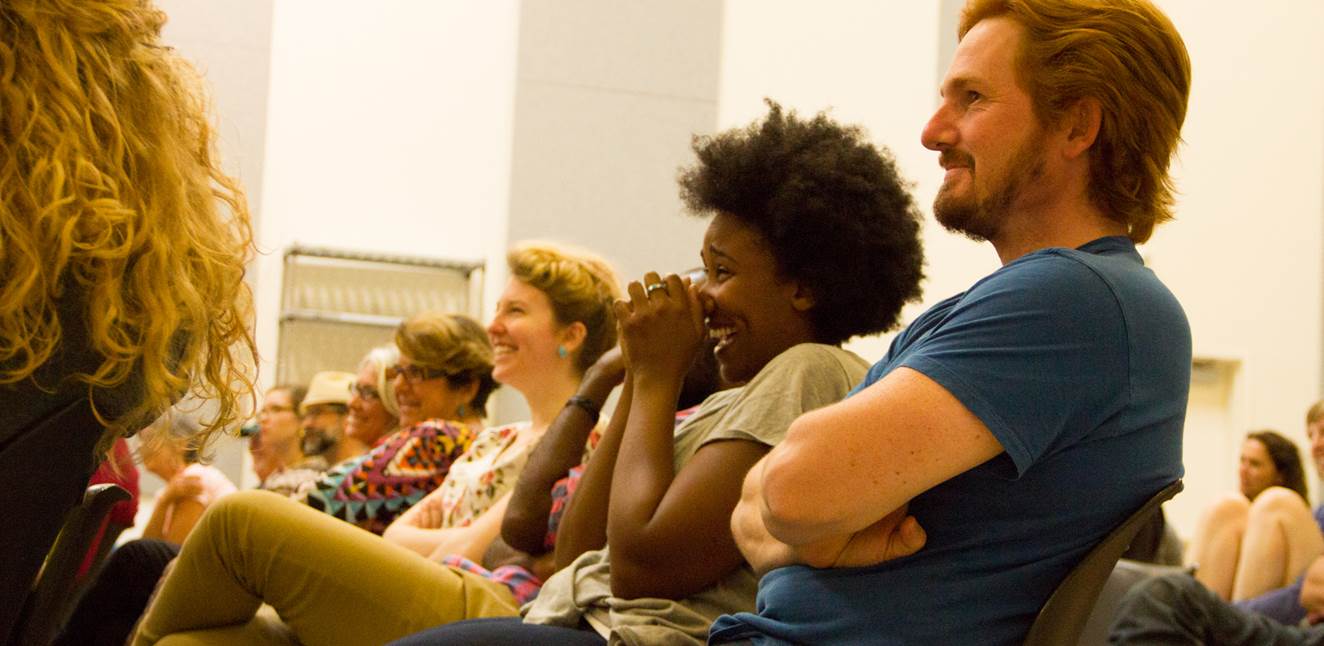 How to apply
The Ground Floor application window for the 2021 Summer Residency Lab has closed. Applicants will be notified by July 1, 2021. Please check back for more information on applications for 2022.
The 2021 Ground Floor Summer Residency Lab is happening!
It will, however, look different this year. As we are just beginning to emerge from isolation, reopen our spaces, and get used to being around other humans again, we have had to make some adjustments for this summer and thus we are offering a scaled-down version of the Lab this August.
Please note
The 2021 Summer Lab is open to Bay Area-based participants only.
Collaborations will be limited to four people or fewer.
Snacks will be provided, but there will be no communal dinner.
Only one to two projects will be on site simultaneously.
We invite artists to apply with projects that would benefit from a residency in Berkeley for 1–4 weeks. Berkeley Rep will provide rehearsal space and a modest stipend. Previous applicants may reapply. There is no limit on the number of projects an artist may apply with.
Projects may be anywhere along their development path: from an idea without anything on paper yet, to a complete draft of a text. Whether you are a writer simply needing a room in which to write or a small ensemble wanting intensive rehearsal time, we encourage you to apply. Artists from other disciplines interested in creating theatre pieces are also very welcome.
This is a developmental residency. Projects looking for a full production are not eligible. If you are applying for an adaptation, please have the underlying rights already secured. We do not accept scripts along with application forms. If a proposed project makes it to the second round, we will then request a work sample, which may include whatever is already written, if applicable.
Questions? Email us at groundfloor@berkeleyrep.org.
Special thanks
The Ground Floor is supported by Louise Gund, Frances Hellman & Warren Breslau, Michael & Sue Steinberg, and other individual supporters of Berkeley Rep's Create Campaign. Additional funding is provided by the National Endowment for the Arts, the Tournesol Project, and Bank of America.
What artists say about the Summer Residency Lab
Ground Floor was deeply transformative to our play. The workshop helped us feel empowered to break free of some of our (self-imposed) structural rigidity. Thanks for finding the money and the space and the energy to make it happen. Thanks to our time in Berkeley, our ensemble relationship is deeper and more filled with loving trust.
The Ground Floor is a rare program. It is a residency that allows their artists to pivot and potentially redefine how they will work on a project. There are not many programs that have both the infrastructural flexibility and the deep understanding of artistic process to shift that rapidly.