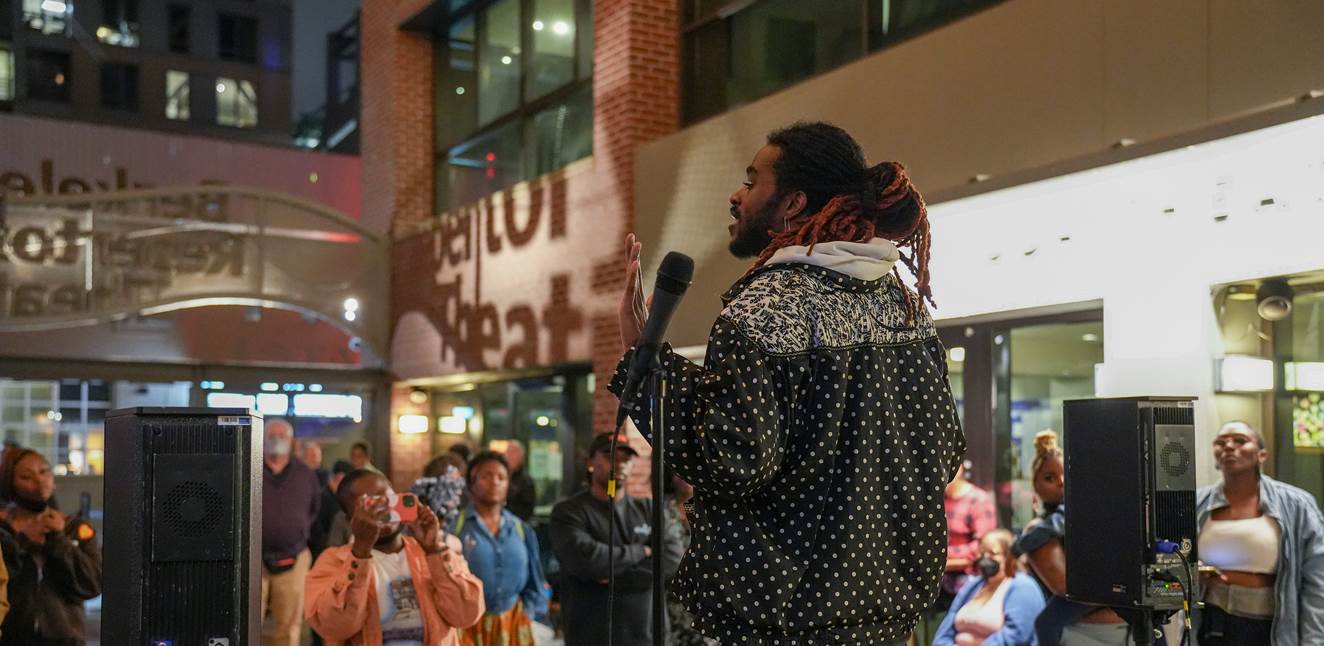 In Dialogue is Berkeley Rep's new programmatic initiative that places the capacity of our theatre-making skills and resources in service of the community. In Dialogue is an investment in building genuine, long-term relationships with new and existing collaborators. Using storytelling as the anchor, Berkeley Rep invites relationships with organizations whose mission can be served by a collaboration or a relationship that uses the tools of theatre-making.
With a lens toward social justice, In Dialogue is one vehicle we use to activate our values with socially centered organizations to help us identify gaps in our knowledge, connect to field experts and dramaturgical resources, and provide access to underserved audiences.
In the 2021/22 season, In Dialogue has facilitated and supported social justice work ranging from immigration to local indigenous awareness and the afro-cultural experience, as well as food insecurity, youth leadership, and working to combat sex-trafficking.
Programs
Projects
A long-term partnership of three to nine months or more may include anything from playwriting to oral history projects which culminate in public performances. This could encompass weekly, bi-weekly, or monthly workshops with established playwrights, directors, actors, and theatrical technicians. Where an opportunity exists to amplify the voices of community partners in a shared project, Berkeley Rep may engage in support of that project. Examples of such collaborations include a mural commissioning and an oral history performance about immigration.
Workshops
A mid-length partnership of one to three months may encompass a short series of classes on story exploration and mission-centered conversations discovered through the lens of theatre-making.
Shared learning experiences
Berkeley Rep's Monthly Affinity Celebration program can support existing relationships and programs we work with, amplifying the work of the diverse and culturally rich communities of the greater Bay Area.
Audience activation
We invite specialists and leaders on topics related to our mainstage productions to participate in civic dialogue with our audiences, collaborate on topical seminars, and create exhibits reflective of the real-world experiences of the stories we tell on stage.
Funding support
We offer promotional support for giving campaigns to raise awareness about organizations we collaborate with who are actively doing the work on critical issues of our time.
We aid organizations by offering them a block of discounted tickets that they can sell to individuals at cost, which helps them raise money. We also offer, as add-ons, a table in the lobby for their literature and crosspromotion on social media.
Berkeley Rep donates tickets to Bay Area nonprofit organizations to use as a fundraising tool. We support organizations whose missions also align with our values, further deepening our relationships to community and serving their needs.
Leadership
Sunshine Deffner | ASSOCIATE MANAGING DIRECTOR
Sunshine is the Associate Managing Director of Berkeley Repertory Theatre, where she is spearheading In Dialogue, the Theatre's new programmatic initiative that places our theatre-making skills and resources in service of our community. She has spent her more than 25-year career engaged in arts disciplines including theatre, musicals, museum, dance, opera, and symphony. She has served as an organizational leader for concert operations, artistic administration, program development, strategic partnerships, education programming, and general operations at California Symphony and has worked with the Asian Art Museum, John F. Kennedy Center for Performing Arts, and Opera San Jose. Sunshine's passion lands at the intersection of arts business success and the concept of arts-for-all. She has expanded community engagement and created partnerships that have increased the impact of youth enrichment programming, and spearheaded adult educational programming that has built new audiences. Sunshine serves on the board of Theatre Bay Area, and Las Lomas Performing Arts Foundation, and as a steering committee member for the Gilman District in Berkeley and the Walnut Creek Community Service Day Committee. She is an alumnae of California State University at Fullerton Theatre program and a former fellow of the DeVos Institute for Arts Management at the John F. Kennedy Center for Performing Arts.
David Mendizábal | ASSOCIATE ARTISTIC DIRECTOR
David is director, designer, producer, and the current Associate Artistic Director at Berkeley Repertory Theatre, where they directed the West Coast premiere of Sanctuary City. A recent transplant to the Bay Area from New York City, David serves as one of the Producing Artistic Leaders of the Obie Award-winning The Movement Theatre Company, and are a founding collective member of The Sol Project, a national initiative dedicated to bringing Latiné playwrights and their stories to the forefront of the American theater. As a director David has also worked in the Bay Area directing the world premiere of Don't Eat the Mangos at the Magic Theatre in 2020. They have also directed at Roundabout Theatre Company, Soho Rep, New York Stage and Film, Long Wharf, TheatreWorks Hartford, and People's Light. David serves as one of the co-chairs for the Obie Awards Committee, and are a 2021 Princess Grace Award Honoraria Recipient in Theater. They were part of the inaugural Soho Rep Project Number One Residency, where they created and directed the short film, eat me! David is an alumni of the Ars Nova Vision Residency, The Drama League Directors Project, LAByrinth Intensive Ensemble, artEquity, NALAC, and Lincoln Center Theater Directors Lab. David was a participant in the TCG Leadership U: One-on-One program, where they served as the Artistic Associate at Atlantic Theater Company from 2017 to 2018. They have a BFA from New York University's Tisch School of the Arts where they trained at Playwrights Horizons Theatre School.
Photo by Muriel Steinke/Berkeley Repertory Theatre
In Dialogue partners: Spoken word artist Reggie Edmonds in collaboration with Afro Urban Society, Fall 2022