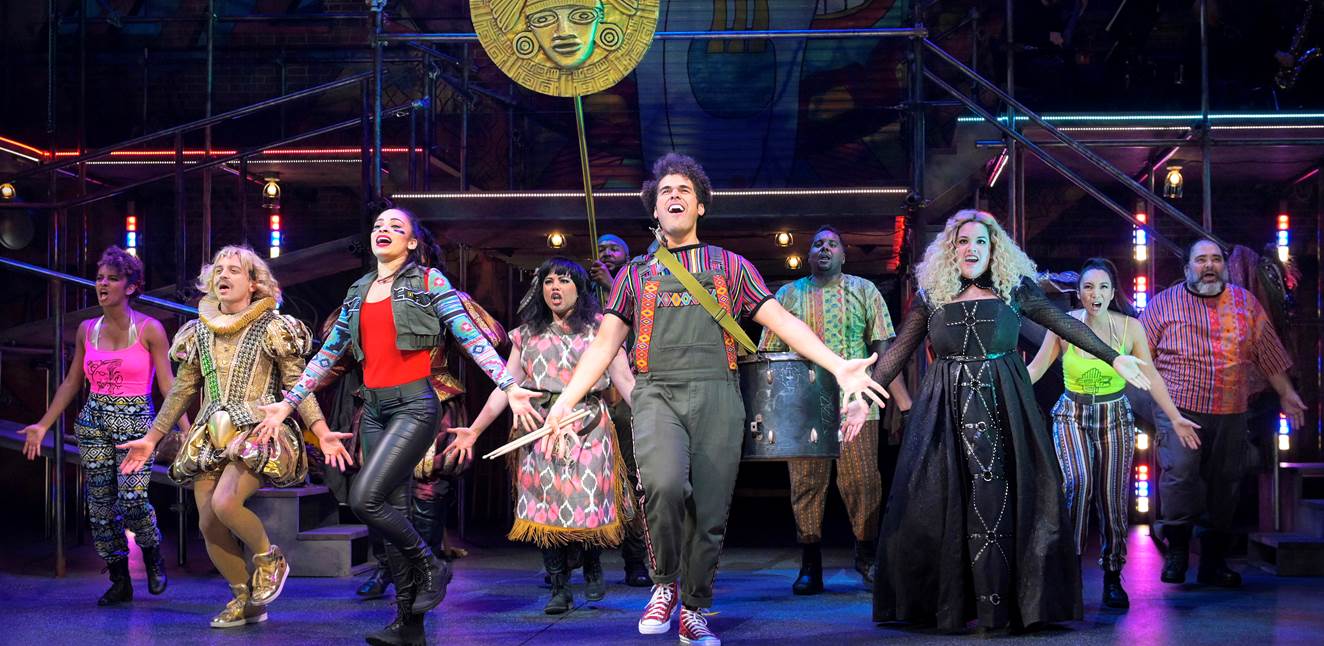 About us
Berkeley Repertory Theatre has grown from a storefront stage to an international leader in innovative theatre. Known for its ambition, relevance, and excellence, as well as its adventurous audience, the nonprofit has provided a welcoming home for emerging and established artists since 1968. Over 5.5 million people have enjoyed nearly 500 shows at Berkeley Rep, which have gone on to win six Tony Awards, seven Obie Awards, nine Drama Desk Awards, one Grammy Award, one Pulitzer Prize, and many other honors. Berkeley Rep received the Tony Award for Outstanding Regional Theatre in 1997. To formalize, enhance, and expand the processes by which Berkeley Rep makes theatre, The Ground Floor: Berkeley Rep's Center for the Creation and Development of New Work was launched in 2012. The Berkeley Rep School of Theatre engages and educates some 20,000 people a year and helps build the audiences of tomorrow with its nationally recognized teen programs. Berkeley Rep's bustling facilities—which also include the 400-seat Peet's Theatre, the 600-seat Roda Theatre, and a spacious campus in West Berkeley—are helping revitalize a renowned city.
Our mission
Berkeley Rep creates ambitious theatre that entertains and challenges its audiences, provokes civic engagement, and inspires people to experience the world in new and surprising ways.
Our values
Storytelling
We believe in the transformative power of storytelling.
Rigor
We believe in the unyielding pursuit of the highest levels of achievement in all we do.
Innovation
We embrace experimentation and curiosity in our work both on and off the stage.
Equity
We are committed to being an anti-racist organization—a place of welcome for a diverse and inclusive community.
Discovery
We encourage a culture of learning and teaching.
Sustainability
We are committed to the long-term well-being of our theatre, our community, and our planet.
In solidarity
Mar 2021
The murders that took place in Atlanta were violent acts of racism, a hate crime that reflects the anti-Asian rhetoric and prejudice that is deeply rooted in the United States. While violence against the AAPI community has increased during the COVID-19 pandemic, we know it is rooted in long-standing anti-Asian racism and white supremacy culture. We must actively root out the structures that continue to perpetuate hate and violence against BIPOC communities.
We are outraged by the violence against the members of our AAPI community and condemn these acts. We stand in solidarity with the AAPI community here in the Bay Area and around the world.
For additional ways to support, uplift, and protect our community, Berkeley Rep staff recommends that you visit:
Aug 2020
The weeks following the killing of George Floyd have brought a massive amount of information, specific demands for action, and first hand testimonials that have brought home to us the reality of the lived experience of our BIPOC artists, friends, family, colleagues, neighbors. They have made many of us see what we hadn't been able to see before, namely, that we as a country have fallen agonizingly short of our highest values. And it has been painful to acknowledge the extent to which we, as individuals, as institutions, and as a theatre community have been part of that racist system.
This has led us to begin what we expect will be an ongoing and rigorous internal discussion, with our staff, our board, and with our colleagues, about the ways in which we have perpetuated racist behavior. And we are exploring how we, as a theatre company, can examine the many concerns that have been brought forward by our BIPOC colleagues in the documents that have been circulated both nationally and locally.
Lasting, meaningful change will require that we explore each of the issues presented by our BIPOC colleagues and respond accordingly. We share and respect the sense of urgency that underlies these documents and intend to use them as a guide for the work ahead, and to be open and accountable as that work progresses.
We are committed to doing this critical work to ensure that Berkeley Rep is a safer, more equitable place for artists, staff, students, audience, and community.
Gail Wagner, President of the Board
Johanna Pfaelzer, Artistic Director
Susie Medak, Managing Director
We at Berkeley Rep are grateful to the myriad Black educators, organizers, and activists who have been doing this work for decades. These are some of the resources we've found helpful.
Places to donate
Take action
Local resources
Additional resources
Green policy
Berkeley Rep seeks to model responsible environmental behavior that is in harmony with the Theatre's core mission. We wish to help create the framework within which the arts industry as a whole can shift towards practices that can contribute to the sustainable development of art, the earth, and mankind. We seek to promote the understanding of sustainability to our staff, audiences, and other arts organizations and to be a leader in environmental protection.
As a green organization we will
Promote principles of energy and resource efficiency
Use products from local sources and more recycled, recyclable, biodegradable, and sustainable materials
Exercise practical applications of waste reduction and pollution prevention
Maximize the proper disposal of materials including composting and recycling, collaborating with current waste disposal programs
Provide a healthy workplace with minimal environmental impacts
Encourage and provide resources for our audience to utilize environmentally friendly transport
Reduce emissions from all Theatre-related activities and decrease our overall footprint
Become certified as a Green Business (looking into LEED certification, Bay Area Green Business, ISO certification)
Plan for all future building projects to be LEED-certified
Be advocates in our industry for sustainability and green practices
Continue to find solutions and pursue short- and long-term environmental protection
Educate others about ways in which they can be greener and provide a forum to continue the conversation
We intend to encourage our staff and audiences to be responsible green citizens and we endeavor to work with partner organizations that share our green values. It is our intention to operate our business in an as environmentally friendly way as we can.