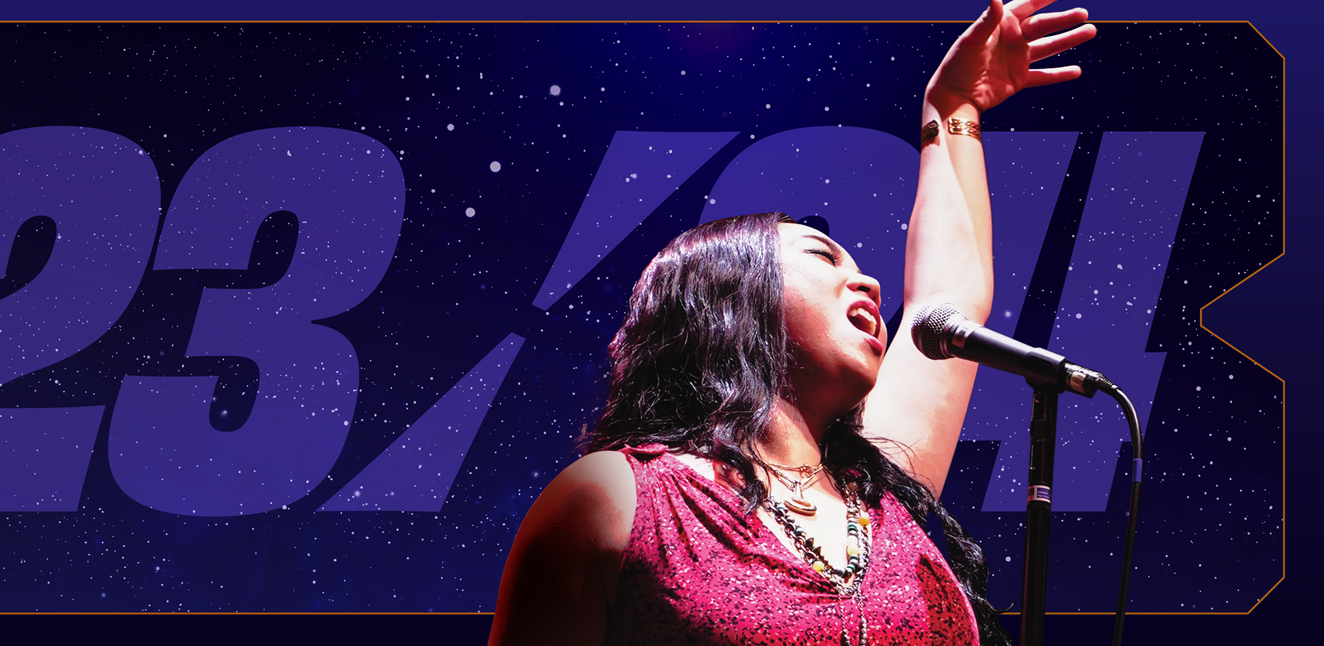 2023/24 season subscriptions
Announcing the 2023/24 season!
POTUS: Or, Behind Every Great Dumbass Are Seven Women Trying to Keep Him Alive
BY SELINA FILLINGER | DIRECTED BY ANNIE TIPPE | SEP 16–OCT 22, 2023 | RODA THEATRE
Berkeley Rep brings you this gleefully feminist satire just in time for the Presidential primaries! When the President unwittingly spins a PR nightmare into a global crisis, the seven brilliant and beleaguered women he relies upon most risk life, liberty, and the pursuit of sanity to keep the commander-in-chief out of trouble. (Any resemblance to past White House shenanigans is purely coincidental.) Entertainment Weekly says, "The likelihood that you will laugh until your face hurts is one of near certainty."
Bulrusher
BY EISA DAVIS | DIRECTED BY NICOLE A. WATSON | A CO-PRODUCTION WITH MCCARTER THEATRE CENTER | OCT 27–DEC 3, 2023 | PEET'S THEATRE
Berkeley native Eisa Davis' lyrical coming-of-age story follows a multiracial girl found as an infant floating in a basket on the Navarro River in Mendocino County. It's 1955, and Bulrusher is 18 and restless, with a gift for clairvoyance that makes her feel like a stranger even amongst the eccentric, dialect speaking folks of her predominantly white enclave of Boonville. When a mysterious Black girl from Birmingham comes to town, Bulrusher discovers new facets of her identity — and uncovers her place in the world. A Pulitzer Prize finalist called "captivating and lushly poetic" by the LA Times, Bulrusher is infused with rhythmic language, passion, and down-home humor.
Harry Clarke
BY DAVID CALE | WEST COAST PREMIERE | NOV 15–DEC 23, 2023 | RODA THEATRE
This wickedly funny thriller by Obie Award-winning writer David Cale features the exploits of Philip, an awkward Midwestern man leading an outrageous double life as the cocky Londoner Harry Clarke. He moves to New York City and, posing as the seductive Harry, charms his way into a wealthy family. Soon his impetuous and dangerous behavior threatens to unravel more than his persona. A tour-de-force solo performance, Harry Clarke is a spellbinding story and a meditation on the construction of identity. A "delicious conceit," says The New York Times.
Cult of Love
BY LESLYE HEADLAND | DIRECTED BY TRIP CULLMAN | JAN 26–MAR 3, 2024 | RODA THEATRE
Jesus is the reason for the season in this ruthless comedy about a Christian family who claim all you need is love. Written by Leslye Headland (Russian Doll and Bachelorette), the stage is set for another Christmas at the Dahl home, where the four children were raised to love Jesus and each other. Now adults with beliefs of their own, they still perform joyous carols and bizarre family rituals, fueled by alcohol and forced cheer — until it all descends into chaos. Fierce and provocative, Cult of Love dares to examine a unique brand of family cruelty under all that holiday cheer.
The Far Country
BY LLOYD SUH | DIRECTED BY ERIC TING | WEST COAST PREMIERE | MAR 8–APR 14, 2024 | PEET'S THEATRE
Following a critically acclaimed debut in New York, Pulitzer Prize finalist Lloyd Suh and Obie Award-winning director Eric Ting bring The Far Country back to its roots in a triumphant West Coast premiere. In the wake of the Chinese Exclusion Act, Moon Gyet has arrived at San Francisco Bay's Angel Island Immigration Station with an invented biography and a new name, both given to him by a man who made the same arduous crossing several years earlier. But passage to San Francisco — and the dream of a better life for future generations — commands a very high price. Spanning two countries and three generations, Lloyd Suh's breathtaking account of immigration, identity, and memory has been called "Artful…an act, loving and sorrowful, of reclamation…directed with sensitivity and spirit" by The New York Times (Critic's Pick).
Galileo
BOOK BY DANNY STRONG | MUSIC AND LYRICS BY MICHAEL WEINER & ZOE SARNAK | DIRECTED BY MICHAEL MAYER | CHOREOGRAPHED BY DAVID NEUMANN | BY SPECIAL ARRANGEMENT WITH JORDAN ROTH AND KEY TO THE CITY PRODUCTIONS | WORLD PREMIERE | MAY 5–JUN 16, 2024 | RODA THEATRE
Berkeley Rep presents a dazzling world-premiere musical helmed by Tony Award winner Michael Mayer (Spring Awakening, American Idiot, Swept Away), written by two-time Emmy winner Danny Strong (Dopesick, Empire, The Butler). When maverick scientist Galileo Galilei makes celestial observations that challenge humanity's understanding of its place in the universe, he's summoned to Rome to defend his discoveries before the most powerful religious institution in the world, which is facing a rebellion of its own. With an original rock score and lyrics by Michael Weiner (Broadway's First Date) and Zoe Sarnak (Jonathan Larson Award winner), Galileo is an explosive collision of science and faith, truth and power. Galileo will likely join the constellation of world premieres that traveled from Berkeley Rep to Broadway — be the first to see it here!
Mother Road
BY OCTAVIO SOLIS | DIRECTED BY DAVID MENDIZÁBAL | JUN 14–JUL 21, 2024 | PEET'S THEATRE
One of the most celebrated living writers of the Mexican-American experience, Octavio Solis pens a 21st-century tale inspired by John Steinbeck's The Grapes of Wrath. William Joad has no heir to bequeath the family farm to — until he learns about Martín Jodes, a young Mexican-American migrant worker descended from Steinbeck's protagonist Tom Joad. In a reversal of the Joads' mythic journey, William and Martín embark on a road trip from California's migrant farm camps back to Oklahoma, where they reckon with their brutal pasts and forge an unlikely bond. Along their journey on the Mother Road, they gather a chorus of travelers. Witness Solis' soaring poetry, gritty realism, and mythic scope as he captures the intersection of people, cultures, and migration in the American West.
* Titles, artists, dates, and prices subject to change.
Full Season
Join us for all seven shows and save up to 33% — prices start at $31 for each show!
New subscribers choose a Full Season series below
Opening night packages are available for donors of $2,500 or more. For more information and to subscribe to opening night, call 510 647-2901 or email give@berkeleyrep.org.
Seating in some sections is limited. If we are unable to accommodate your first choice, we will seat you in the next-best price section.
Full Season discounts
Previews
The first performances of each subscription show are previews. We're still fine-tuning the show. Previews are perfect for adventurous theatregoers who want to get in early on the creative conversation.
Under 35
Save 50% on tickets to any performance. Not available for previews or opening night. Proof of eligibility is required for each discounted subscription ordered.
Senior (65+)
Receive $5 discount per play on matinees and weekday evening subscription packages. Not available for previews or opening night. Proof of eligibility is required for each discounted subscription ordered.
Pre-K–12 educator and employee
You and a friend save up to 30% on Tuesday, Friday, and Sunday evening performances on seats in sections A or B. Not available for previews or seats in premium section. Proof of eligibility is required for each discounted subscription ordered.
Why subscribe?
The Full Season package is our classic subscription option that provides the guaranteed best seats at the lowest possible prices to each of our season productions.
Secured seats in advance of the general public
Lowest ticket price
First access to premium seating
Unlimited free exchanges*
One free upgrade to a more expensive seat or date
First dibs on special events
10% off School of Theatre classes
10% off additional ticket purchases and waived service fees
There is a $15 per order service charge on Full Season subscription package purchases.
* Subscribers may exchange tickets to a different performance of the same show with no fee until 7pm the evening before their scheduled performance (or by 7pm Sunday for Tuesday performances). Day-of-show exchanges available with a $15 per-ticket fee. Price differences may apply to all exchanges; no refunds or credits for exchanges to a lower-priced performance date or seating section.
Looking for a smaller or more flexible subscription?
Check back here soon for more package options.
Want to see only one or two shows?
To be the first to get access to single tickets in the general on-sale, join our email list, then click the "Shows & Special Events" checkbox to get a ticket alert.
Health and safety
When the 2023/24 season begins in September, proof of vaccination will not be required for audiences.
In the 2023/24 season, masks will be required inside the theatres during all Sunday and Tuesday performances. Masks will be optional inside the theatres during all Wednesday through Saturday performances.
Visit our health and safety page for full details
If you're a 2022/23 Full Season subscriber, be sure to renew your subscription seats by June 11. After that deadline, all unrenewed seating will be released.
Ticket delivery
Your tickets will be emailed to you two weeks before each of your performance dates.
Season sponsors
Photo by Muriel Steinke/Berkeley Repertory Theatre
Geena Quintos in the 2022/23 production of Cambodian Rock Band by Lauren Yee