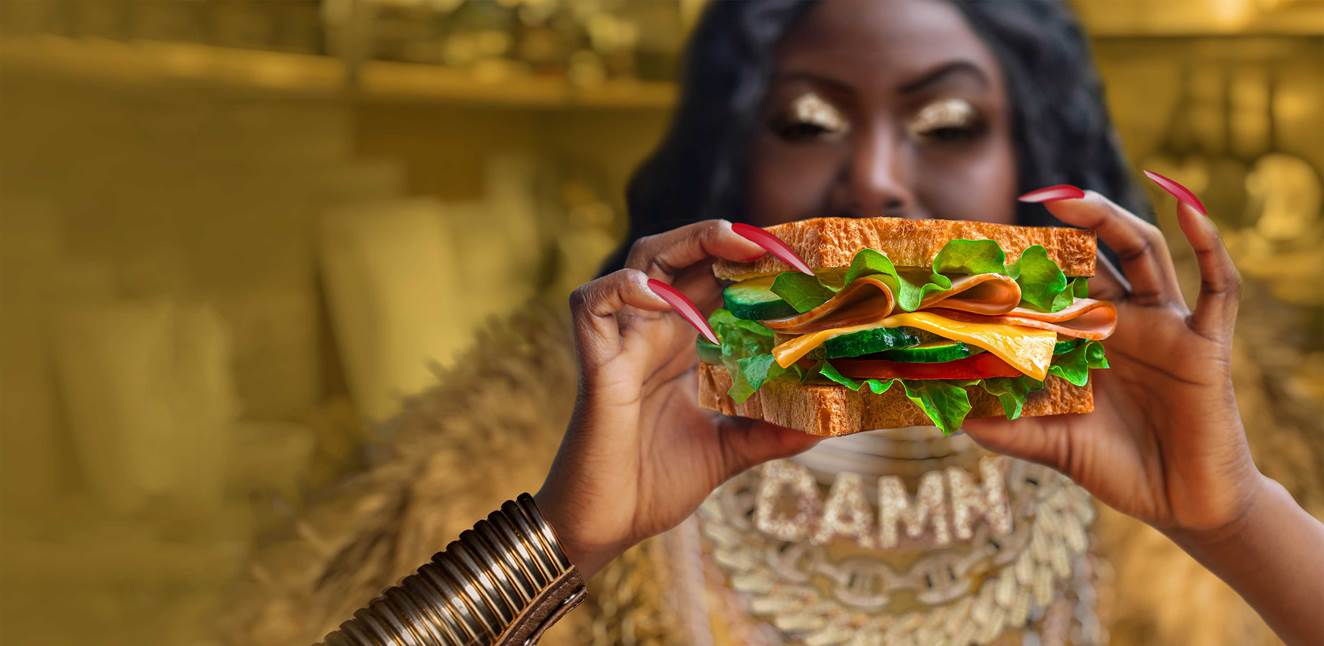 Clyde's
BY LYNN NOTTAGE
DIRECTED BY TAYLOR REYNOLDS
A co-production with Huntington Theatre Company
Peet's Theatre
Jan 20–Feb 26, 2023
Running time: 90 min, no intermission
Clyde's contains the use of herbal cigarettes.
Clyde's contains strong language, mature themes, and depictions of violence.
Nominated for the 2022 Tony Award for Best Play! Two-time Pulitzer Prize winner Lynn Nottage returns to Berkeley Rep for the first time since her extraordinary play Ruined. In this feel-good comic drama, the formerly incarcerated kitchen staff at a truck-stop sandwich shop attempt to rebuild their lives. While their tough-as-nails boss – who slings sizzling insults fast and processed food even faster – tries to thwart their dreams, each staff member is encouraged by the mysterious chef to indulge in imagining, then creating, their perfect sandwich. A buoyant play full of witty dialogue, Clyde's is a transcendent story about people rising above their past mistakes and reconnecting with the world.
Clyde's delivers.... In Lynn Nottage's appealing comedy… a perfect sandwich is a religious experience.
There are lots of laughs…. Clyde's is about real things, hard things, but [it's] also a comedy. It's heartfelt and hopeful, with laughs to leaven what might, in less skilled hands, become mawkish or sentimental…. [It] allows humor, connectivity and grace to warm a cold place.
A humorous slice of life… full of contrasts, crunch, with lots of flavor.
Both hilarious and heartbreaking. A compelling piece of fiction that feels drawn from plenty of truth.
Totally delicious and delightful. Rapid-fire, edgy, hilarious, and often moving and even inspirational… The result is a feast of fun that will assure that audiences leave Berkeley Rep's Peet's Theatre fully satiated.
LYNN NOTTAGE | PLAYWRIGHT
TAYLOR REYNOLDS | DIRECTOR
WILSON CHIN | SCENIC DESIGN
KAREN PERRY | COSTUME DESIGN
AMITH CHANDRASHAKER | LIGHTING DESIGN
AUBREY DUBE | SOUND DESIGN
MEGAN ELLIS | HAIR, WIG, AND MAKEUP DESIGN
ALAINE ALLDAFFER, CSA | CASTING
LESLIE M. RADIN* | STAGE MANAGER
LUCAS BRYCE DIXON | ASSISTANT STAGE MANAGER
WESLEY GUIMARÃES* | RAFAEL
CYNDII JOHNSON* | LETITIA
LOUIS REYES MCWILLIAMS* | JASON
APRIL NIXON* | CLYDE
HAROLD SURRATT* | MONTRELLOUS
ANDREÁ BELLAMORE* | U/S CLYDE/LETITIA
MAX CARPENTER* | U/S JASON
JOHN R. LEWIS* | U/S MONTRELLOUS/RAFAEL
* Indicates a member of Actors' Equity Association, the Union of Professional Actors and Stage Managers in the United States.
Harold Surratt as Montrellous and April Nixon as Clyde in Lynn Nottage's Tony Award-nominated play Clyde's at Berkeley Repertory Theatre. (Photo by Kevin Berne/Berkeley Rep)

Cyndii Johnson as Letitia in Lynn Nottage's Tony Award-nominated play Clyde's at Berkeley Repertory Theatre. (Photo by Kevin Berne/Berkeley Rep)

Wesley Guimarães as Rafael in Lynn Nottage's Tony Award-nominated play Clyde's. (Photo by Muriel Steinke/Berkeley Rep)

Louis Reyes McWilliams as Jason in Lynn Nottage's Tony Award-nominated play Clyde's at Berkeley Repertory Theatre. (Photo by Kevin Berne/Berkeley Rep)

Louis Reyes McWilliams as Jason and Cyndii Johnson as Letitia in Lynn Nottage's Tony Award-nominated play Clyde's at Berkeley Repertory Theatre. (Photo by Kevin Berne/Berkeley Rep)

Wesley Guimarães as Rafael and April Nixon as Clyde in Lynn Nottage's Tony Award-nominated play Clyde's. (Photo by Muriel Steinke/Berkeley Rep)

Louis Reyes McWilliams as Jason and April Nixon as Clyde in Lynn Nottage's Tony Award-nominated play Clyde's at Berkeley Repertory Theatre. (Photo by Kevin Berne/Berkeley Rep)

Harold Surratt as Montrellous and Cyndii Johnson as Letitia in Lynn Nottage's Tony Award-nominated play Clyde's at Berkeley Repertory Theatre. (Photo by Kevin Berne/Berkeley Rep)

Louis Reyes McWilliams as Jason and April Nixon as Clyde in Lynn Nottage's Tony Award-nominated play Clyde's at Berkeley Repertory Theatre. (Photo by Kevin Berne/Berkeley Rep)

Louis Reyes McWilliams as Jason, Harold Surratt as Montrellous, and April Nixon as Clyde in Lynn Nottage's Tony Award-nominated play Clyde's at Berkeley Repertory Theatre. (Photo by Kevin Berne/Berkeley Rep)

April Nixon as Clyde and Harold Surratt as Montrellous in Lynn Nottage's Tony Award-nominated play Clyde's at Berkeley Repertory Theatre. (Photo by Kevin Berne/Berkeley Rep)

Cyndii Johnson as Letitia and Wesley Guimarães as Rafael in Lynn Nottage's Tony Award-nominated play Clyde's. (Photo by Muriel Steinke/Berkeley Rep)

Cyndii Johnson as Letitia in Lynn Nottage's Tony Award-nominated play Clyde's at Berkeley Repertory Theatre. (Photo by Kevin Berne/Berkeley Rep)
By Lynn Nottage | Directed by Taylor Reynolds | Scenic design by Wilson Chin | Costume design by Karen Perry | Lighting design by Amith Chandrashaker | Sound design by Aubrey Dube | Hair, wig, and makeup design by Megan Ellis