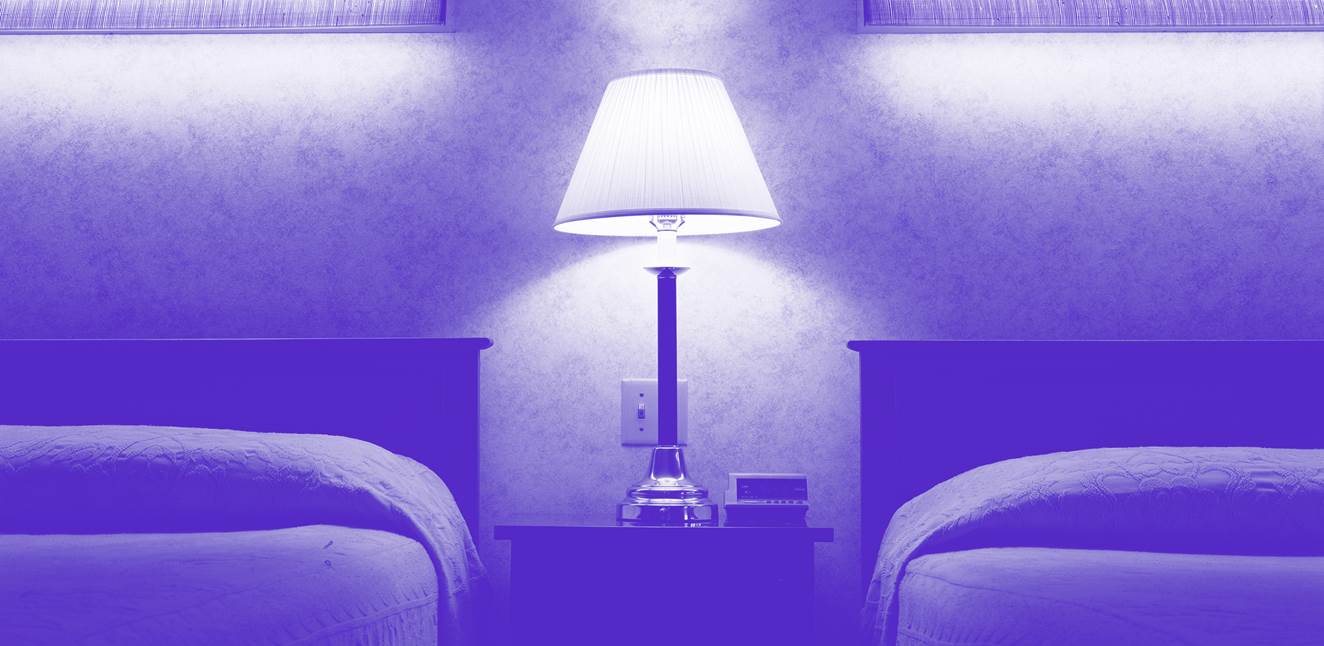 Dana H. digital program
Berkeley Repertory Theatre
by special arrangement with
Matt Ross, Sally Horchow, Dori Berinstein
presents
The Goodman Theatre | Center Theatre Group | Vineyard Theatre
production of
Dana H.
By Lucas Hnath
Adapted from interviews with Dana Higginbotham conducted by Steve Cosson
Directed by Les Waters
June 3–July 10, 2022
Roda Theatre
This show has no intermission.
We acknowledge that Berkeley Rep sits on the unceded ancestral lands of the Ohlone people.
Meet the Creative team | Meet the Company | Discover Dana H.
Welcome to Dana H.
I'm writing this to you fresh from seeing a run-through in the rehearsal room. Often when I see rehearsal in those last couple of days—as the cast, director, and writer prepare to leave the relative sanctity of the rehearsal studio for the theatre, to begin to integrate their work with that of the designers and technicians, and ultimately the audience—well, it's usually a moment for lots of conversations. Perhaps (especially in a new work) it's about tweaks to the text. There may be questions about performance, pacing, intention, movement.
But today I was struck by the depth of craft that was apparent to me in every aspect of this production. There is an audacity in the sheer theatricality, the request that Lucas and Les make of an audience in the way they engage with the story itself and with the way it is told. Perhaps you will, as I did, find yourself alternating between total immersion in the events of the play and astounded thrill at the techniques employed to deliver this story to you, bouncing between the "real" and the constructed worlds in a way that reminds us all that theatre at its most essential is always comprised of both.
In Lucas' works that I have seen, which include A Doll's House, Part 2; The Christians; Red Speedo; and now Dana H., his interest in experimentation with theatrical form is evident in the radical stylistic distance between each of these plays. In every case, it almost feels that he has reinvented himself as a writer to make the style of storytelling illuminate the specifics of a particular narrative—and perhaps never more so than with Dana H., where he has seamlessly woven his mother's actual voice with the interpretive magic of the actress (Jordan Baker, in this case). Dana H. deliberately and repeatedly points to an undeniable artifice that somehow allows us to see the thing itself, the essential story that Dana herself tells us, more clearly.
In this moment when the violence of the world feels ever-present, I am grateful for this reminder that artists can make things of great beauty from things of enormous destruction.
Thank you for being here, for going on this ride with us. I'm so glad to be able to share this experience with you.
Warmly,
Johanna Pfaelzer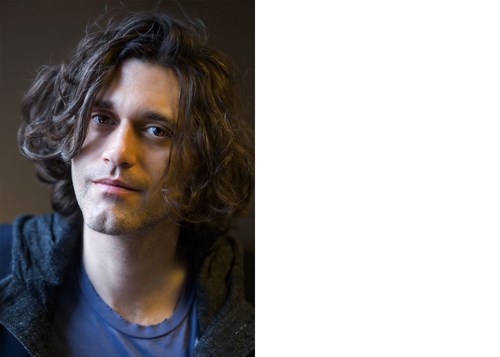 Lucas' plays include
A Doll's House, Part 2
(eight Tony Award nominations, including Best Play);
Hillary and Clinton
;
Red Speedo
;
The Christians
;
A Public Reading of an Unproduced Screenplay About the Death of Walt Disney
;
Isaac's Eye
; and
Death Tax
. He has been produced on Broadway at the John Golden Theatre and off Broadway at New York Theatre Workshop, Playwrights Horizons, Soho Rep., and Ensemble Studio Theatre. His plays have been produced nationally and internationally with premieres at the Humana Festival of New American Plays, Victory Gardens, and South Coast Rep. He has been a resident playwright at New Dramatists since 2011. Lucas has received the Kesselring Prize, Guggenheim Fellowship, Whiting Award, two Steinberg/ATCA New Play Award Citations, Outer Critics Circle Award for Best New Play, an Obie, and the Windham-Campbell Literary Prize.
Photo by Rebecca Martinez
Dana Higginbotham is a writer, educator, and chaplain. For the past 20 years, her work as a chaplain in both hospitals and hospices throughout Florida has involved providing counsel for those who live with the effects of trauma, loss, and life-threatening or life-limiting issues. She holds a Masters of Divinity and a PhD in Counseling.
Steve Cosson is a director, writer, and artistic director of The Civilians. He's led many projects with the company created from interactions with the public, working with various communities ranging from Evangelical Christians, to L.A.'s porn industry, to inmates in Colombia's national women's prison. The Civilians was the first theatre company to be artist-in-residence at The Metropolitan Museum of Art. Recent theatre credits include world premiere of What You Are Now by Sam Chanse, New York premiere of Whisper House (Duncan Sheik/Kyle Jarrow), world premiere of Paul Swan is Dead and Gone by Claire Kiechel, the Encores! Off-Center revival of Gone Missing (bookwriter), Jill Sobule's musical Times Square, bookwriter and director of The Abominables at Children's Theatre Company, writer/director of The Undertaking at BAM Next Wave and international tour, director of José Rivera's Another Word for Beauty (Goodman Theatre), director of Michael Friedman and Bess Wohl's musical Pretty Filthy, and the off-Broadway revival of The Belle of Amherst starring Joely Richardson, and he directed the world and New York premieres of Anne Washburn's Mr. Burns, a post-electric play. stevecosson.com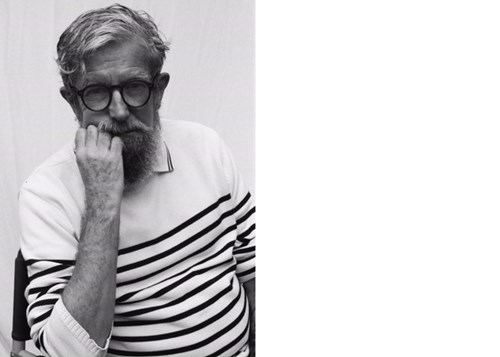 Les Waters is an Obie Award-winning director and was associate artistic director at Berkeley Rep from 2003-11. At Berkeley Rep, his productions included Wintertime; Big Love; Fêtes de la Nuit; Eurydice; In the Next Room (or The Vibrator Play); Yellowman; A Doll's House, Part 2; The Lieutenant of Inishmore; Red; Concerning Strange Devices from the Distant West; Girlfriend; and The Pillowman. His productions have been seen on Broadway — In the Next Room (or The Vibrator Play) (2009) and Dana H. (2021) — off Broadway, and many regional theatres. From 2012-18, he was artistic director of Actors Theatre of Louisville. From 1995-2003, he led the MFA directing program at University of California, San Diego. In the last 10 years, his productions have ranked amongst the year's best in The New Yorker, The New York Times, Time Out New York, Time Magazine, USA Today, and The Guardian. His book, The Theatre of Les Waters, edited by Scott T. Cummings, will be published by Routledge early 2022.
Photo by Ella Pennington
Andrew Boyce is a multidisciplinary artist and designer working on a variety of projects ranging from theatre, opera, and live events to film and performance-art spaces. Berkeley Rep credits include A Doll's House, Part 2. Other local credits include Sweat, The Hard Problem, The Realistic Joneses at American Conservatory Theater; Life Is A Dream at California Shakespeare Theater; Escaped Alone, In Old Age, Fool for Love, This Golden State, The Lily's Revenge, Se Llama Christina, Buried Child at Magic Theatre; Four Immigrants, Confederates, Now Circa Then at TheatreWorks; A Steady Rain, Circle Mirror Transformation at Marin Theatre Company. New York credits include Dana H. (Lyceum Theatre – Broadway), Lincoln Center Theater, Roundabout Theatre Company, Atlantic Theater Company, New York Theatre Workshop, Vineyard Theatre, Primary Stages, Playwrights Realm, Lucille Lortel, Barrow Street, among others. Regional credits with many major regional and LORT theatres across the U.S. Opera credits with Lyric Opera of Chicago, Opera Theatre of Saint Louis, Boston Lyric Opera, Kentucky Opera, Curtis Opera, Philadelphia Orchestra. MFA: Yale School of Drama. Assistant professor of design at Northwestern. andrewboycedesign.com
Janice Pytel is a costume designer based in Chicago making her Berkeley Rep debut. Her Broadway credits include Dana H., 33 Variations, and Tony Award-winning I Am My Own Wife. She previously collaborated with Les Waters on Our Town (Actors Theatre of Louisville) and Middletown and The Designated Mourner (Steppenwolf Theatre Company). Chicago credits include designs with Steppenwolf, Victory Gardens, Court Theatre, Chicago Opera Theatre, About Face Theatre, Hubbard Street Dance, Goodman Theatre, Rivendell Theatre (ensemble member), and others. Regional credits include designs with Alley Theatre, Milwaukee Repertory Theatre, Kansas City Repertory Theatre, Centerstage, Alliance, Arena Stage, La Jolla Playhouse, Geffen Playhouse, and Center Theatre Group. You may view samples of her work at janicepytel.com.
Paul Toben is a Bay Area native, now based in Chicago. He designed Dana H. and The Story of My Life on Broadway. His Bay Area credits include Silent Sky, Triangle (2015 Theatre Bay Area Award), Fly by Night, and Upright Grand for TheatreWorks, Another Way Home at the Magic Theatre, and Miss Bennet at Marin Theatre Company. His Chicago credits include Athena, Witch, and The Mystery of Love and Sex (Writers Theatre), Cry it Out (Northlight), Electra and for colored girls who have considered suicide / when the rainbow is enuf (Court Theatre). For Actors Theatre of Louisville, he designed Evocation to Visible Appearance, Angels in America, Circle Mirror Transformation, Airness, Peter and the Starcatcher, The Curious Incident of the Dog in the Night-Time, Lady Day at Emerson's Bar and Grill, 4000 Miles, Wondrous Strange, The Roommate, and many others, including five seasons of the Humana Festival for New American Plays. His work has been seen at regional theatres around the country, including Williamstown Theatre Festival, Denver Center Theatre Company, Goodman Theatre, Chicago Shakespeare Theater, the Guthrie Theater, Center Theatre Group, Portland Center Stage, Walker Art Center, Kansas City Rep, Round House Theatre, Cincinnati Playhouse in the Park, Cleveland Playhouse, Arizona Theatre Company, and many others, and he has worked internationally in the United Kingdom, London, and Canada. He is a proud member of United Scenic Artists Local 829. More information is available at paultoben.com.
Mikhail Fiksel is delighted to return to Berkeley Rep, where he had previously designed Black N Blue Boys/Broken Men. Recent projects include Dana H. on Broadway (2022 Tony nomination), Tambo & Bones at Playwrights Horizons and CTG (2022 Lucille Lortel nomination), Athena at Writers Theatre, The Podcaster for Audible Originals, as well as numerous collaborations with New York Theatre Workshop, The Public Theater, Signature Theatre, Court Theatre, Chicago Shakespeare Theater, Victory Gardens Theater, Writers Theatre, Oregon Shakespeare Festival, La Jolla Playhouse, American Players Theatre, Steppenwolf Theatre, and Albany Park Theater Project. Outside of theatre his work includes original scores for Glitch, The Wise Kids, and In Memoriam, and various audioplay and podcast production work with Audible, WBEZ, Tightrope Recording, and Make Believe Association, where he is a lead audio producer. Fiksel is a recipient of three Lucille Lortel Awards, multiple Jeff Awards, a 2020 Obie Award for Sound Design. He is a proud member of TSDCA and USA. mikhailfiksel.com
Steve Cuiffo is a magician and theatre maker who creates solo performance as well as collaborative works with other artists and theatre companies. His work incorporates aspects of sleight of hand, misdirection, imitation, and re-enactment to create unique performance, art, theatre, and magic. He was the illusion & lip sync consultant for Dana H. on Broadway and magic consultant for the current season of The Marvelous Mrs. Maisel. Other work includes illusion design for Geoff Sobelle's Home and The Object Lesson; magic director for David Blaine: Live; an associate with the Wooster Group theatre company; and co-founder of Secret Arts.
Tanya Palmer is thrilled to make her Berkeley Rep debut with Dana H. She was part of the team that brought Dana H. to Broadway. Dramaturgy credits include the world premieres of The Happiest Song Plays Last by Quiara Alegría Hudes and Ruined by Lynn Nottage at the Goodman Theatre where she was director of New Play Development for 14 seasons. She currently serves as the assistant dean and executive artistic director in the School of Communications at Northwestern University.
This is Shelley's first production at Berkeley Rep! Regional: David Henry Hwang's Soft Power (Center Theatre Group at the Ahmanson Theatre and the Curran Theatre). Broadway: Dana H., Is This a Room, The Ferryman, Hedwig and the Angry Inch (rehearsal stage manager for Michael C. Hall and John Cameron Mitchell), Violet, Betrayal directed by Mike Nichols, Gore Vidal's The Best Man starring James Earl Jones and Angela Lansbury. Off-Broadway: Ethan Lipton's Tumacho (Clubbed Thumb), Harry Clarke starring Billy Crudup (Vineyard Theatre), X: or, Betty Shabazz v. The Nation (The Acting Co.), Sarah Ruhl's For Peter Pan on Her 70th Birthday directed by Les Waters (Playwrights Horizons), Ethan Lipton's The Outer Space (The Public Theater), Sweet Charity (The New Group), Washer/Dryer (Ma-Yi Theater Company). With New York Theatre Workshop: The world premieres of Hadestown, Nat Turner in Jerusalem, and What's It All About? Bacharach Reimagined directed by Steven Hoggett. With The Debate Society: Cape Disappointment, Buddy Cop 2, and Blood Play. And, several Pumpkin Pie Shows and Solo plays written by Clay McLeod Chapman. (she/her)
Michael stage managed over 100 productions for Berkeley Rep since arriving as an intern in 1984 and served as the Rep's production stage manager from 1994 through 2020. He is euphoric to be back for Dana H. (he/him/his)
Assistant Scenic Designer
Se Hyun Oh

Assistant Costume Designer
Ricky Lurie
Assistant Lighting & Supertitle Designer
Emily Schmit
Associate Sound Designer
Megumi Katayama
Production Assistant
Hannah Rosenzweig
Original Broadway Casting
Taylor Williams, CSA
A1
Courtney Jean
Costumes
Janet Conery

COVID Safety Officer
Kathleen Parsons
Deck Crew & Automation
Isaac Jacobs
Electrics
Maya Bailey · Nikola Capp · Lauren Chang · Travis Clark · Tristan Fabiunke · Jason Joo · Caitlin Steinmann
Props
Kate Fitt · Garner Takahashi Keene · Sofie Miller · Brittany Watkins

Scene Shop
Brad Hopper · Isaac Jacobs · J Joseph · August Lewallen · Carl Martin · Sean Miller · Zach Wziontka
Sound
Courtney Jean · C. Swan-Streepy
Assistant Production Manager
Emily Betts (Production Management Fellow)
2nd Assistant Lighting Designer
Kiahana Toomer (Electrics Fellow)
Assistant Company Manager
Naomi Schiller (Company Management Fellow)
Stage Crew Support
Olivia McQuerry (Stage Management Fellow)
Education Programming Support
Elijah Punzal (Education Fellow)
Props Artisan
Robin Maegawa-Goeser (Properties Fellow)
Scenic Painting
Jimmy Nguyen (Scenic Art Fellow)
Carpenter
Maggie Wentworth (Scenic Construction Fellow)
Costume Support
Rachel Mandelstam (Costumes Fellow)
Audio Support
Akari Izumi (Harry Weininger Sound Fellow)
Grant Writing and Event Planning Support
Maya Simon (Development Fellow)
Artistic Support
Des'ree Brown (Bret C. Harte Artistic Fellow)
Abigail Holland (Peter F. Sloss Artistic Fellow)
Scenery by California Shakespeare Theater
Additional lighting equipment by PRG
Medical consultation for Berkeley Rep provided by Agi E. Ban DC, John Carrigg MD, Cindy J. Chang MD, Christina Corey MD, Neil Claveria PT, Patricia I. Commer DPT, Brenton Dowdy DPT, Kathy Fang MD PhD, Steven Fugaro MD, Whitney R. Johnson DDS, Olivia Lang MD, Allen Ling PT, and Christina S. Wilmer OD.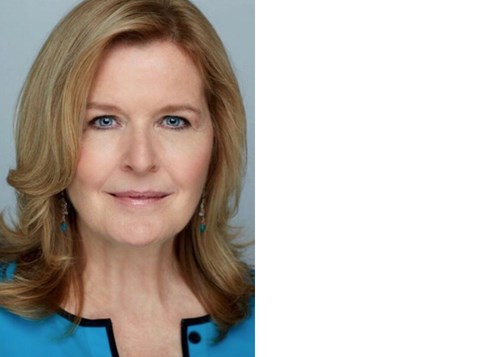 Jordan is making her Berkeley Rep debut in Dana H., but this is her second performance in the Bay Area, having performed at ACT in the Tony Award winning production of The Normal Heart directed by George C. Wolfe. Jordan received a Theatre World Award for Best Broadway Debut in Tennessee Williams' Suddenly Last Summer at Circle in the Square opposite Elizabeth Ashley directed by Harold Scott. She created the role of "C" in the original New York Pulitzer Prize winning production of Edward Albee's Three Tall Women. Other notable works: Brandon Jacob Jenkins' Appropriate at ATL's Humana Festival directed by Gary Griffin and Rebecca Gilman's Luna Gale at the Goodman Theatre directed by Robert Falls. Most recently, Fran Price in Things I Know To Be True by Andrew Bovell at Milwaukee Rep directed by Mark Clements, The Niceties at Geva Theatre Center directed by Nicole A. Watson, and Native Gardens at The Denver Center directed by Lisa Portes. Film: The Post, Land of Steady Habits, Another Earth (Alfred P. Sloan Award, Sundance Film Festival), The David Dance, 5 Doctors, 5-Flights Up, City Hall, Paparazzi, Out of Towners, Escape from L.A., Love Potion #9, and Childless. Television: The Americans, Blue Bloods, New Amsterdam, Law & Order: SVU, New Adventures of Old Christine, FBI: Most Wanted, The Good Wife, Madam Secretary, Deception, Person of Interest, and Bull. Jordan is a graduate of Smith College and Rutgers University: Mason Gross School of the Arts. @jordanbakerkilner (Instagram); Jordan Baker (Facebook); @jordankilner (Twitter) (she/her/hers)
Photo by Francis Hill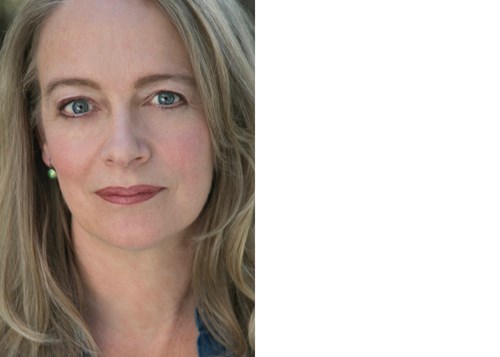 Julia's Bay Area credits include Top Girls at American Conservatory Theater, Escaped Alone, The Eva Trilogy, Fred's Diner, A Lie of the Mind, and Visible from Four States at the Magic Theatre, The Events at Shotgun Players, and Gidion's Knot at Aurora Theatre. She has also appeared at SF Playhouse, Marin Theatre Company, Porchlight Theatre, TheatreFirst, Center Rep, Pacific Alliance Theatre, Actors Theatre of SF, First Person Singular, and PlayGround (where she is a company member). New York and Los Angeles credits include Neena Beber's Tomorrowland at Soho Rep, Requiem for a Heavyweight at the Kraine Theatre, and Days and Nights Within at the Whitefire Theatre (L.A.) Film and TV credits include The Unbelievable Truth, Flesh and Bone, Law & Order, and Law & Order: SVU. Julia was a founding member of The Echo Theater in Los Angeles and of the Obie Award-winning Cucaracha Theatre in New York. She is a guest artist at Tamalpais High's internationally acclaimed Conservatory Theatre Ensemble. The book about her character creation technique, 5 Ways In to Character, will be available this summer. Julia is making her Berkeley Rep debut with Dana H. Facebook: juliamcnealarts
Photo by Amanda Parker
Matt Ross produced this season's Pass Over, Is This a Room, and Dana H. on Broadway. Matt also produced the Tony-nominated Broadway engagement of Heidi Schreck's What the Constitution Means to Me, its national tour, and live capture film for Amazon. He is the founder of Matt Ross Public Relations, an agency representing a broad spectrum of theatre productions and entities in New York and beyond. Matt serves as board chair for the Brooklyn-based theatre company The TEAM and on the board of governors of the Association of Theatrical Press Agents and Managers (ATPAM). Love and gratitude to Alyssa and Sydney.
Broadway: Dana H., Is This a Room, Tootsie (Tony nomination), Meteor Shower, The Heidi Chronicles, Annie (Tony nomination). Off-Broadway: Gloria: A Life, Small Mouth Sounds. West End: Curtains. Next up: the first revival of the Tony Award-winning Gershwin musical Crazy for You. Currently represented elsewhere on Broadway and on the road with investments in Six, Funny Girl, Jagged Little Pill, Dear Evan Hansen, The Book of Mormon, and Hamilton, Sally is a member of the Broadway League and serves on the board of the Vineyard Theatre in NYC, and the David Geffen School of Drama at Yale. She is also the co-host of "This is Reality," the podcast about Reality Winner, the subject of Is This a Room. @sallyhorchow HorchowProductions.com
Four-time Tony- and Olivier-winning Broadway producer and Emmy-winning director, writer, and producer of film and television. Broadway: Company, The Prom, Legally Blonde, Thoroughly Modern Millie, Fool Moon, Who's Afraid of Virginia Woolf?, One Flew Over the Cuckoo's Nest, The Crucible. Film: The Show Must Go On, ShowBusiness: The Road to Broadway, Gotta Dance, Last Blintz, and documentaries on Marvin Hamlisch and Carol Channing. Supervised production on Dirty Dancing, MuppetVision-3D, and EP'd Isaac Mizrahi's Unzipped. Executive producer of Ryan Murphy's The Prom Netflix adaptation. CEO of Broadway Podcast Network (BPN.fm), Lights of Broadway co-founder (lightsofbroadway.nyc), and Camp Broadway. Jacob Burns Film Center and New Dramatists boards. CTI's Robert Whitehead Theatre Producing Award. @dori.berinstein dramaticforces.com
Chicago's theatre since 1925, Goodman Theatre is a not-for-profit arts and community organization in the heart of the Loop, distinguished by artistic excellence and civic engagement. Under Artistic Director Robert Falls and Executive Director Roche Schulfer, the Goodman has produced nearly 200 world or American premieres, large-scale musicals, and reimagined classics, and earned two Pulitzer Prizes, 22 Tony Awards, and 160+ Jeff Awards.
Center Theatre Group (Meghan Pressman, Managing Director/CEO; Douglas C. Baker, Producing Director), one of the nation's pre-eminent arts and cultural organizations, is Los Angeles' leading nonprofit theatre company, programming seasons at the Ahmanson Theatre and Mark Taper Forum in Downtown Los Angeles, and the Kirk Douglas Theatre in Culver City. In addition to presenting and producing the broadest range of theatrical entertainment in the country, Center Theatre Group is one of the nation's leading producers of ambitious new works through commissions and world premiere productions and a leader in community engagement and education programs that reach across generations, demographics, and circumstance to serve Los Angeles.
Vineyard Theatre (Douglas Aibel and Sarah Stern, Artistic Directors; Suzanne Appel, Managing Director) is one of America's preeminent homes for the creation of new plays and musicals. Notable premieres include Paula Vogel's How I Learned to Drive (Pulitzer Prize) and Indecent (two Tony Awards), Edward Albee's Three Tall Women (Pulitzer Prize), Avenue Q (Tony Award, Best Musical), The Scottsboro Boys, [title of show], Wig Out!, The Lyons, Gloria, Harry Clarke, Is This a Room, Dana H., and many more over nearly four decades. Recipient of special Drama Desk, Obie, and Lucille Lortel Awards for artistic excellence. vineyardtheatre.org
* Indicates a member of Actors' Equity Association, the Union of Professional Actors and Stage Managers in the United States.
Dana H. was originally commissioned and developed by The Civilians, New York, NY and Goodman Theatre, Chicago, IL
The World Premiere of Dana H. was produced in 2019 by Center Theatre Group, Los Angeles, California
Michael Ritchie, Artistic Director | Meghan Pressman, Managing Director/CEO | Douglas C. Baker, Producing Director, and
Goodman Theatre, Chicago, Illinois
Robert Falls, Artistic Director | Roche Schulfer, Executive Director
Dana H. was first presented in New York by Vineyard Theatre in 2020
Douglas Aibel, Artistic Director | Sarah Stern, Artistic Director | Suzanne Appel, Managing Director
Dana H. was produced on Broadway by Matt Ross, Sally Horchow, Dori Berinstein, Elizabeth Armstrong, Jane Dubin, Horchow Family Productions, Thomas Kail, Corinne Nevinny & Victoria Nevinny, Richard Phillips, Plate Spinner Productions, Bill Prady, Rocco Productions, Craig Balsam, Randy Best, Diamond Dog Entertainment, Gould Family, David Lyons, Alan Seales, ZKM Media, The Shubert Organization, and Vineyard Theatre.
Affiliations
The director is a member of the Society of Stage Directors and Choreographers, Inc., an independent national labor union. The Scenic, Costume, Lighting, and Sound Designers in LORT Theatres are represented by United Scenic Artists Local USA-829, IATSE.

A conversation with Lucas Hnath and Les Waters
By James Sims
The following conversation with playwright Lucas Hnath and director Les Waters was originally recorded in Los Angeles during preview performances for Dana H. as part of its co-production with Center Theatre Group, the Goodman Theatre in Chicago, and the Vineyard Theatre in New York. Les and Lucas discussed their collaborative process and the unique adventure of creating Dana H. This interview has been edited for length and clarity.
Can you talk about how your collaborative relationship started? What was that first project?
LES WATERS: We met in 2012 at the Humana Festival of New American Plays when Lucas's play, Death Tax, was part of that festival. Our first collaboration was on The Christians at Actors Theatre, then it was produced in New York at Playwrights Horizons. We also did The Thin Place at Actors Theatre, where it was commissioned, and in New York.
How would you describe the relationship between playwright and director for you? Is it different on each project you approach? Have you built up a rapport together having worked closely on a few key projects?
LW: Well, I think we have a rapport. I mean we have a similar taste in theatricality, maybe? I think our rhythms of work may be in sync.
Lucas, what do you remember about that first time working with Les on a project? I'm sure there's a level of intimacy involved in giving your play over to a director and having that vision added on to what you have written, perhaps.
LUCAS HNATH: It's very much a brain meld, isn't it? There's no need to talk that much, we just look at each other and know what the other is thinking. I think the really reductive way to talk about it is [that] I have a tendency towards wanting everything to be extremely logical and Les has a comfort with mystery that pulls me back. Any spots where I have let the thing get a little looser, a little more mysterious, Les is tuned into knowing where to preserve that. And he's more comfortable with emotion than I am. So— (They both laugh.)
LW: (jokingly) Yeah, I'm a mess.
With Dana H., specifically, there's a lot of this play that we don't want to talk about in advance. Lucas, can you talk a little bit about why that's important to you: that we let the play speak for itself and not really get into a lot of the details of what is happening and why it's happening the way it does in the show?
LH: With any play, you want it to remain a surprise for the audience, so there's that reason for it. But with this particular play I'm generally not comfortable saying anything about what happens, in part because it is about my mother, and I was present for some of the events of the play, so there is a semi-autobiographical aspect to it. To talk about it in interviews means that people will ask me further questions about the events and I feel as though the play is kind of this black box recording; you watch it and there will not be any additional information about it. You don't go see Hamlet and ask further questions about what he was like as a child but you do tend to do that when you know that you have access to people who lived the events of the story. But I am asking that people receive it as a story on its own terms and not seek out supplementary information.
I'd love to talk about the form of this play, in that there is a pre-recorded audio component to the show, and the actor playing Dana is not using her own voice. Lucas, could you talk about what it is like as someone who is generally writing the words from your own imagination to, with this project, work from pre-recorded audio?
LH: It is, of course, undeniably different from how I write most of my plays. And yet, at the same time, the way that I usually write is I will spend a period of time essentially just vomiting up text until I get somewhere between 200 and 400 pages of material. Then I organize that material and arrange it. I've always found it useful to think about that part of the process as going into the editing room with footage that was collected. So when I knew that I wanted this play to be composed from transcripts of interviews, I took the transcripts and organized them like I would any of my other plays at that point in the process. I stop and I figure out what are the compelling moments, then I title them and start arranging them. The thing that this process opened up is not only was I composing with words and sentences but also with utterances: sighs, laughs. Those all became tools for the storytelling. But when I assembled the first draft of it I had no idea. I didn't listen to the recordings—I only worked off of the transcripts. That was intentional, but I had no idea if the cadences were going to line up, since I was using material from all over the place—interviews from different days and over many hours. Composing the story out of [my mother's] tone of voice and the speed with which she's speaking, that was another tool.
Steve Cuiffo, who works on the lip-syncing technique, worked with you on another project that involved lip syncing as well. What was that?
LH: I wrote a play that was written to be lip synced many years ago, probably in 2004 or 2005. It was my first experiment with that and I knew that Steve had experience with lip syncing from working with [drag artist and performer] Lipsynka, so I brought him in to advise us on how to make that play work.
What led you to even experiment with that form?
LH: It goes back to when I was in grad school; I got really interested in the work of the late director and playwright Reza Abdoh. A number of his plays were written to be lip synced and they allowed him a certain kind of narrative freedom because there's this implicit understanding that the thing that you're watching is on a track. As far back as grad school, even before that play I wrote in 2005, I was doing experiments in one of (NYU Professor) Richard Schechner's classes with lip syncing. I was interested in exploring theatrical conventions that can share some of the burden that certain narrative structures typically take responsibility for.
Dana H. was originally a co-production involving three nonprofit theatres. Could you talk about the role nonprofit theatre has played in your careers? What do you think its role is in the American theatre landscape–particularly in introducing new forms to audiences?
LW: My American career has mainly been in nonprofit regional theatre. My New York work tends to be work that was commissioned by a regional theatre and has moved to New York. So these places that can commission writers and artists—and in particular younger, emerging artists—to make work and give them the time and facilities to do it are remarkable.
Les talks about young writers getting a break that might come only by way of nonprofit theatres being in place. Lucas, can you talk about your first break–or what you remember of having an opportunity to see your words brought to the stage?
LH: The first full-length play of mine that was professionally produced was Death Tax at Actors Theatre of Louisville. Before that, it was ten years of putting up anything I could in whatever free space I could get with dollar store props. The fact is, most theatre is nonprofit theatre—the commercial theatre represents an incredibly small percentage of theatre that gets done in this country; it may be more amplified, but most theatre is in the nonprofit sector. In the case of Actors Theatre of Louisville, it was a place where I was given remarkable freedom to fail with as little interference as possible. They came to me and asked me what I needed to do the play and that's, ideally, how it works.
The phrase "lip syncing" conjures images in my mind of a vibrant drag queen, a happy concert crowd mouthing lyrics along with a band, or, if I'm honest, the Milli Vanilli scandal of the 1980s. But until this play, it never occurred to me to consider what lip syncing has to offer us as an art form. Dana H. builds its storytelling around the technique in new and surprising ways that highlight an irresistibly intriguing relationship between form and content.
Playwright Lucas Hnath presents a story about his mother Dana, played by the wonderful Jordan Baker. During the show, we listen to the voice of the real-life Dana, while watching Jordan represent her in physical space and lip sync to the recordings. It's a fascinating dissociative experience that somehow invites us to exist in two places at once — in Dana's story, and also outside of it. It's impossible not to think about the fact that the woman in front of us is "performing" Dana. Jordan embodies her in an astonishing feat of mental athleticism: not only is she shaping her mouth around another person's words and sounds, but she's bringing Dana to life through aural gestures like the flick of a braceleted wrist or the crack of a joint. And despite, or maybe because of, this precision, we remain aware of the distance between the Dana we hear and the Dana we see.
This production's level of detail crafts a deeply specific experience for an audience. Decisions were made along the way that imbue texture into every moment. Lucas' choice to have someone besides himself conduct the interviews with his mother: fellow theatremaker Steve Cosson, an outsider to the circumstances surrounding the story, allows for the questions to come from someone unencumbered by lived experience. In a way, Steve stands in for all of us in the audience as he anticipates and asks many of the questions that a listener would naturally have when taking in this incredible story.
You may notice that I'm not really discussing the content of the story you will hear. There are a few reasons for this. First and foremost, it's important to the individuals involved that people come to the story with as few preconceived notions as possible. As our world pressures us for more and more and more information, it seems to me a refreshingly radical act on the part of a creator to invite an audience to take in this production as a blank canvas. There is also the nature of the content, which is deeply personal and really does speak for itself. Please note that if you are a person who appreciates content advisories, you can read them here.
The play looks at first glance like there is very little "writing" involved. But what on the surface appears to be a relatively straightforward interview between two people is in reality the result of Lucas' painstaking attention to unfolding the story in a deliberate and intentional way. In addition to extensive editing and reordering of information, everything you hear is a choice. Every time you hear a blip, or a sentence that trails off, or a 3-second pause instead of a 2-second pause, this is not just happenstance. The narrative comes to you as a distilled, nuanced, highly technical result of an intricate process born from one of our greatest contemporary theatrical minds.
Director Les Waters' minimalist yet exquisite eye deepens the production's ardent attention to detail. He received a Tony Award nomination for this production. Andrew Boyce's set evokes perfectly the atmosphere of a neutral, unremarkable hotel room that has seen better days. And as a person might walk through the world appearing fine despite feeling something quite different inside, this set indicates to us that the room's superficial tidiness does not hold up upon closer inspection. Everything from the perfectly placed scuff marks under the sink to the outdated furnishings provides clues that things may not be what they seem.
Sound designer Mikhail Fiskel has also been nominated for a Tony Award for this show. The sound reveals yet another place where relentlessly detailed choices have been made. As you experience the performance you might think about where we intentionally hear background noise, how sometimes the sound quality seems to fluctuate, which moments go absolutely quiet, where there is subtle scoring with hums and hisses and thumps…all of it decidedly purposeful.
This production celebrates theatre at its most inventive: it's both formally adventurous and very accessible at the same time. It contains feats of imagination, athleticism (if you think lip syncing isn't athletic, try doing it for a few minutes — Jordan does it for over an hour!), intelligence, and complexity. And yet it's also very simple: we watch an ordinary woman in an even more ordinary chair for most of the play. How can that be riveting? Theatre magic makes it so.
Madeleine Oldham
By Tanya Palmer
In his 2016 review of Lucas Hnath's Red Speedo, a tightly constructed exploration of a swimmer with Olympic hopes and a shaky moral compass, New York Times critic Charles Isherwood writes that Hnath "has a wonderfully inventive theatrical mind. He rewrites the rules of dramaturgy with each play, usually tossing out the naturalistic playbook—and for that matter the playbook he created the last time around." Beginning with Death Tax, a bracing meditation on death and money which premiered at Actors Theatre's Humana Festival in 2012 and following what Hnath himself described as a decade of putting up his own plays in "whatever free space I could get with dollar store props," he has carved a distinctive space for himself as a leading voice in American drama—including three recent Broadway hits: A Doll's House, Part Two, Hillary and Clinton, and Dana H. With each new play, he is reinventing the form of the theatrical event that contains his story. 
One simple but provocative example of Hnath's inventiveness is the use of microphones in his 2014 breakout play, The Christians. Set in an evangelical church not unlike the ones he and his mother, an ordained minister, attended when Hnath was a child growing up in Florida, the story centers around Paul, a pastor who is questioning the existence of hell. When he shares his doubts with his congregation, he upends his life and tears his church apart. The play moves between public sermons and private, intimate scenes, such as those between the pastor and his wife. In both the public and private spaces, the dialogue is always spoken into a microphone. In an interview in American Theatre magazine with Hnath and director Les Waters, who collaborated with Hnath for the first time on the world premiere of The Christians at Actors Theatre of Louisville, Hnath describes how he came to the idea: 
"One of the images I have lodged in my head from the churches I grew up in is the image of the pastor holding the mic. I thought, 'I have to use that element.' What I found is that dialogue is far more interesting spoken into a mic than not… There's something about the sound of a mic that makes it sound like you're inside someone's head. I also had this impulse that once I start in the form of a church service, it doesn't matter where the play moves in space and time, but it probably still wants to be using the form of a church service, which of course meant keeping the mics." 
With Dana H., Hnath's third collaboration with Les Waters following The Thin Place, he once again employs a simple but radical conceit—one which, like the microphones in The Christians, transforms the way we hear and understand the language being spoken on stage.
Built entirely from interviews with his mother, Dana Higginbotham, Hnath eschews his own language to center his mother's voice—literally. The actor portraying Dana lip syncs to a recording of Dana's voice. The story she tells us is true, and horrifying: she revisits the five months she was held captive, trapped in a series of Florida motel rooms by a former patient and ex-convict named Jim, whom she met while working as a chaplain at a psychiatric hospital. 
In a recent New Yorker profile by writer D.T. Max, Hnath describes what led him to employ this unusual theatrical approach: "I realized there's no way an actor can do this. The story is so unbelievable, and even as my mother's telling the story she's questioning it, because, you know, that's not uncommon for victims of trauma." By delivering the story not only in Dana's own words—but also in her own cadences, rhythms, intonations, breaths, sighs, and laughs—Hnath ensures that his mother's lived experience is undeniable, no matter how inconceivable the harrowing events may seem at times, even to the teller herself.
This piece was edited for length and clarity.
By Des'ree Brown
Dana H. is performed entirely through lip syncing, an extraordinary feat in the world of theatre. In the world of drag, performers have built their careers around this art form. Drag queens and kings have been around for centuries, stirring political and social movements throughout history. Thanks to mainstream shows like RuPaul's Drag Race, drag performers today are experiencing greater recognition for their extraordinary talent. Bret C. Harte Artistic Fellow Des'ree Brown interviewed some of the Bay Area's most well-renowned drag artists to gain their insight on lip-syncing techniques, the trajectory of their careers, and what makes the Bay Area drag scene unique. This interview has been edited for length and clarity.
What made you want to pursue drag?
VERA!: I've always adored going to drag shows. I've been going to the Rebel Kings of Oakland since I moved here in 2005, and now I'm a host and troupe member. I started out helping pick up tips, then became a backup dancer, then became a duet partner, and then took the leap becoming a drag king and it's been incredible. I'm now a proud drag dad of 14 drag children and 3 drag grandchildren. Drag is a phenomenal space to delve into your creativity and explore; it helped me find my gender, connect with my SWANA culture, get into improv comedy, showcase my love of fanny packs, lean into my dad/grandpa vibes, have wonderful audience engagement moments, and be part of an incredible Bay Area drag scene.
Phoebe Cakes: I grew up performing in choir, in theatre, in the ways queer (and brown) people have to perform to survive. As an undergraduate at Berkeley, studying performance and my own gender exploration were happening simultaneously. After graduating, I started attending Heklina's T***** Shack at The Stud and fell in love with drag. I saw it as avant-garde theatre – low and high art smashing into each other – but I decided to focus on writing. After publishing a Northern California Book Award-nominated collection of poetry and writing and producing an internationally distributed movie, the performance bug that had laid dormant for so long started to itch again. It wouldn't be until my 30s that I would actually start drag – but in a way, it was a culmination of all my artistic interests.
Oliver Branch: If we define drag as "an exaggerated performance of gender or gender nonconformity," then I first pursued drag in high school when I'd play male characters in our theatre productions. Not enough boys auditioned and I was androgynous enough to play the male roles. Turns out, it was a lot of fun, and I wasn't bound under the strict roles of femininity that I had always lived with. I pursued drag as Drag with a capital "D" a few days after I turned 21 because I missed playing those roles and I wanted to develop a drag persona, which I can say is the most fun part about drag as an art form.
Sally Limón: I have always been fascinated with drag, even when it made me so uncomfortable. I was trying so hard to be this machista image of a Chicano man. That has never been me. I've always been obsessed with the divas and all things considered feminine. Drag is a big part of my gender expression now.
Heaven on Earth: I see drag as a genre of theatre. I studied theatre in university and worked as an actor for years. When the roles available to me did not meet the dream in my heart, I decided to take things into my own hands and began producing full-length shows in drag with original music. That evolved into performing in more traditional drag and lip syncing. My initial goal, from the age of 13, was to be a pop star.
What were the biggest challenges you had to overcome in learning to lip sync?
V: The challenges of SO MANY WORDS! Some of my favorite songs are very fast-paced and have a lot of words. Sometimes I'm having such a good time interacting with the audience or dancing that I have to remind myself to KEEP LIP SYNCING.
PC: Probably my attention span. I'm a terrible autodidact. Sitting down to learn something with intention is really hard. I'm good at getting the first verse, but by the time the second verse rolls around, my mind is elsewhere and nothing sinks in. Honestly, my strongest lip syncs are songs that I inadvertently internalize just through pure love of them or incidental immersion.
OB: Not understanding the words to the track. I did a digital drag number where I interviewed Salvador Dalí – also played by me – and I lip synced to a straight recording from Dalí's interview on The Dick Cavett Show. Unfortunately, Salvador Dalí not only has a very thick Spanish accent but most of what he's saying in the interview doesn't make much sense. Each line needed about 10 to 15 takes.
SL: My nerves have absolutely made me trip up. Your mouth has to be on point with the lyrics but your body, costume, and soul need to be in sync with the music so much that you make it your own.
H: Lip syncing came very naturally. I never felt challenged and perhaps that is because I am, and have been from the beginning, very disciplined. At 13, I would learn every frame of my favorite music videos after school each day and would run the entire video performing as though it was my music. By the time I began to perform in drag, I already had 10 years' experience lip syncing.
Would you please share some of your favorite audience reactions?
V: I love looks of delight, shock, and awe. I love seeing people amazed that I can (still) do the splits. My favorite audience reaction was when I caught sight of a Rammstein fan who was lip syncing "Du hast" with me. I brought him on stage, asked if he'd like to ride piggyback, and we did the rest of the number together. He somehow picked up all of my choreo and did it while on my back!
PC: I haven't seen people cry, but folks have come up to me afterwards and let me know they had. I have, however, witnessed a minutes-long standing ovation and that is very special.
OB: A moment that comes to mind is when I performed a number as conservative commentator Ben Shapiro where I lip synced to a video he made bashing feminine men. Then the track goes into "Macho Man" by Village People. Whenever I've done that number I've seen the confusion and discomfort of some audience members, but then the opening verse of "Macho Man" plays and everyone cracks up and you can feel the relief in the room.
SL: I love laughter. It's my job as a drag entertainer to make everyone forget about their daily life and worries and just let them enjoy the show.
H: I enjoy when people scream hysterically. When someone screams, it's as though they've been brought back to life. Crying has also been an interesting reaction that I've seen multiple times. When audiences scream, "Yes, Heaven!" I feel a sense of belonging that is incomparable.
Has there been a moment where you've made a mistake on stage pertaining to lip syncing? How did you recover?
V: Sometimes I get caught up and think I'm in another part of the song. But the great thing about lip syncing is that there's no loud dissonant word when you lip sync wrong; it just looks like you've chosen the wrong moment to eat some air.
PC: Oh I flub lyrics up all the time. I think if you're committed to the overall story of the line/song/text, and just keep the ball bouncing, the minor glitches become less consequential.
OB: I've had incidents where I'll be performing and the crowd will be so loud that I can't hear the words to my track. All you can do in the moment is pick up as soon as you can and move forward.
SL: UM. YES. Forgetting the words is also a reality in drag. But the more experienced you get, the more ways you learn to cover that up. One time I just grabbed someone's drink and started chugging cause I forgot the words. The crowd LOVED it!
How do you choose songs or clips to lip sync to?
V: I choose songs that I love or that are meaningful to me, or songs that immediately engage the audience. During the pandemic I've learned how to make mixes of unexpected song combos (think Lara Fabian meets Simple Plan).
PC: It's a mixture of whatever's in the zeitgeist and whatever I intensely love. I gravitate towards doing things that bring me joy. With that said, sometimes doing something very mournful can, in an odd way, bring me joy. Inspiration comes from all places.
OB: I make a lot of my own mixes using GarageBand, most of which are comedy based since I consider myself a comedy king. I pick songs that I normally like listening to. Choosing songs for the sake of fitting a theme or character doesn't usually end well for me. I need to genuinely enjoy the song for it to make the final cut.
SL: I love anything Latina, but I also love taking a song and putting my own spin on it.
H: There is usually a story or feeling I am after and when the task of preparing a number arises, I listen. Life, Intuition, The Universe is always speaking to us and I do my best to listen. And in passing, at the grocery store, or at a bar, or listening to a playlist, I hear it and when I hear it, I know.
How would you teach someone to lip sync in three easy steps? Can that be done?
V: Just listen to the song over and over and mouth the words to yourself! I walk all over Oakland and SF mouthing to myself. One: pick a song you love, Two: mouth it everywhere, Three: keep mouthing it everywhere!
PC: One: Put a pencil in your mouth; read the text over and over again until it's muscle memory. Two: Once it's more or less automatic, tell the story behind the text with your eyes. 
Wow, I did it in two steps.
OB: Here is my method that has worked for me my whole drag career: Listen to the track on repeat for at least several days. Put your headphones in, go to a mirror, and try to lip sync as much of the song as you know. If you see yourself fumble or make mistakes, go back and listen to it a few more times until you've got it.
SL: One: Love the song/mix. Two: Practice singing/speaking the lyrics. Three: Let your body join in.
H: One: Marry yourself to the idea that "separateness" is an illusion and that the voice you are hearing IS yours. Feel that! Two: Listen! Three: Rehearse.
How would you describe lip syncing to someone who's never seen or tried it?
V: You're mouthing the words of a song, trying to make it look like you could be, in some universe, the person singing it. And for those moments on stage you ARE!
PC: The term "enthusiasm" comes from the idea that one can be possessed by a god. Lip syncing, in a way, is a minor possession by the sound and feelings expelled by someone recorded. It's a conjuring and a defamiliarization of that moment. It allows you to get close to a work of art and then create something new and different out of it.
OB: Pretending to sing a pre-recorded track while embodying the emotion of the song or creating a new message to go with that song.
SL: When you know the person in front of you isn't singing the song you're hearing. Or…are they?
H: It's like playing an instrument. There are words that are to be spoken, some in a uniform or measured pattern and others seemingly arriving from impulse. You will speak these words and the sound will come from another source.
What makes the Bay Area drag scene so special?
V: The Bay Area drag scene is truly special because it's inclusive, diverse, and accepting. We all uplift and support one another. Bay Area drag performers are always pushing boundaries, creating their own categories, highlighting their culture, leaning into the ridiculousness, or even combining the meaningful with the ridiculous!
PC: Bay Area drag draws upon such a rich and complex history of intersecting art forms, movements, and peoples. It's a community where all different types of drag sit side by side because there isn't a hierarchy. It's cerebral, it's absurd, it's punk, it's pop and pop culture, it's grungy, it's daring, it's aesthetic for aesthetic's sake, and then anti that; it goes on and on.
OB: Its storytelling and fearlessness. Bay Area drag doesn't hesitate to bring a specific level of camp, narrative, and creativity that's hard to find in other drag spaces. One night you see a 1930s diamond-studded Cabaret drag show, then the next night watch a drag queen dressed up as an enormous stick of butter and dancing to "Hot Knife" by Fiona Apple. The possibilities are endless.
SL: Bay Area drag embraces the outrageous parts of drag. We do camp and grit so well but we also bring beauty and glamour. I think the QTPOC performers here are really changing the world of drag.
H: That is like asking why the sky is blue. There seems to be an energetic pull, drawing a certain frequency of vibration to the city. That frequency is the Bay Area Drag Scene.
BIOS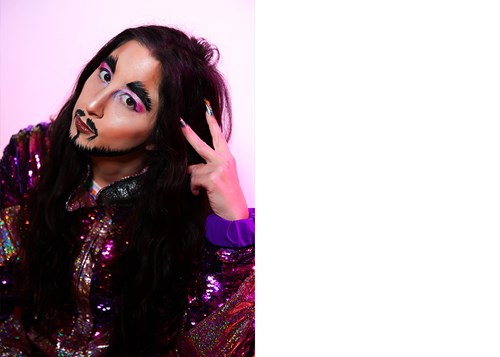 VERA! is an Armenian American drag king, dancer, and activist. They are a member of Rebel Kings of Oakland, Nine Inch Males, Reigning Men, and SWANA Kings (South West Asian North African drag kings), board member of Oaklash, Bay Area Development Officer for Covenant House California, Lead Volunteer Trainer on the LGBT National Hotline, and member of DragLab and Drag Queen Story Hour - Bay Area. They are the father of the House of Pack and the current Mx. Starsearch 2022. Follow them @veritas_22!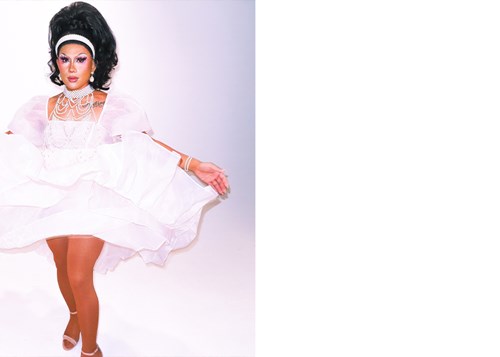 Phoebe Cakes is the mother of The House of Cakes. Recently she won Best Talent at Oasis's Princex Pageant. She is a member of the drag group FiliPINX (pronounced Fi-li-Pinks) comprised of all Bay Area Filipinx performers. You can catch her monthly at the Port Bar where she hosts a trivia night and drag show. Follow her on Instagram @shehaslayers and tip her on Venmo under the same handle.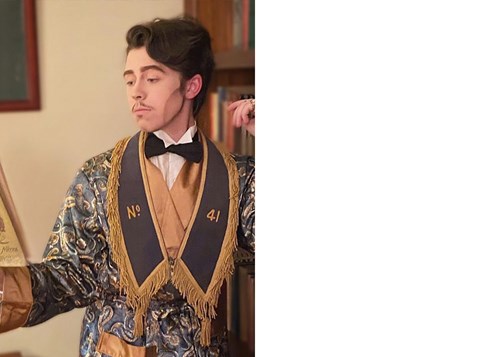 Oliver Branch is a San Franciscan drag king with a passion for historical fashion and a need for tweed. He is a host at The Monster Show: The Castro's longest-running drag show, and is the only king in the Castro to host a current running show. His performances are described as campy yet classy, and his style as "a friendly time traveler who can't decide whether he wants to live in the Edwardian era or the 1960s," but he takes this as a dear compliment. He is inspired by old cinema, classic literature, and strange items you'd find at antique shops that stop you in your tracks and make you think "...Huh, well that's a bit odd, but I'm entertained."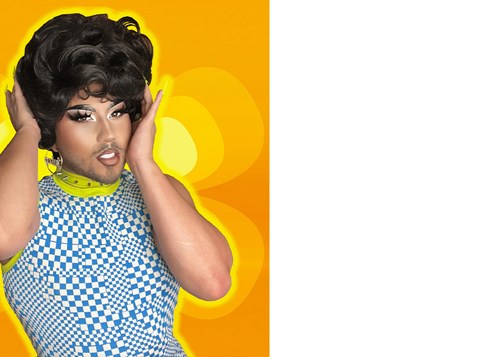 Sally Limón is your favorite bearded Chicana tía that let you drink before your parents did. She is bringing the beauty but she lives for the camp and ridiculousness that drag is. A Latin Diva and Gorgeous Clown!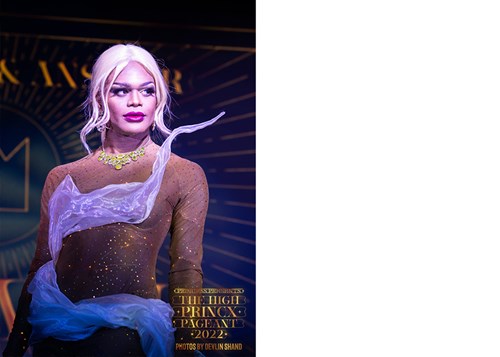 Heaven on Earth is a state of mind.
The Theatre of Les Waters: More Like the Weather, edited by Scott T. Cummings, is a brand-new book that combines original writings from Les Waters with short essays by a wide range of his collaborators (including beloved Berkeley Rep playwrights Sarah Ruhl and Charles Mee, and our former artistic director Tony Taccone), creating a personal and multi-faceted portrait of an influential director, revered mentor, and inspirational theatre artist.
D.T. Max wrote a wonderful, in-depth profile of Lucas Hnath for The New Yorker in 2019, just as Dana H. was about to open in Los Angeles.
Eric Ostrow and Joy DeMichelle interviewed Lucas Hnath in late 2020 for Live at the Lortel, a podcast; their discussion centered largely on the Dana H. creative process.

SUMMER THEATRE CLASSES NOW ON SALE
Registration is now open for summer theatre classes at the Berkeley Rep School of Theatre. Join us for a summer full of dynamic programming and revitalize your art with professional theatre artists. From acting and improv to directing and dramaturgy, classes for all levels and abilities begin this July!
Dana H. sponsors
Dana H. is made possible thanks to the generous support of
Season Sponsors
Stephen & Susan Chamberlin
Bruce Golden & Michelle Mercer
Frances Hellman & Warren Breslau
Wayne Jordan & Quinn Delaney
Gisele & Kenneth F. Miller
Jack & Betty Schafer
The Strauch Kulhanjian Family
In-kind Season Sponsor

Sponsors
Robin & Rich Edwards
Steve is a retired real estate developer, and Susan a retired architect. Their main focus now is the Chamberlin Education Foundation, which focuses on K-12 education issues in the West Contra Costa Unified School District. Susan has been a season ticket holder for over 25 years.
Warren and Frances are avid watchers of live theatre, which includes Berkeley Rep and an annual pilgrimage (when COVID allows) to London's West End. Having loved Berkeley Rep for years, they are thrilled to sign on as 2021/22 season sponsors. They are very proud of the cutting edge, exceptional theatre that Berkeley Rep continuously produces. Frances' day job is as Professor of Physics at UC Berkeley and Warren is a Machinist and Welder at 5th Street Machine Arts.
Betty and Jack are proud to support Berkeley Rep. Jack is a sustaining advisor of the Theatre, having served on the board for many years, and is now on the board of San Francisco Opera. He is an emeritus board chair of the San Francisco Art Institute and the Oxbow School. In San Francisco, Betty is involved with Wise Aging, a program for adults addressing the challenges of growing older. She serves on several non-profit boards. They have three daughters and eight grandchildren.
Roger Strauch is chair of The Roda Group. He has served on Berkeley Rep's Board of Trustees for over twenty years, often as an executive member. Roger is an engineer, entrepreneur, venture capitalist, and philanthropist. He has helped build technology companies that have had public stock offerings or have been sold to global industry leaders. Currently, Roger focuses on the development of several enterprises whose products and services will mitigate the negative impact of industry on global climate change and human health. Roger serves on the boards of the Chart Industries (NYSE:GTLS); Mathematical Sciences Research Institute (MSRI); Northside Center in Harlem, NYC, a mental health service agency; and UC Berkeley's College of Engineering. He is the leader of the Mosse Art Restitution Project, a major international effort to restitute stolen art from his great step family during the Third Reich. Roger and his wife, Dr. Julie Kulhanjian, a retired pediatric infectious disease physician, have three adult children. Roger and Julie divide their time between Piedmont, CA and Martha's Vineyard.
Bay Area Rapid Transit (BART) is the backbone of the Bay Area transit network serving five counties throughout the region. BART's all-electric trains make it one of the greenest and most energy-efficient transit systems in the world. We encourage our riders to visit bart.gov/welcomeback as the region continues to reopen as we safely welcome you back. To learn more about great destinations and events that are easy to get to on BART (like Berkeley Rep!), visit bart.gov/bartable. At BARTable, you can find discounts, enter sweepstakes offering fantastic prizes, and find unique and exciting things to do just a BART ride away. While you're there, be sure to sign up for BARTable This Week, a free, weekly email filled with the latest and greatest BARTable fun!
Peet's Coffee is proud to be the exclusive coffee of Berkeley Repertory Theatre and the namesake of Berkeley Rep's state-of-the-art Peet's Theatre. In 1966, Alfred Peet opened his first store on Vine and Walnut in Berkeley and Peet's has been committed to the community ever since. Supporting Berkeley Rep's high artistic standards and diverse programming is an extension of this mission. As the pioneer of the craft coffee movement in America, Peet's is dedicated to smallbatch roasting, superior quality beans, freshness, and a darker roasting style that produces a rich, flavorful cup. Peet's is locally roasted in the first LEED® Gold certified roaster in the nation.
Robin and Rich have been strong supporters of Berkeley Rep for more than 20 years when they started serving on the gala committee (on which they continue to serve). Rich was co-chair of the Narsai Toast for five years. Robin retired from active law practice as a partner of Dentons US LLP at the end of 2011 and served om Berkeley Rep's board from 2012 to 2021. Rich retired in 1997 as a senior partner of San Francisco's Robertson Stephens & Co., a high-tech-focused investment bank, and became a professional photographer. Both Rich and Robin have been very active as board members and fundraisers for numerous Bay Area nonprofit organizations. They now spend about half the year traveling the world by sea.
Berkeley Rep thanks its community of supporters who play a vital role in furthering our mission to create ambitious theatre that entertains and challenges its audiences, provides civic engagement, and inspires people to experience the world in new and surprising ways.
Artistic Director
Johanna Pfaelzer
Managing Director
Susie Medak
Artistic
Director, The Ground Floor / Resident Dramaturg
Madeleine Oldham
Artistic Associate
Katie Craddock
Artists Under Commission
Todd Almond · Christina Anderson · Rafael Casal · Daveed Diggs · Dipika Guha · Richard Montoya · Nico Muhly · Lisa Peterson · Sarah Ruhl · Tori Sampson · Jack Thorne · Joe Waechter
Production and Company Management
Director of Production
Audrey Hoo
Associate Production Manager
Kali Grau
Company Manager
Peter Orkiszewski
Stage Operations
Stage Supervisor
Julia Englehorn
Staff Stage Crew
James McGregor
Properties
Properties Supervisor
Jillian A. Green
Associate Properties Supervisor
Amelia Burke-Holt
Scene Shop
Co-Technical Directors
Jim Smith · Matt Rohner
Head Carpenter
Read Tuddenham
Scene Shop Supervisor
Patrick Keene
Scenic Carpenter
Lisa Fong
Scenic Art
Charge Scenic Artist
Lisa Lázár
Scenic Artist
Lassen Hines
Costumes
Costume Director
Maggi Yule
Draper
Star Rabinowitz
Wardrobe Supervisor
Barbara Blair
Resident Design Associate
Kiara Montgomery
Electrics
Master Electrician
Frederick C. Geffken
Associate Master Electrician
Sarina Renteria
Production Electrician
Kenneth Coté
Production Electrician
Desiree Alcocer
Sound and Video
Sound and Video Supervisor
Lane Elms
Associate Sound and Video Supervisor
Chase Nichter
Sound Engineers
Angela Don
Administration
Interim General Manager
Sara Danielsen
Finance Director
Jared Hammond
Associate Managing Director
Sunshine Deffner
Associate General Manager
Amanda Williams O'Steen
Executive Assistant
Kate Horton
Associate Finance Director
Katie Riemann
Bookkeeper and Payroll Administrator
Jennifer Light
CRM Project Manager
Destiny Askin
Web and Database Specialist
Christina Cone
Director of Human Resources and Diversity
Modesta Tamayo
Development
Director of Development
Lynn Eve Komaromi
Associate Director of Development
Daria Hepps
Director of Individual Giving
Laura Fichtenberg
Institutional Grants Manager
Kelsey Scott
Special Events Manager
Elaina Guyett
Development Coordinator
Nicky Martinez
Marketing and Communications
Director of Marketing and Communications
Steve Tate
Associate Director of Marketing
Seth Macari
Director of Public Relations
Tim Etheridge
Communications and Digital Content Director
Karen McKevitt
Senior Videographer and Producer
Marianna Ellina
Video and Multimedia Content Creator
Calvin Ngu
Marketing Associate
Katherine Gunn
Operations
Facilities Director
Mark Morrisette
Facilities Manager
Adam Johnson
Building Engineers
Kevin Pan · Thomas Tran
Building Technician
Jesus Rodriguez
Facilities Assistants
Lemont Adams · Theresa Drumgoole · Sophie Li · Guy Nado
Patron Services
Director of Patron Experience
Brian Davis
Front of House Director
Kelly Kelley
Front of House Manager
Phoenyx Butts
Patron Experience Representatives
Lindsay Abbott · Jessica Bates · Alicia Battle · Megan Bedig · Matthew Canter · Jerry Chirip · Maggie Collette · Fillomena Franchina · Nina Gorham · Kimberly Haynie · Monica Herbert · Saguaro Hurtado · Claire Michael · Cassidy Milano · Rafael Moreno · Leigh Nelson · Tuesday Ray · Anna Riggin · Stephen Salmons · James Sant'Andrea · Alana Scott · Debra Selman · Lena Sibony
Subscription Manager
Laurie Barnes
Box Office Manager
Julie Gotsch
Box Office Agents
Alecia Baxter · Oliver Kampman · Mikee Loria · Dom Refuerzo · Gianna Francesca Vescio
Berkeley Rep School of Theatre
Director of the School of Theatre
Anthony Jackson
Associate Director
Dylan Russell
Director of Classes and Summer Programs
MaryBeth Cavanaugh
Curriculum and Educational Programs Manager
Si Mon' Emmett
Classes and Communications Administrator
Ashley Lim
Programs Administrator
Tate Lancaster
2021/22 Teaching Artists
Miriam  Ani · Bobby August Jr. · Nicole Bruno · Ron Campbell · Rebecca Castelli · Kate Cherry · Iu-Hui Chua · Jiwon Chung · Don Colliver · Emily Cooper · Jim Edgar · Deb Eubanks · Lisa Ferreira · Maria Frangos · Zoe Galvez · Adrian Gebhart · Christine Germain · Nancy Gold · Gary Graves · Marvin Greene · Maya Herbsman · William Thomas Hodgson · Andrew Hurteau · Kasey Klemm · Karen Law · Jennifer LeBlanc · Dave Maier · Josh Matthews · Janel McDowell · Colum Morgan · Edward Morgan · Christopher Morrison · Hans Probst · Kenneth Ransom · Alyson Schacherer · Kimiya Shokri · Joyful Simpson · Mia Tagano · Dawn Troupe · James Wagner
2021/22 Berkeley Rep Fellowships

Bret C. Harte Artistic Fellow
Des'ree Brown
Company Management Fellow
Naomi Schiller
Costumes Fellow
Rachel Mandelstam
Development Fellow
Maya Simon
Education Fellow
Elijah Punzal
Harry Weininger Sound Fellow
Akari Izumi
Lighting Fellow
Kiahana Toomer
Peter F. Sloss Artistic Fellow
Abigail Holland
Production Management Fellow
Emily Betts
Properties Fellow
Robin Maegawa-Goeser
Scenic Art Fellow
Jimmy Nguyen
Scenic Construction Fellow
Maggie Wentworth
Stage Management Fellow
Olivia McQuerry
President
Emily Shanks
Vice Presidents
Jill Fugaro
Bruce Golden
Stewart Owen
Sudha Pennathur
Treasurer
Henning Mathew
Secretary
Leonard X Rosenberg
Chair, Governance Committee
Anne Nemer Dhanda
Chair, Audit Committee
Kerry L. Francis
Board Members
Edward D. Baker
Erica Brown
Susan Chamberlin
David Cox
Lauren Edgerton
Sandra Eggers
William T. Espey
Chuck Fanning
Steven Goldin
Scott Haber
Jonathan C. Logan
Sandra R. McCandless
Susie Medak
Juan Oldham
Johanna Pfaelzer
Chris Rupp
Sherry Smith
Roger A. Strauch
Gail Wagner
Brian Watt
Steven C. Wolan
Felicia Woytak
Past Presidents
Helen C. Barber
A. George Battle
Carole B. Berg
Robert W. Burt
Shih-Tso Chen
Narsai M. David
Thalia Dorwick, PhD
Nicholas M. Graves
Richard F. Hoskins
Jean Knox
Robert M. Oliver
Stewart Owen
Marjorie Randolph
Harlan M. Richter
Richard A. Rubin
Edwin C. Shiver
Roger A. Strauch
Gail Wagner
Martin Zankel
Sustaining Advisors
Rena Bransten
Diana Cohen
Robin Edwards
William Falik
David Fleishhacker
Paul T. Friedman
Karen Galatz
David Hoffman
Richard F. Hoskins
Helen Meyer
Dugan Moore
Peter Pervere
Marjorie Randolph
Patricia Sakai
Jack Schafer
William Schaff
Richard M. Shapiro
Michael Steinberg
Jean Z. Strunsky
Michael S. Strunsky
Martin Zankel
Founding Director
Michael W. Leibert
Producing Director, 1968–83