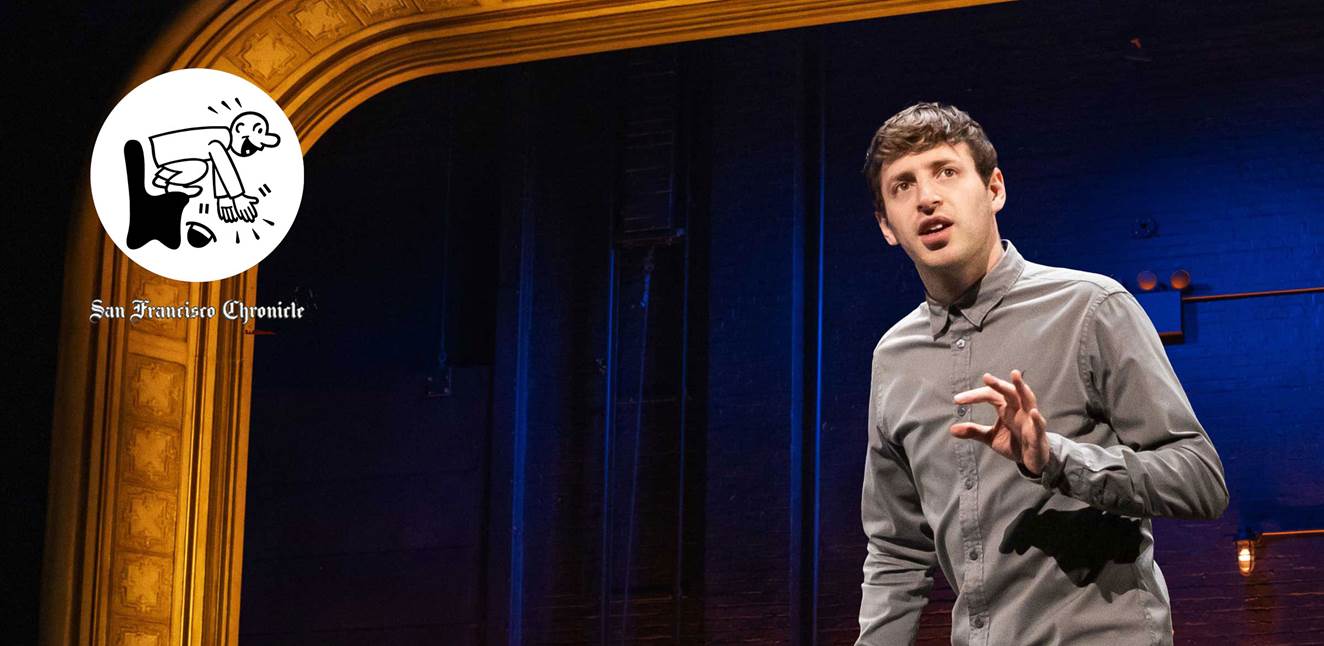 Just for Us
WRITTEN AND PERFORMED BY ALEX EDELMAN
DIRECTED BY ADAM BRACE
PEET'S THEATRE
JAN 9–21, 2024
SPECIAL LIMITED ENGAGEMENT
TICKETS NOW ON SALE
Superb! Just for Us has been chiseled to diamond-cut perfection. It's a joyous, uproarious 90-minute show from one of the funniest minds of this generation — or any generation.
HILARIOUS! A one-man show with three-jokes-per-minute. (Yes, I laughed at every one.)
This is brilliant comedy. A ROLLICKING, MUST-SEE WORK OF GENIUS. Alex Edelman is peerless.
HILARIOUS AND IRRESISTIBLE.
Expertly crafted by one of comedy's most distinctive voices, this singular theatrical experience is an exploration of identity and our collective capacity for empathy — and it's also "belly-laugh funny!" (The New York Times). In the wake of a string of anti-Semitic threats pointed in his direction online, standup comic Edelman decides to go straight to the source; specifically, Queens, where he covertly attends a meeting of White Nationalists and comes face-to-face with the people behind the keyboards. What happens next forms the backbone of the shockingly relevant, utterly hilarious, and only moderately perspirant stories that comprise Just for Us.
Produced on Broadway by Jenny Gersten, Rachel Sussman, Seaview
With Eastern Standard Time, Alex Levy, P3 Productions, Chutzpah Productions, DSD Productions, Rebecca Gold Productions/Reboot Studios, Be Forward Productions, The Cohn Sisters, Creative Partners Productions, Cathy Dantchik, Nicole Eisenberg, LD Entertainment, Tailor Made Theatrics, Lizzie and Jonathan Tisch
Originally produced by Mike Birbiglia with Mike Lavoie and Carlee Briglia
Production Information
Runtime: 85 minutes; no intermission
Please note: this extraordinary, limited-run engagement is not part of our subscription packages. Subscribers can log in to apply their discount on tickets.
Health and safety
Masks are required for audiences in our theatre on all Sundays (matinees and evenings) and Tuesdays. Masks are encouraged but optional for performances from Wednesday through Saturday. Visit our health and safety page for updates on our requirements for audience members.