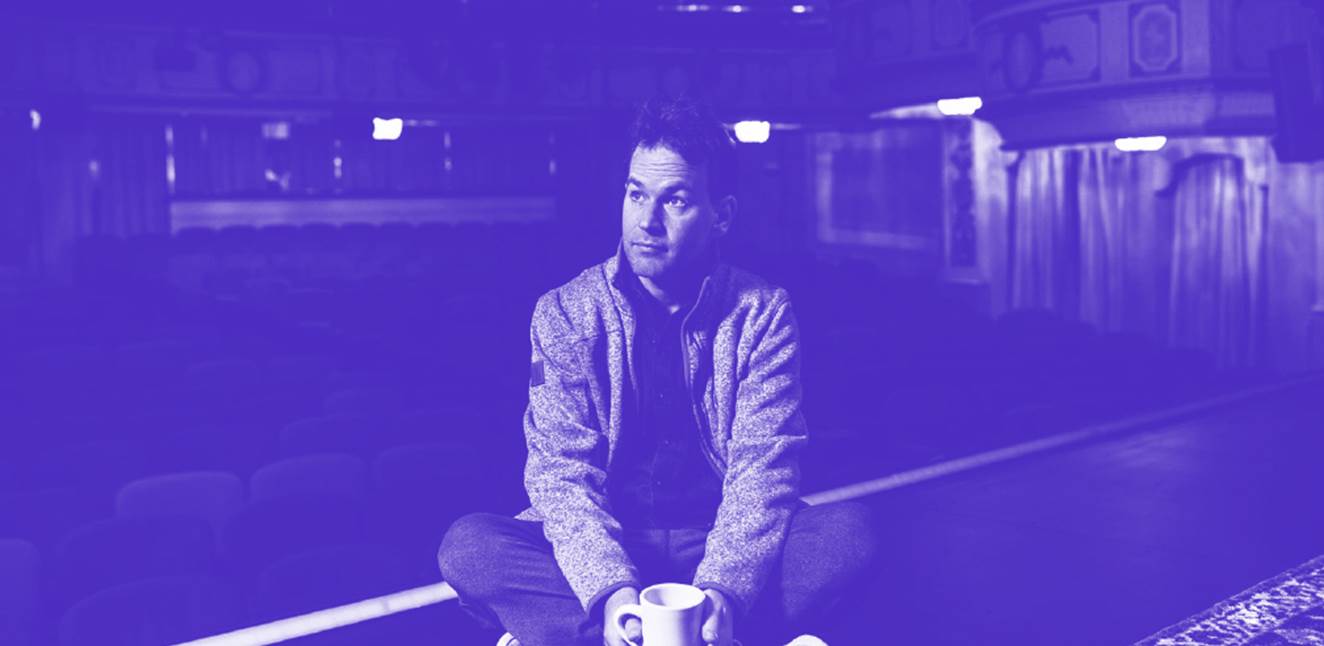 Mike Birbiglia: The Old Man and the Pool digital program
Berkeley Repertory Theatre presents
The Old Man and the Pool
Written and performed by Mike Birbiglia
Directed by Seth Barrish
January 4–23, 2022
Roda Theatre
We acknowledge that Berkeley Rep sits on the unceded ancestral lands of the Ohlone people.
"I have been lucky enough to attend Berkeley Rep shows for many years. My sister Patti lives in the Bay Area and she introduced me to the Theatre in the early 2000s, so performing there is a dream come true. I love everything about it. The theatre itself. The folks who run the theatre. The people who come to the shows. The Bay Area has smart, theatre-savvy audiences and when an artist is creating new work that's what they crave most. I debuted The New One at Berkeley Rep in 2017 and that show went all the way to Broadway. So maybe Berkeley has some kind of secret magical energy? It seems that way. Magic aside, I can promise the Berkeley audiences this: My director Seth Barrish and I constructed The New One to be a hybrid of comedy and emotionality into a single evening of theatre and The Old Man and The Pool has the exact same goal. We want you to laugh. We want you to feel. We try to delve into some big themes: life, death, and mortality. But with jokes. And stories. A lot of them. I've been writing this show for three years and developing it on my Working It Out podcast with guests like Ira Glass and Tig Notaro and others, and Berkeley will be the place where people first get to see it formed as a single evening of theatre. I couldn't think of a better place."
— Mike Birbiglia
Mike Birbiglia is a comedian, storyteller, director, podcaster, producer, and actor who has performed in front of audiences worldwide. His solo shows Sleepwalk With Me, My Girlfriend's Boyfriend, Thank God For Jokes, and The New One enjoyed successful off Broadway runs and his most recent show The New One moved to Broadway where he received the Drama Desk Award for outstanding solo performance. The New One and Thank God For Jokes became critically acclaimed Netflix specials. Birbiglia also wrote, directed, and starred in the films Sleepwalk with Me and Don't Think Twice. His books, Sleepwalk with Me and Other Painfully True Stories and The New One are both National Bestsellers. He's appeared in the films Trainwreck, The Fault in Our Stars, and Popstars as well as TV roles in Orange Is the New Black and Billions. He hosts a podcast, Mike Birbiglia's Working It Out, and is currently touring with his newest show The Old Man and The Pool. (he/him/his)
Seth is the Co-Founder and Co-Artistic Director of The Barrow Group. Directing credits: (Broadway) The New One; (Off Broadway) The New One (Outer Critics Circle Award: Outstanding Solo Performance); The Tricky Part (Obie Award, Drama Desk Nominations for Best Play and Best Solo Show); All The Rage (Lucille Lortel Award for Best Solo Show); My Girlfriend's Boyfriend (Lucille Lortel Award for Best Solo Show, Drama Desk and Outer Critics Circle nominations for Best Solo Show—Final performance at Carnegie Hall); Sleepwalk With Me; Pentecost (Drama Desk Nomination for Best Play), Old Wicked Songs (Los Angeles Drama Critics Circle Award and Garland Award for Best Direction); and 17 Minutes among dozens of productions spanning a 40-year career Broadway, Off Broadway, Off Off Broadway, in regional theatre, and internationally. Film and TV directing credits: Sleepwalk With Me (Co-Director); Netflix comedy specials: The New One (Director); Mike Birbiglia—My Girlfriend's Boyfriend (Director); and Thank God for Jokes (Co-Director). Seth is a professional acting and directing teacher and author of the book An Actor's Companion—Tools for the Working Actor. Producer: Sleepwalk With Me Live. Consulting producer: Don't Think Twice; Working it Out podcast. As an actor, Seth appears regularly in film and on television. Seth is also a composer and most proud of his affiliation with his family, Lee Brock, Phillip and Rachel Barrish. (he/him/his)
Michael stage managed over 100 productions for Berkeley Rep since arriving as an intern in 1984 and served as the production stage manager from 1994 through 2020. (he/him/his)
* Indicates a member of Actors' Equity Association, the Union of Professional Actors and Stage Managers in the United States.
This show has no intermission.
The Old Man and the Pool is made possible thanks to the generous support of
Season Sponsors
Bruce Golden & Michelle Mercer
Frances Hellman & Warren Breslau
Wayne Jordan & Quinn Delaney
Gisele & Kenneth F. Miller
Jack & Betty Schafer
The Strauch Kulhanjian Family
Sponsors
Leonard X & Arlene B. Rosenberg
The Old Man and the Pool sponsors
Warren and Frances are avid watchers of live theatre, which includes Berkeley Rep and an annual pilgrimage (when COVID allows) to London's West End. Having loved Berkeley Rep for years, they are thrilled to sign on as 2021/22 season sponsors. They are very proud of the cutting edge, exceptional theatre that Berkeley Rep continuously produces. Frances' day job is as Professor of Physics at UC Berkeley and Warren is a Machinist and Welder at 5th Street Machine Arts.
Gisele and Ken have long been patrons of local theatre. They are particularly pleased to be able to help a variety of Bay Area organizations attract younger arts lovers. They are encouraged that Berkeley Rep and other groups have done a truly remarkable job providing opportunities for so many young people to enjoy the experience of live productions, whether on the stage or in the audience. Gisele is a former nurse and Ken is a retired national and foreign editor for three Bay Area newspapers.
Betty and Jack are proud to support Berkeley Rep. Jack is a sustaining advisor of the Theatre, having served on the board for many years, and is now on the board of San Francisco Opera. He is an emeritus board chair of the San Francisco Art Institute and the Oxbow School. In San Francisco, Betty is involved with Wise Aging, a program for adults addressing the challenges of growing older. She serves on several non-profit boards. They have three daughters and eight grandchildren.
Bay Area Rapid Transit (BART) is the backbone of the Bay Area transit network serving five counties throughout the region. BART's all-electric trains make it one of the greenest and most energy-efficient transit systems in the world. We encourage our riders to visit bart.gov/welcomeback as the region continues to reopen as we safely welcome you back. To learn more about great destinations and events that are easy to get to on BART (like Berkeley Rep!), visit bart.gov/bartable. At BARTable, you can find discounts, enter sweepstakes offering fantastic prizes, and find unique and exciting things to do just a BART ride away. While you're there, be sure to sign up for BARTable This Week, a free, weekly email filled with the latest and greatest BARTable fun!
Peet's Coffee is proud to be the exclusive coffee of Berkeley Repertory Theatre and the namesake of Berkeley Rep's state-of-the-art Peet's Theatre. In 1966, Alfred Peet opened his first store on Vine and Walnut in Berkeley and Peet's has been committed to the community ever since. Supporting Berkeley Rep's high artistic standards and diverse programming is an extension of this mission. As the pioneer of the craft coffee movement in America, Peet's is dedicated to smallbatch roasting, superior quality beans, freshness, and a darker roasting style that produces a rich, flavorful cup. Peet's is locally roasted in the first LEED® Gold certified roaster in the nation.
Berkeley Rep thanks its community of supporters who play a vital role in furthering our mission to create ambitious theatre that entertains and challenges its audiences, provides civic engagement, and inspires people to experience the world in new and surprising ways.