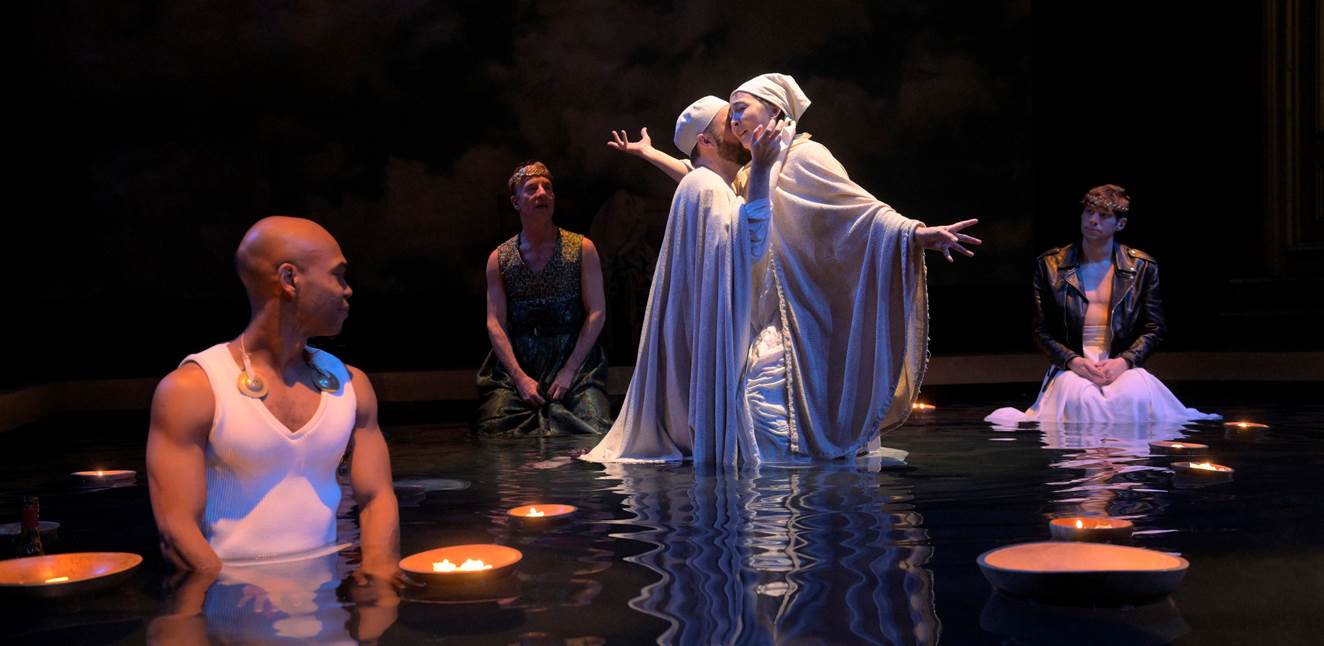 Sustain Berkeley Rep into the future.
When Michael Leibert founded Berkeley Repertory Theatre in 1968, he envisioned a theatre that would present work that would stimulate the mind and engage the spirit. We have built on that vision, and today, Berkeley Rep is recognized locally, nationally, and even internationally, for the quality of its artistic work and for innovative arts education programs that inspire the artists and audiences of tomorrow.
By joining the Michael Leibert Society, you become one of the dedicated supporters who have included Berkeley Rep in their estate plans. These gifts help to secure the Theatre's future and ensure that Berkeley Rep will be at the forefront of American theatre—attracting leading artists, showcasing diverse viewpoints, and telling unforgettable stories—for generations to come.
Making a gift through your financial or estate plans can cost little or nothing now and may provide tax benefits to you or your loved ones. To learn more about how to make great theatre a part of your legacy, contact Andrew Maguire, Philanthropy Officer, at give@berkeleyrep.org or 510 647-2904.
Wills and trusts
By leaving money or other assets to Berkeley Rep in your will or trust, you can reduce your possible estate tax, so the cost to your family members can be significantly less than the face value of the gift. And bequests are fully revocable, so you can change your mind if your circumstances change.
Talk to your professional advisor: in one sentence, you can make great theatre a part of your legacy.
Sample language for your will
See below for sample language for a specific dollar amount, a percentage or your estate, or the remainder after all other provisions have been made.
For a fixed amount of money or a designated property:

"I give, devise and bequeath to Berkeley Repertory Theatre, Tax ID No. 94-1679756, located in Berkeley, California,
Choose one:
the sum of $_____."
_____ shares of stock in __________ company."
_____% of my real property, commonly known as __________, located in __________."

For a percentage of your estate:

"I give, devise and bequeath to Berkeley Repertory Theatre, Tax ID No. 94-1679756, located in Berkeley, California, _____% of my estate."

For a residual bequest:

"I give, devise and bequeath to Berkeley Repertory Theatre, Tax ID No. 94-1679756, located in Berkeley, California, _____% of the rest, residue and remainder of my estate, including real and personal property."
Beneficiary designations
For a gift that is simple, flexible, and tax-efficient, consider making Berkeley Rep a beneficiary of all or part of the proceeds from your IRA, Keogh, 401(k), 403(b), insurance policy, or DAF.
IRAs, Keoghs, 401(k)s and 403(b)s are usually funded with untaxed dollars, so they are subject to income and estate tax. This double tax may leave heirs with as little as 30% of the plan's value. Heirs also may be subject estate tax on distributions from DAFs and insurance policies. Berkeley Rep will receive the entire amount you designate from any of these funds or plans tax-free.
To name Berkeley Rep as a beneficiary, simply ask your fund or plan administrator for a change-of-beneficiary form (or download it from their website), make your changes, and return the form to establish your gift. And please don't forget to tell us about it!
Charitable gift annuities
Berkeley Rep offers Charitable Gift Annuities (CGAs) through a partnership with the Silicon Valley Community Foundation (SVCF). With a simple contract, you can make a significant gift to Berkeley Rep and provide yourself or your loved ones with a dependable stream of annual income for life, and likely a tax deduction, as well.
If you meet certain age requirements, are a resident of California, and make a contribution of $25,000 or more to the SVCF, the Foundation will make fixed payments for life to one or two beneficiaries of your choice. The balance would be used to fund Berkeley Rep's work. You may also qualify for tax benefits, such as an immediate tax deduction and a capital gains tax advantage, if you fund your annuity with long-term appreciated assets, and a portion of the payments you receive may be tax-free.
Charitable remainder unitrusts
With a charitable remainder unitrust, you can make a significant gift to Berkeley Rep while receiving a variety of tax benefits and providing income to yourself or others each year for life or a period not exceeding 20 years. At the end of the trust term, the balance in the trust goes to Berkeley Rep. For some gifts, Berkeley Rep is happy to consider creating a fund named for you or someone you wish to honor.
The following funds were named to honor individuals or organizations that have made significant contributions to Berkeley Rep's long-term vitality.
The Dale Elliot Fund
Created in memory of Dale Elliot, a past Berkeley Rep Stage actor, the fund supports artistic initiatives.
Bret C. Harte Director (Artistic Administration) Fellowship Fund
Created in memory of Bret C. Harte, a passionate young theatre director and Berkeley Rep employee, the fund supports the artistic administration/directing/producing fellowship. The fellow is mentored by Artistic Director Johanna Pfaelzer and Managing Director Tom Parrish.
The Mosse Foundation Artistic Development Fund
This endowment fund was created with a grant from the Mosse Foundation for the Arts and Education and supports artistic risk-taking and new play development.
The Peter F. Sloss Dramaturgy and Literary Fellowship Fund
Established in memory of Peter Sloss, who served as a Berkeley Rep trustee from 1991 to 1997 and was a fervent champion in the development of new plays, the fund supports the dramaturgy and literary fellowship. Under the mentorship of Resident Dramaturg Madeleine Oldham, the fellow is schooled in the intensive reading and critiquing of play submissions and in providing dramaturgical support through writing and research for the shows' playbills.
The Harry Weininger Sound Fellowship Fund
Established in memory of Harry Weininger, a longtime Berkeley Rep subscriber and supporter and an avid sound aficionado, the fund supports the sound fellowship. Under the mentorship of the Sound and Video Supervisor Lane Elms, the fellow is schooled in sound engineering and design, gaining real-world experience while working on Berkeley Rep's productions for the season.
To learn more or make a donation toward these funds, please contact Laura Fichtenberg at 510 647–2907 or give@berkeleyrep.org.
Please consult your financial or legal advisor about estate planning decisions.
Let us know
Have you already made a gift to Berkeley Rep through your estate plan? We are eager to welcome you into the Michael Leibert Society, and by sharing your plans with us, you'll help to ensure that we can fulfill your wishes exactly as you intend.
Photo by Kevin Berne/Berkeley Repertory Theatre
(l to r) Rodney Gardiner, Steven Epp, Alex Moggridge, Lisa Tejero, and Benjamin T. Ismail in Metamorphoses
Based on the myths of Ovid | Written and directed by Mary Zimmerman | From the translation by David R. Slavitt | Scenic design by Daniel Ostling | Costume design by Mara Blumenfeld | Lighting design by T.J. Gerckens | Sound design by Andre Pluess | Original music by Willy Schwarz