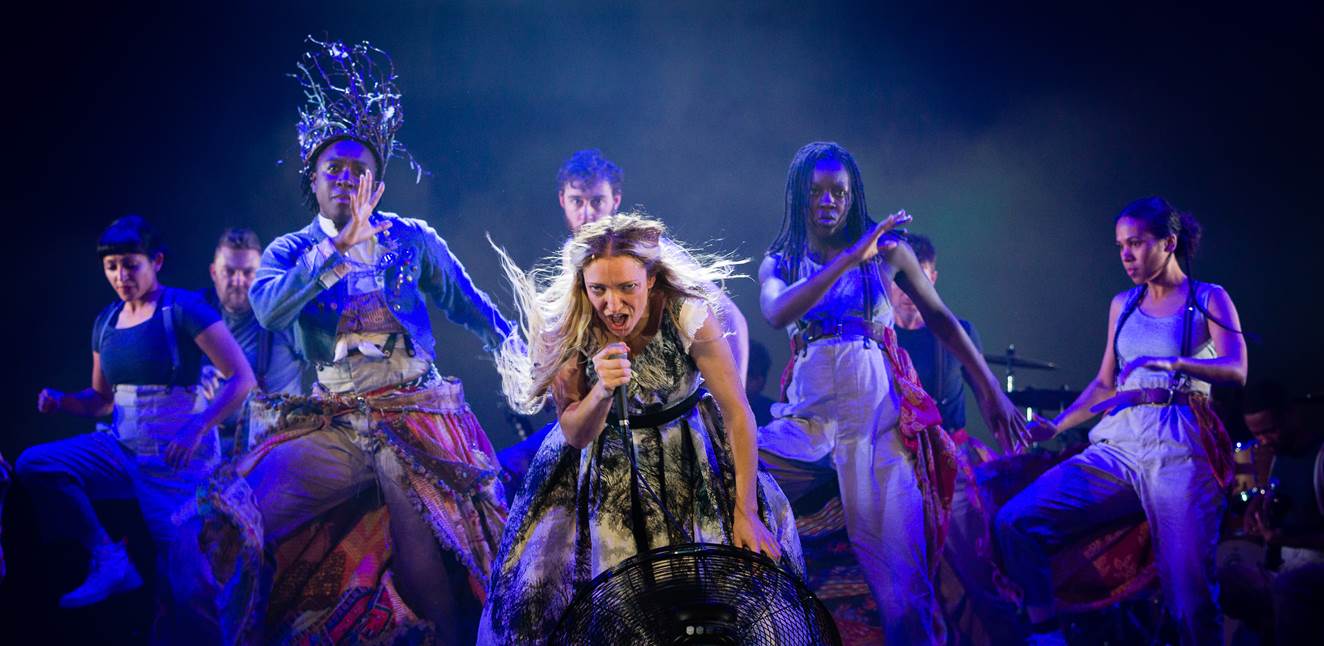 2022/23 subscription and ticket packages now available for purchase
Despite the events of last winter, audiences clamored to return to live theatre. We even had sold-out houses and multiple show extensions! Our full-season subscribers benefited the most, with a guaranteed seat and a savings of more than 70% compared to single ticket prices across all three seating sections!
With our new approach to single ticket variable and dynamic pricing, becoming a ticket package holder is the only way to lock in the lowest price while supporting our artists. As demand increases, your support of Berkeley Rep brings even more value to your investment and wallet. Our most popular 2021/22 full-season ticket packages sold out and subscription seats will be limited in 2022/23.
Our 2022/23 slate of shows promises bold theatricality, inventive storytelling, and a range of voices that we hope speak to you in a deep and personal way. The beloved Emma Rice returns with a wildly inventive, reimagined Wuthering Heights. Lynn Nottage — one of the most produced playwrights working today — brings us her latest Broadway hit, Clyde's. Lauren Yee's Cambodian Rock Band finally rocks the stage. Then language and identity collide in Sanaz Toossi's critically acclaimed English. Next is Let the Right One In, a beautifully suspenseful thriller by the team that created Harry Potter and the Cursed Child. To wrap the season, we're delighted to welcome Tony Taccone back to Berkeley Rep to direct Tony Award winner Ari'el Stachel in his world premiere solo show, Out of Character.
Wise Children's
Wuthering Heights
BASED ON THE NOVEL BY EMILY BRONTË
ADAPTED AND DIRECTED BY EMMA RICE
A NATIONAL THEATRE, WISE CHILDREN, BRISTOL OLD VIC, AND YORK THEATRE ROYAL CO-PRODUCTION
WEST COAST PREMIERE
RODA THEATRE
STARTS NOV 2022
Acclaimed director Emma Rice (The Wild Bride, Tristan & Yseult, Romantics Anonymous) and her new company Wise Children make a triumphant return to Berkeley Rep with her latest wildly imaginative theatrical experience. Rescued from the Liverpool docks as a child, Heathcliff is adopted by the Earnshaws and taken to live at Wuthering Heights. He finds a kindred spirit in Catherine Earnshaw and a fierce love ignites. When forced apart, a brutal chain of events is unleashed. Emma Rice reimagines Emily Brontë's gothic masterpiece with live music, dance, passion, hope, and a dash of impish irreverence, creating an intoxicating revenge tragedy for today.
"Emotionally epic entertainment" – The Times (London)
"A bold and ingenious production" – The Guardian
Clyde's
BY LYNN NOTTAGE
DIRECTED BY TAYLOR REYNOLDS
A CO-PRODUCTION WITH HUNTINGTON THEATRE COMPANY
PEET'S THEATRE
STARTS JAN 2023
Nominated for the 2022 Tony Award for Best Play! Two-time Pulitzer Prize winner Lynn Nottage returns to Berkeley Rep for the first time since her extraordinary play Ruined. In this feel-good comic drama, the formerly incarcerated kitchen staff at a truck-stop sandwich shop attempt to rebuild their lives. While their tough-as-nails boss – who slings sizzling insults fast and processed food even faster – tries to thwart their dreams, each staff member is encouraged by the mysterious chef to indulge in imagining, then creating, their perfect sandwich. A buoyant play full of witty dialogue, Clyde's is a transcendent story about people rising above their past mistakes and reconnecting with the world.
Cambodian Rock Band
WRITTEN BY LAUREN YEE
FEATURING SONGS BY DENGUE FEVER
DIRECTED BY CHAY YEW
A SIGNATURE THEATRE PRODUCTION
IN ASSOCIATION WITH ALLEY THEATRE
RODA THEATRE
STARTS FEB 2023
Guitars tuned. Mic checked. Get ready to rock! This darkly funny, electric new play with music tells the story of a Khmer Rouge survivor returning to Cambodia for the first time in 30 years, as his daughter prepares to prosecute one of Cambodia's most infamous war criminals. Backed by a live band playing contemporary Dengue Fever hits and classic Cambodian oldies, this thrilling story toggles back and forth in time as father and daughter face the music of the past. Directed by Chay Yew, this intimate rock epic about family secrets is set against a dark chapter of Cambodian history.
Cambodian Rock Band was developed in The Ground Floor: Berkeley Rep's Center for the Creation and Development of New Work.
"Yee has made her characters so joyfully and ridiculously human that it's impossible—to a heartbreaking degree—not to identify with them."—Los Angeles Times
"A haunting, wise, political and personally searing show"—Chicago Tribune
English
BY SANAZ TOOSSI
WEST COAST PREMIERE
PEET'S THEATRE
STARTS APR 2023
Award-winning playwright Sanaz Toossi makes her Berkeley Rep debut with English, winner of the 2022 Lucille Lortel Award for Outstanding Play. Language and identity intertwine in this incisive, funny, and moving seriocomedy set in a classroom in Iran, where four adult students are preparing for the Test of English as a Foreign Language. But as they pursue fluency in a language that for them represents access, opportunity, and even escape, they find that while English may expand their world, it might also limit their voice.
"English is one of those invigoratingly funny and perceptively drawn plays that satisfy a curiosity you didn't know you harbored." – The Washington Post

The National Theatre of Scotland Production of
Let the Right One In
STAGE ADAPTATION BY JACK THORNE
BASED ON THE SWEDISH NOVEL AND SCREENPLAY OF THE FILM BY JOHN AJVIDE LINDQVIST
DIRECTED BY JOHN TIFFANY
ASSOCIATE DIRECTOR/MOVEMENT STEVEN HOGGETT
WEST COAST PREMIERE
RODA THEATRE
STARTS MAY 2023
Tony Award winners Jack Thorne and John Tiffany (Harry Potter and the Cursed Child), along with Obie Award winner Steven Hoggett, have entertained audiences on both sides of the Atlantic with their exhilarating, cutting-edge brand of theatrical storytelling. Now they bring us a supernatural thriller that's part brutal vampire myth and part coming-of-age romance. Oskar, a bullied boy from a broken home, and Eli, a young girl who moves in next door and rarely leaves the house, become devoted friends. When their neighborhood is haunted by a series of mysterious murders, a shocking truth tests Oskar and Eli's growing love. A hit in London's West End and New York, Let the Right One In makes its West Coast premiere at Berkeley Rep.


Produced in association with Marla Rubin Productions and Bill Kenwright.


"A romance and a fairytale and a thriller and a chiller and a pretty thoughtful meditation on difference." — The Guardian
"The gasp, so rarely heard in the theatre, rings out often here. First-rate… situated on the slipway between dream and daily life… a mesmerising evening." — The Observer
Out of Character
WRITTEN AND PERFORMED BY ARI'EL STACHEL
DIRECTED BY TONY TACCONE
WORLD PREMIERE
PEET'S THEATRE
STARTS JUN 2023
Before he won the Tony Award for Best Featured Actor in a Musical (The Band's Visit), Ari'el Stachel grew up in Berkeley, an Israeli American of Yemeni Jewish descent. Then came 9/11. Desperate to avoid taunts and threats at school, Ari hides his Middle Eastern background – setting off a years-long journey of trying on different identities, code switching, and navigating debilitating anxiety. Now a successful stage and screen actor, Ari comes home to Berkeley and joins with former artistic director Tony Taccone to tell his story in his new solo show. Out of Character explores the intersections of race, mental health, and survival in a way that's raw, authentic, and entertaining.
We're eager to help you!
Box office
Tue–Sun, noon–7pm
2025 Addison St, Berkeley CA 94704
510 647-2949
customerservice@berkeleyrep.org
In the Peet's Theatre no seat is more than 44 feet from the stage.
In the Roda Theatre the farthest seat is only 49 feet from the stage.
Ticket delivery
Starting in the 2022/23 season, we will be going paperless. Your tickets will be emailed to you directly.
Season sponsors
In-kind season sponsor

Current Full Season subscribers saved more than 70% compared to single tickets.
The Full Season package is our classic subscription option that provides the guaranteed best seats at the lowest possible prices to each of our six season productions.
Secured seats in advance of Flex, Passport, and the general public
Lowest ticket price — dynamic price protection
Access to premium seating
Unlimited free exchanges*
Retain seats from season to season
One free upgrade to a more expensive seat or date
10% off School of Theatre classes
10% off additional ticket purchases and waived service fees
There is a $15 per order service charge on Full Season subscription package purchases. Discounts are available for under 35, seniors, and pre-K–12 educators.
Select a Full Season subscription package
Seating in some sections is extremely limited. If we are unable to accommodate your first choice, we will seat you in the next-best price section.
Full Season discounts
Previews
The first performances of each subscription show are previews. We're still fine-tuning the show. Previews are perfect for adventurous theatregoers who want to get in early on the creative conversation.
Under 35
Save 50% on tickets to any performance. Not available for previews or opening night. Proof of eligibility is required for each discounted subscription ordered.
Senior (65+)
Receive $5 discount per play on matinees and weekday evening subscription packages. Not available for previews or opening night. Proof of eligibility is required for each discounted subscription ordered.
Pre-K–12 educator and employee
You and a friend save up to 30% on Tuesday, Friday, and Sunday evening performances on seats in sections A or B. Not available for previews or seats in premium section. Proof of eligibility is required for each discounted subscription ordered.
Flex | $329 All Section Seating and $269 B Section Seating
Current Flex package holders saved more than 70% compared to single tickets.
The Flex package provides subscriber-only benefits but with less commitment than our classic Full Season subscription. One flat rate provides four tickets to be used for any of our 2022/23 season productions (excluding special events, max two tickets per production) on any day of the week, including weekends and matinees.
NEW! ONLINE REDEMPTION
Dynamic price protection
Most flexibility
Priority booking two weeks in advance of the general public
Unlimited free exchanges*
10% off School of Theatre classes
There is a $15 per order service charge on Flex package purchases. Once a show is selected, exchanges can only be made within that production's run.
Passport provides entry into our subscriber benefits program with a pay-as-you-go model. Purchase one discounted ticket per show at a savings of 25% off single ticket prices, including special events.
Pay-As-You-Go
Priority booking two weeks in advance of the general public
Select your own seats for each performance
Unlimited free exchanges*
10% off School of Theatre classes
There is a $4 fee per Passport ticket. This will be applied when you purchase the tickets. Once a show is selected, exchanges can only be made within that production's run.
We reserve the right to change prices, plays, and dates.
* Subscribers may exchange tickets for a different performance of the same show at no cost until 7pm the evening before their scheduled performance (7pm Sunday for Tuesday performances). Day-of-show exchanges have a $15 per-ticket fee. Price differences may apply to all exchanges; no refunds or credits for exchanges to a lower-priced performance date or seating section.
Photo by Steve Tanner
The cast of Wise Children's Wuthering Heights