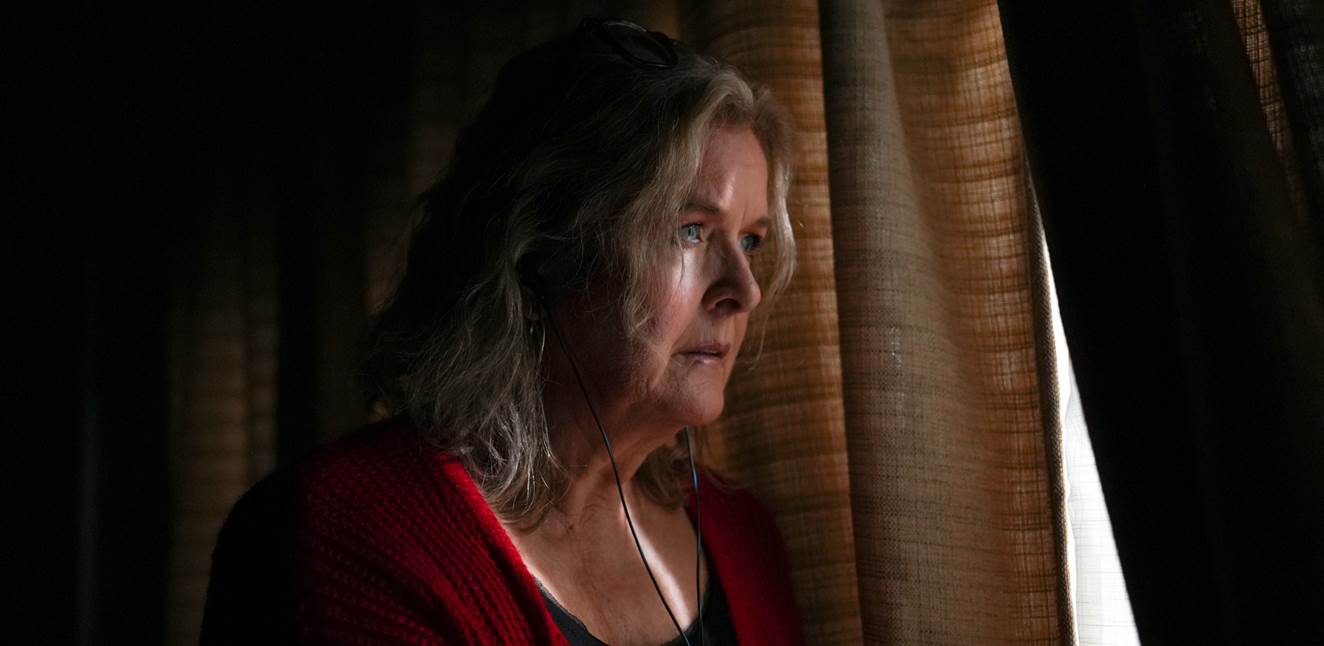 Dana H.
Written by LUCAS HNATH
Adapted from interviews with DANA HIGGINBOTHAM
Interviews conducted by STEVE COSSON
Directed by LES WATERS
Roda Theatre
JUN 3–JUL 10, 2022
Running time: 75 min, no intermission
Dana H. contains flashing lights and loud sound effects.
Dana H. includes dark themes and vivid descriptions of violence, sexualized violence, mental and physical abuse, and suicide.
Tony award-winning play Dana H. arrives at Berkeley Rep following a triumphant Broadway run last fall. This riveting, cutting-edge drama follows the powerful true story of Dana Higginbotham, a counselor in a psychiatric ward who was kidnapped by one of the patients and held captive in a series of Florida motel rooms for five months.
Told in Dana's own courageous words and reconstructed for the stage by her son Lucas Hnath (A Doll's House, Part 2; The Christians), and expertly directed by Les Waters, Dana H. shatters conventions of the art form and delivers a highly theatrical, deeply intimate exploration of good, evil, and – ultimately – of grace.
Produced in association with Broadway producers Matt Ross, Sally Horchow, and Dori Berinstein.
Reviews
"GUT-TWISTING, BREATH-STEALING!
LUCAS' PLAY HAUNTS AT THE DEEPER LEVEL OF NONFICTION.
BAKER OFFERS ONE-OF-A-KIND VIRTUOSO ACTING TALENTS!"
– San Francisco Chronicle

"THE KIND OF PLAY YOU MAY NEVER FORGET!

WATERS' BONE-CHILLING PRODUCTION
HAS THE POWER TO MAKE YOUR HEART POUND,
LISTENING SO HARD YOU'RE ALMOST HOLDING YOUR BREATH!

A SYMPHONIC PERFORMANCE FROM BAKER THAT SUCKS US IN.
THE UNDERSTATED NATURE OF THIS PRODUCTION IS BREATHTAKING."
– Bay Area News Group
"MESMERIZING! UTTERLY HAUNTING, GRIPS US ALL!
JORDAN BAKER IN A TOUR-DE-FORCE PERFORMANCE!
FIRST-RATE DIRECTION!

SO HYPNOTIC IT LEAVES THE AUDIENCE IN RAPT SILENCE.
RESONATES ONE'S SOUL LONG AFTER THE PERFORMANCE ENDS.
WHAT THEATER IS ALL ABOUT!"
– Berkeleyside
"TOUR DE FORCE OF A PLAY,
I ALMOST FELL OUT OF MY SEAT!
CAPTIVATING! HAUNTING!"
– KQED
1–3: Jordan Baker (Dana H.) in the West Coast premiere of Berkeley Rep's production of Dana H., directed by Les Waters.

Written by Lucas Hnath | Adapted from interviews with Dana Higginbotham conducted by Steve Cosson | Directed by Les Waters | Scenic design by Andrew Boyce | Costume design by Janice Pytel | Lighting  and supertitle design by Paul Toben | Audio editing and sound design by Mikhail Fiskel | Illusion design and lip sync consultation by Steve Cuiffo