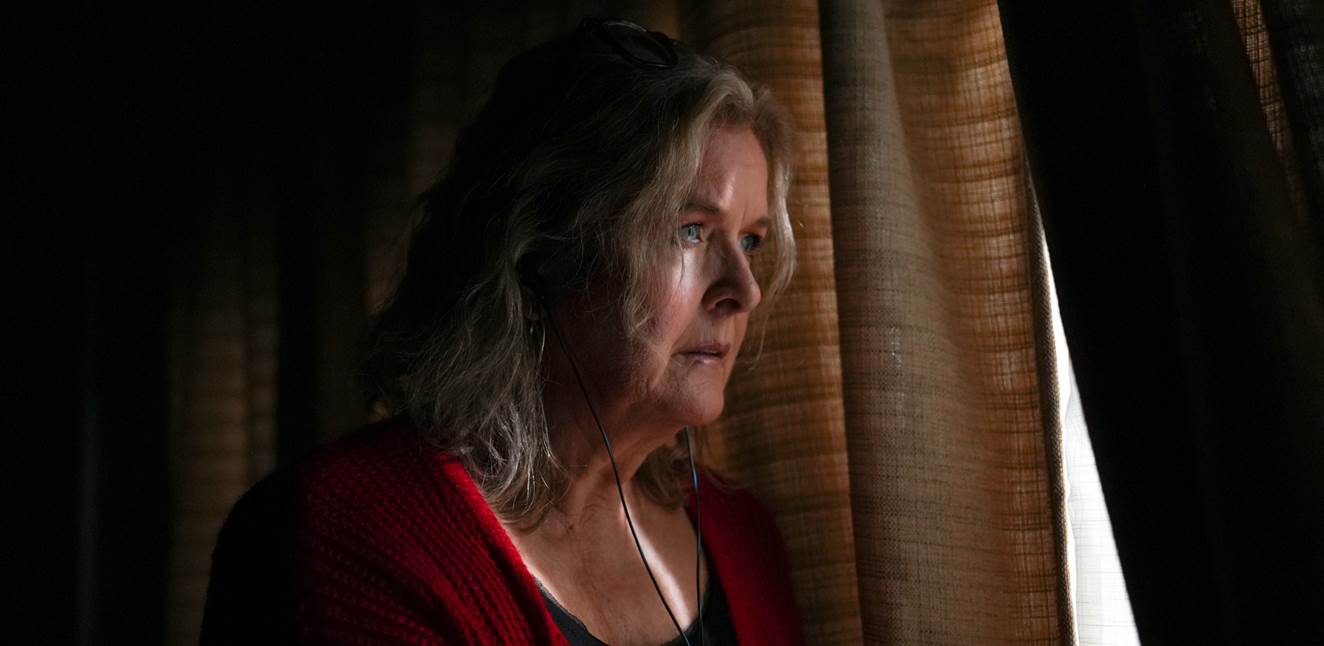 Dana H.
Written by LUCAS HNATH
Adapted from interviews with DANA HIGGINBOTHAM
Interviews conducted by STEVE COSSON
Directed by LES WATERS
Roda Theatre
JUN 3–JUL 10, 2022
TICKETS NOW AVAILABLE
Running time: 75 min, no intermission
Dana H. contains flashing lights and loud sound effects.
Dana H. includes dark themes and vivid descriptions of violence, sexualized violence, mental and physical abuse, and suicide.
Tony award-winning play Dana H. arrives at Berkeley Rep following a triumphant Broadway run last fall. This riveting, cutting-edge drama follows the powerful true story of Dana Higginbotham, a counselor in a psychiatric ward who was kidnapped by one of the patients and held captive in a series of Florida motel rooms for five months.
Told in Dana's own courageous words and reconstructed for the stage by her son Lucas Hnath (A Doll's House, Part 2; The Christians), and expertly directed by Les Waters, Dana H. shatters conventions of the art form and delivers a highly theatrical, deeply intimate exploration of good, evil, and – ultimately – of grace.
Produced in association with Broadway producers Matt Ross, Sally Horchow, and Dori Berinstein.
Reviews
"GUT-TWISTING, BREATH-STEALING!
LUCAS' PLAY HAUNTS AT THE DEEPER LEVEL OF NONFICTION.
BAKER OFFERS ONE-OF-A-KIND VIRTUOSO ACTING TALENTS!"
– San Francisco Chronicle

"THE KIND OF PLAY YOU MAY NEVER FORGET!

WATERS' BONE-CHILLING PRODUCTION
HAS THE POWER TO MAKE YOUR HEART POUND,
LISTENING SO HARD YOU'RE ALMOST HOLDING YOUR BREATH!

A SYMPHONIC PERFORMANCE FROM BAKER THAT SUCKS US IN.
THE UNDERSTATED NATURE OF THIS PRODUCTION IS BREATHTAKING."
– Bay Area News Group
"MESMERIZING! UTTERLY HAUNTING, GRIPS US ALL!
JORDAN BAKER IN A TOUR-DE-FORCE PERFORMANCE!
FIRST-RATE DIRECTION!

SO HYPNOTIC IT LEAVES THE AUDIENCE IN RAPT SILENCE.
RESONATES ONE'S SOUL LONG AFTER THE PERFORMANCE ENDS.
WHAT THEATER IS ALL ABOUT!"
– Berkeleyside
"TOUR DE FORCE OF A PLAY,
I ALMOST FELL OUT OF MY SEAT!
CAPTIVATING! HAUNTING!"
– KQED
LIVE POSTSHOW DISCUSSIONS
Stick around after the show on July 5 for a postshow discussion, led by members of Berkeley Rep's staff.
How do I get tickets?
Tickets to Dana H. are now on sale to everyone. Rep 7-Play subscribers, Rep-Passport holders, and the general public can click the Buy Tickets/See Calendar button and log in above. At this time, Rep-Flex holders can reserve tickets only by calling the box office at 510 647-2949. Online ordering for Rep-Flex coming soon!
Had Cambodian Rock Band tickets?
Cambodian Rock Band will move to our 2022/23 season, and Dana H. will take its place in our 2021/22 season. If you had tickets to Cambodian Rock Band, you have been assigned the same date and seats for Dana H. New tickets have been emailed to you.
If you have any questions, email customerservice@berkeleyrep.org or call 510 647–2949 (Tue–Sun, noon–7pm).
Health and safety
Berkeley Rep is a vaccinated company. All patrons must present a vaccination card with booster, if eligible, along with matching photo ID and be fully masked.
1–3: Jordan Baker (Dana H.) in the West Coast premiere of Berkeley Rep's production of Dana H., directed by Les Waters.

Written by Lucas Hnath | Adapted from interviews with Dana Higginbotham conducted by Steve Cosson | Directed by Les Waters | Scenic design by Andrew Boyce | Costume design by Janice Pytel | Lighting  and supertitle design by Paul Toben | Audio editing and sound design by Mikhail Fiskel | Illusion design and lip sync consultation by Steve Cuiffo