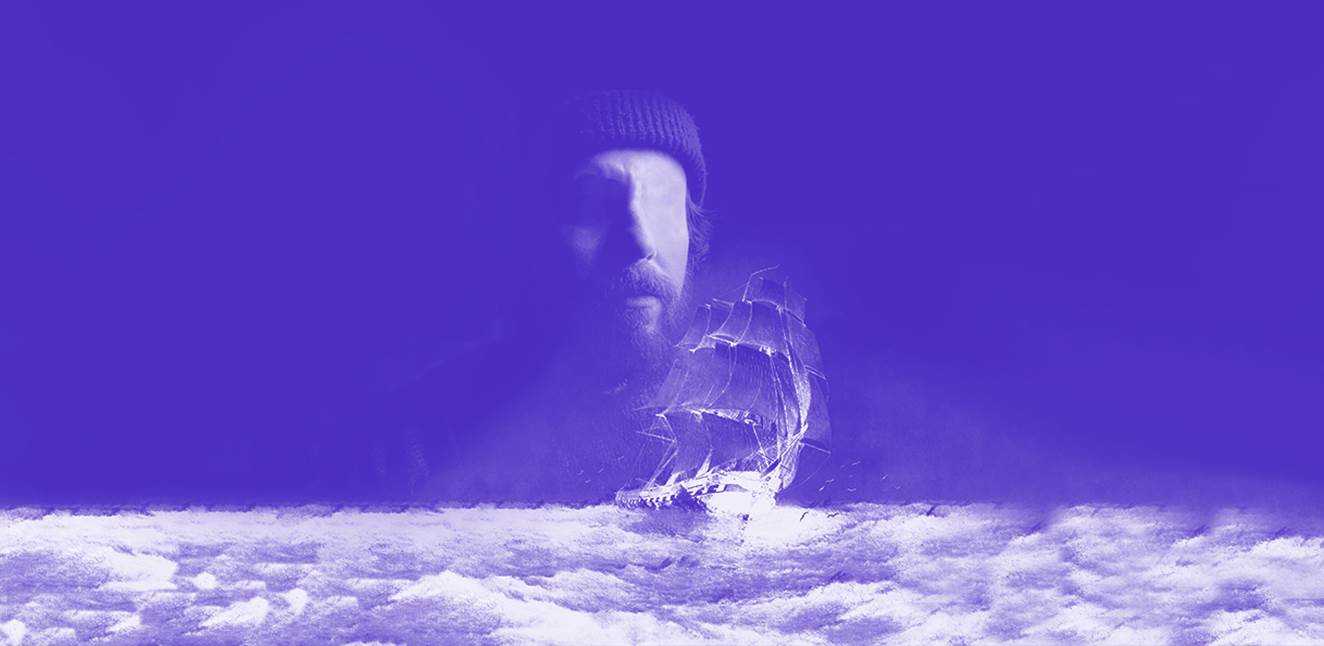 Swept Away
Book by JOHN LOGAN
Music and lyrics by THE AVETT BROTHERS
Music arrangements and orchestrations by CHRIS MILLER AND BRIAN USIFER
Choreography by DAVID NEUMANN
Directed by MICHAEL MAYER
World premiere
Peet's Theatre
JAN 9–MAR 13, 2022
Running time: 90 min, no intermission
Show advisory: Swept Away includes the use of strobe-like lighting effects.
Tony Award-winning director Michael Mayer (Spring Awakening, Hedwig and the Angry Inch) blew the roof off Berkeley Rep in 2009 with Green Day's American Idiot. Now he returns with a captivating world premiere musical, this time featuring a book by Tony Award-winning stage and screen writer John Logan (Red, Broadway's Moulin Rouge!, Skyfall, Gladiator), and music and lyrics by "America's biggest roots band" (Rolling Stone) and multiple Grammy Award nominee The Avett Brothers.
1888, off the coast of New Bedford, MA. When a violent storm sinks their whaling ship, the four surviving souls—a young man in search of adventure, his big brother who has sworn to protect him, a captain at the end of a long career at sea, and a worldly first mate who has fallen from grace—each face a reckoning: How far will I go to stay alive? And can I live with the consequences?
Produced by special arrangement with Matthew Masten, Sean Hudock, and Madison Wells Live.
Reviews
"ELEVATES A TRAGEDY TO MYTHIC PROPORTIONS,
REVERBERATING ALL THE WAY INTO YOUR CORE!
Gallagher activates his whole body making him
MORE ALIVE THAN THE REST OF US!
Enscoe SURRENDERS HIMSELF FULLY!
A true stage actor's ability to make
EVERYTHING AROUND HIM TURN HEAVENWARD!"
– San Francisco Chronicle


"OUT AND OUT STUNNING!
THE MOST EXHILARATING THEATER I HAVE SEEN!
THE CAST IS SHIP-SHAPE FROM TOP-TO-BOTTOM, WORLD-CLASS TALENT!
AVETT BROTHERS MUSIC IS GORGEOUS, TIMELESS, AND PERFECTLY SUITED!
THE CREATIVE BRILLIANCE, PIERCING EMOTIONAL DIRECTNESS WILL MAKE YOU GLAD YOU TOOK THE JOURNEY!"
– Bay Area News Group

"SPELLBINDING! MARVELOUS ACTING AND MUSIC! I WAS SWEPT AWAY! The lyrics and music by The Avett Brothers are POETIC, MOVING, AND BEAUTIFULLY SUNG! Innovative book, on-point direction, THE MOST ORIGINAL AND MESMERIZING THEATER I'VE SEEN IN A LONG TIME! WORTH THE WAIT!"
– Berkeleyside

"THE SUPERB CAST, CRISP DIRECTION, AND PASSIONATE SCORE ARE BREATHTAKING AND EMOTIONALLY MESMERIZING!
A THRILLING SUSPENSEFUL RIDE BY DIRECTOR MAYER,
the production team behind this show is TOP-NOTCH,
THE STIRRING MUSIC OF AWARD WINNING AVETT BROTHERS!
SURE TO BRING TEARS TO MANY! WELL WORTH THE TWO YEAR WAIT TO SEE THIS STUNNING PRODUCTION!"
– Broadwayworld

"STRIKING! ABSOLUTELY ARTFUL!
FANTASTIC VOICES AND ACTING,
GALLAGHER IMBUES WITH RAW INTENSITY!"
– SFist
Season sponsors
In-kind season sponsor

Executive sponsor

Sponsor
Schwab Charitable
Swept Away is a recipient of the Edgerton Foundation New Play Award and is made possible in part by the Mosse Artistic Development Fund.
Local Partnerships
In collaboration with local brewery The Rare Barrel, we are excited to debut our first ever specialty brewed beer made for our production of Swept Away. "Fire in the Spout" is a golden sour beer aged in oak barrels with raspberry, blood orange, and pink Himalayan sea salt. To purchase, stop into their Tasting Room at 940 Parker Street in Berkeley or order online for shipping in California.
(l to r) Stark Sands (Big Brother), Wayne Duvall (Captain), John Gallagher, Jr. (Mate), and Adrian Blake Enscoe (Little Brother) in Swept Away

Adrian Blake Enscoe (Little Brother) in Swept Away

(front row, l to r) Adrian Blake Enscoe (Little Brother) and Stark Sands (Big Brother); (second row, l to r) Cameron Johnson (Ensemble), Taurean Everett (Ensemble), Vishal Vaidya (Ensemble), Jacob Keith Watson (Ensemble), and John Gallagher, Jr. (Mate) in Swept Away

(front) John Gallagher, Jr. (Mate); (second row, l to r) Cameron Johnson (Ensemble), Taurean Everett (Ensemble), Jacob Keith Watson (Ensemble), and Vishal Vaidya (Ensemble); (back row, l to r) Adrian Blake Enscoe (Little Brother) and Stark Sands (Big Brother) in Swept Away

Wayne Duvall (Captain) in Swept Away

(front) Adrian Blake Enscoe (Little Brother); (background, l to r) Cameron Johnson (Ensemble), Wayne Duvall (Captain), and John Gallagher, Jr. (Mate) in Swept Away

(l to r) John Gallagher, Jr. (Mate) and Wayne Duvall (Captain) in Swept Away

(l to r) Adrian Blake Enscoe (Little Brother) and Stark Sands (Big Brother) in Swept Away
Book by John Logan | Music and lyrics by The Avett Brothers | Music arrangements and orchestrations by Chris Miller and Brian Usifer | Choreography by David Neumann | Directed by Michael Mayer | Scenic design by Rachel Hauck | Costume design by Susan Hilferty | Lighting design by Kevin Adams | Sound design by Kai Harada | Music direction by Julie Wolf and Sean Kana