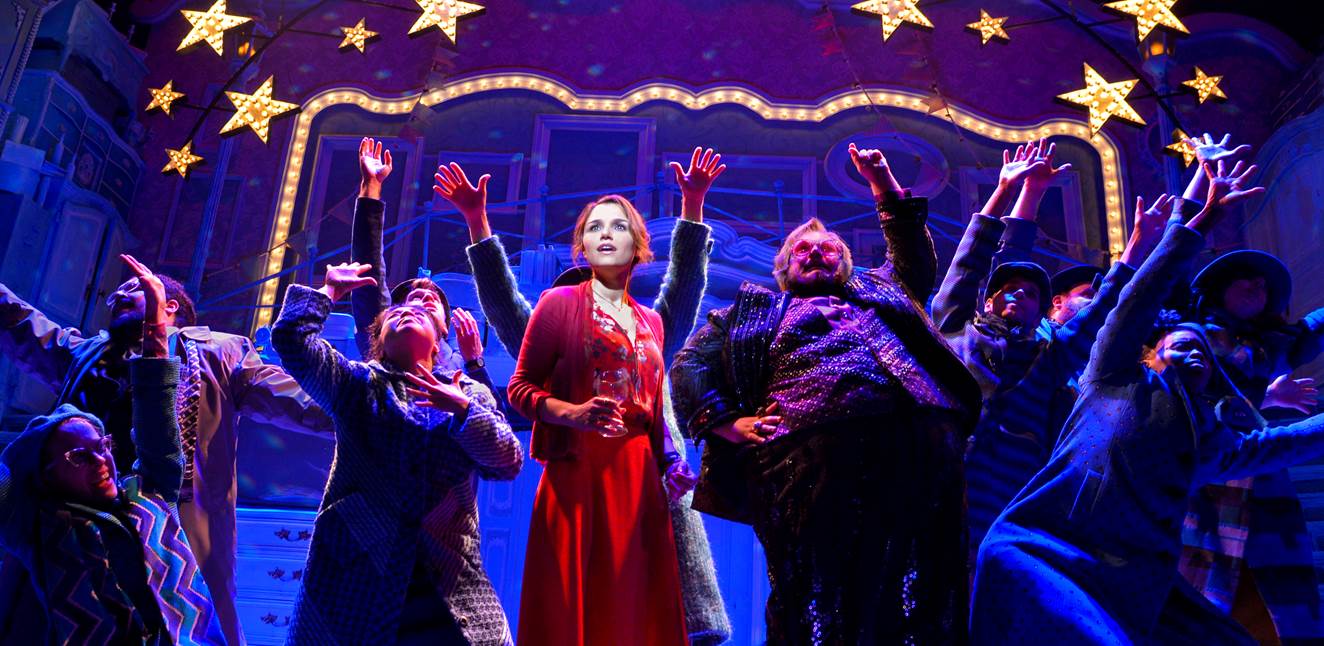 For the 2023/24 season, Berkeley Repertory Theatre offers a fellowship program from Sep 2023–Jul 2024 for serious-minded, highly motivated individuals who have already acquired basic training and experience in their field and who are ready to embark upon a professional theatre career. Fellows are directly exposed to the Theatre's daily operations and given the opportunity to learn alongside an accomplished company of artists, administrators, guest directors, and designers. While at Berkeley Rep, fellows are encouraged to fulfill as many career-building goals and objectives as possible, gaining both practical experience and professional contacts through the program. Fellows receive housing and a $1100 per month stipend for participation in the program. Parking is not provided.
Costumes
This fellowship trains closely with the costume director and staff in all of the workings of a professional costume shop. Through hands-on experience, the fellow learns from nationally recognized designers and artisans. Depending on the fellow's interests and skills, they may explore areas like costume construction, wig making, costume painting, distressing, and shopping for a modern show. Ideal candidates have basic sewing skills and an interest in creating and/or designing theatrical costumes.
Lighting/Electrics
This fellowship receives hands-on learning experience working with lighting designers from all over the country for the mainstage season. In addition, the fellow assists the master electrician in all areas of electrics, which includes using industry-standard software such as VectorWorks, Spotlight, and Lightwright, building practicals, hanging, focusing, and running of shows. Opportunities may exist to assist/design/mentor for the Berkeley Rep School of Theatre. Ideal candidates have an interest in both electrics and design.
Production Management
This fellowship is immersed in all areas of the production management process at a professional regional theatre, through mentorship by the production manager and associate production manager. This includes learning about leadership and management principles, creating and negotiating contracts, budgeting, expense tracking, creating and updating schedules, note taking, and assisting on facility rentals and events. This fellowship track culminates in serving as the production manager for the Teen One-Acts Festival. The ideal candidate is a creative problem-solver who has broad knowledge of technical theatre, excellent communication skills and thrives in a team atmosphere.
Properties
This fellowship provides hands-on training in properties construction, carpentry, crafts, soft goods, welding, painting, research/shopping, and administration. Applicants should have a strong work ethic, problem solving, and good communication skills. Ideal candidates are flexible and have a creative personality. Applicants must submit a digital portfolio for review.
Scenic Art
This fellowship follows the time-honored tradition of learning-by-doing. The scenic art fellow will learn the skills and techniques to enable them to participate as a full member of the scenic art team. Applicants with painting experience outside the realm of theatre, as well as those hoping to pursue a career in scenic design, are encouraged to apply. Ideal candidates will have strong drawing and color-mixing skills. Applicants must submit a digital portfolio, including a sample of figure drawing or portraiture.
Scenic Construction
This fellowship is focused on the hands-on development of skills in scenic construction and working in a professional production shop. The fellow will learn to face challenges as a builder, welder, theatrical rigger, automation technician, and draftsperson. The fellow works with state-of-the-art equipment to transform raw materials such as woods, metals, and plastics into complex scenic elements. The scenic construction aspects of the fellowship will take place in the scene shop facility, with scenic installations in our Roda Theatre fly house and fixed-grid Peet's Theatre.
Harry Weininger Sound
This fellowship offers training in audio and video production at a professional level. Mentored by the sound supervisor and video supervisor, the fellow will learn about system design, signal flow, automated and non-automated systems, wireless microphones, recording, intercom systems, repairing equipment, rigging, video playback systems, projection equipment, cameras, troubleshooting, and how to collaborate well with colleagues. From challenging dramas to large-scale musicals, the sound fellow will be exposed to many different styles of production. Ideal candidates will have a strong interest in engineering as well as design.
Stage Management
This fellowship provides a unique opportunity to learn all aspects of the work of Actors' Equity Association (AEA) stage managers. Beginning with attendance at production meetings, the fellow takes part in the rehearsal process, technical rehearsals, and in many instances will stay with a production through the completion of the run. This demanding fellowship involves the fellow in every facet of the production.
Bret C. Harte and Peter F. Sloss Artistic
This fellowship involves mentored training in all aspects of artistic department work including season planning and producing, casting, dramaturgy, and rehearsal room support. The fellow will be deeply immersed in the artistic staff of a major regional theatre, working closely with the artistic director, director of The Ground Floor/resident dramaturg, and artistic associate. Opportunities are provided for assistant directing, reading and evaluating play submissions, attending and organizing auditions, helping to plan and execute The Ground Floor Summer Residency Lab, writing for the show program and other contextual work, mentoring young artists for the Teen One-Acts Festival, as well as new projects that regularly arise. Ideal candidates will be organized, motivated, and personable, with an interest in artistic leadership, directing, writing, and/or dramaturgy. Candidates must submit, in addition to their other application materials, two writing samples (one piece should be about a play and the other should demonstrate your ability to communicate an idea(s)).
Company Management
This fellowship focuses on the basics of artist hospitality, including arranging artist travel to and from Berkeley as well as their accommodations while here. Berkeley Rep's company management team serves as the primary point of contact between visiting theatre artists, Berkeley Rep's staff, and the Berkeley community. The fellow will develop skills in event planning by assisting with company-wide events and learn about general theatre management while assisting with contracts, the preparation and maintenance of budgets, and other administrative projects as required throughout the season. Ideal candidates will have a high degree of personal organization, strong interpersonal skills, discretion, facility with Excel, and a willingness to roll with the punches.
Education and Community Engagement
This fellowship provides a comprehensive opportunity for an individual to learn about the inner workings of a multifaceted theatre education program and to collaborate interdepartmentally across the organization to support its community relationship building program, In Dialogue. The fellow will participate in mentored projects focusing on programming, training, community engagement, advocacy, marketing, and evaluation. The fellow will attend positioning meetings, community dialogues, partner meetings, and host visiting partners at theatre performances. Ideal candidates will have a primary interest in the programming and administration side of arts education programs, some experience teaching or working with young people, and a strong commitment to diversity, equity, and inclusion work and antiracism.
Marketing and Development
Take advantage of this unique opportunity to learn the fundamentals of both marketing and development (fundraising). Mentored by the associate directors of marketing and development and collaborating with members of both teams, the fellow will get hands-on experience in engaging and tracking patrons from first-time ticket buyers to longtime supporters across multiple communications platforms, including email campaigns, social media, and direct mail. Learn how to craft engaging content that drives ticket sales, and persuasive language that's key to fundraising. This fellowship also focuses on campaign strategy, timeline and budget development, multimedia content creation, campaign execution, and analytics and reporting that will inform future campaigns. Ideal candidates have a passion for theatre, writing, and connecting art to patrons in fun and creative ways.
Multimedia Content
Berkeley Rep's growing art department, under the umbrella of marketing, is at the forefront of graphic design, videography, and photography, with the aim to communicate our stage work in varying multimedia formats to drive audiences and ticket sales. The multimedia content fellow will have the opportunity to assist in graphic work, leveraging our new branding system created by renowned designer Paula Scher. You'll work closely with artistic, creatives, and talent to produce long and short form video and photo content to be shared across digital platforms for paid promotional, social, web, and institutional use. You'll be part of the team innovating new approaches to full digital show capture while building technical skills in camera operation, lighting setups, and editing software. The experience acquired at Berkeley Rep will equip and position you to expertly produce and capture content that can be applied to any industry. Familiarity and experience with Adobe products (InDesign, Illustrator, Photoshop, Premiere Pro, AfterEffects), MacOS, and camera equipment needed. Candidates must have some prior video production experience and submit samples of previous work.
Applications are now closed for the 2023/24 season.
Fellowship program sponsor

Berkeley Rep is a LORT B Theatre and hires actors who are members of Actors' Equity Association. Occasionally local non-union actors are also hired. Actors are hired on a show-by-show basis during the season and auditions for individual shows are by invitation only. Berkeley Rep holds open auditions annually, typically in the late spring. These auditions are announced on the AEA and Theatre Bay Area websites. Berkeley Rep also attends the Theatre Bay Area general auditions, which are usually held in January/February. For more information about TBA's auditions, please call 415 430–1140 or visit their website.
Due to COVID-19 restrictions, we are not able to schedule in-person auditions at this time. If you are a member of Actors' Equity Association and have a question about auditioning for Berkeley Rep, please send an email with your headshot and résumé to casting@berkeleyrep.org.
Berkeley Rep accepts script submissions only from agents, writers, and theatre artists with whom we have an existing professional relationship. We are not able to accept any unsolicited scripts; the volume of material we consider each year prohibits this.
We encourage writers to apply for our Ground Floor Summer Residency Lab.
We are looking for volunteer ushers to join our ranks. Volunteer ushers assist our Front of House staff to deliver an exceptional patron experience welcoming our diverse community of patrons. When you volunteer, you will get a seat to see the play you are volunteering for. You will need to be able to navigate Google Groups and use our volunteer scheduling program, Volgistics.
Please email BRTVushers@berkeleyrep.org if you are interested in volunteering. Front of House Director Kelly Kelley will set up a 15 minute Zoom with you to answer questions and talk next steps.
Photo by Kevin Berne/Berkeley Repertory Theatre
Samantha Barks with the cast of Amélie, A New Musical
Book by Craig Lucas | Music by Daniel Messé | Lyrics by Nathan Tysen and Daniel Messé | Directed by Pam MacKinnon | Scenic and costume design by David Zinn | Lighting design by Jane Cox | Sound design by Kai Harada | Projection design by Peter Nigrini | Vocal arrangements by Kimberly Grigsby and Daniel Messé | Orchestrations by Bruce Coughlin | Musical direction by Kimberly Grigsby | Musical staging and choreography by Sam Pinkleton